Thursday, March 18, 2010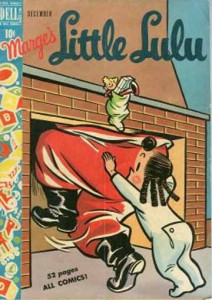 Along with my friends Frank Young and Gail Singer, I just recorded an Inkstuds episode devoted to John Stanley. You can listen to it here.
And below are some excerpts from my John Stanley notebook:
 Stanley as Lulu. Month after month, Lulu had to improvise a story to please that pesky small-fry Alvin. Lulu was adept at spinning out burlesque yarns featuring stock characters – poor girls, kings, witches — and coming up with new scenarios for them to enact. Wasn't Lulu's plight the same as Stanley's? He was on a story tread mill, he had to keep running to make the kids happy, there was no let up or relief for nearly thirty years.
Mummy as Enabler. Is it too much to see Melvin Monster as an allegory about child abuse? Melvin's always under the threat of violence, sometimes death itself. His chief persecutor is his father, Baddy. The name says it all: Baddy equals bad daddy (a pun related to Blake's nickname for the God of organized religion: Nobodaddy). Melvin's mother, Mummy, is all wrapped up in the Egyptian manner. That means she has no eyes to see what is happening. She turns a blind eye to Melvin's situation. That's the way it often is with abusive families: one parent is violent, the other a blinkered or self-deceived enabler.