The Problem with American Vampires Is That They Just Don't Think
Thursday, March 18, 2010

A few days ago Robot 6 directed me to probably my favorite piece of comics publishing hype in a while, a short interview with Stephen King promoting the new Vertigo series American Vampire—King is scripting a back-up feature for issues #1-5, his first-ever original work for comics (as opposed to the various adaptations of his prose over at Marvel). Specifically, I was fascinated by a short bit concerning the comic's editing process and how it bumped up against King's take on the form:
One example:Thought bubbles—those puffy, dotted clouds that were a staple of early comics—have been phased out. "I got this kind of embarrassed call from the editors saying, 'Ah, Steve, we don't do that anymore.' 'You don't do that anymore?' I said. 'No, when the characters speak, they speak. If they're thinking, you try to put that across in the narration, in the little narration boxes.'" So King happily re-wrote to fit the new style—though he still laments the loss of the thought bubble. "I think it's a shame to lose that arrow out of your quiver. One of the nice things about the written word as opposed to the spoken word in a movie is that you can go into a character's thoughts. You do it in books all the time, right?"
This is great for several reasons, not the least of them being the mental image of our ky?-level candidate folding his legs and meditatively accepting instruction; I mean, forgive the presumptuousness, but I think that Stephen King maybe, probably, almost certainly could just petition his editor for a special thought ballooning exception, but he won't, because he wants to understand how comics are done. Indeed, King was brought on to the project after its initialization, and is duly credited below primary writer Scott Snyder and artist Rafael Albuquerque on the cover, in keeping with a supplementary scribe's status—by all visible indication, he's going native.
But that got me thinking—which tribe? And what's their damn problem with thought balloons (as I call 'em)? It's helpful to take closer look at what's being said, and—since the comic in question was released just today—what's being done.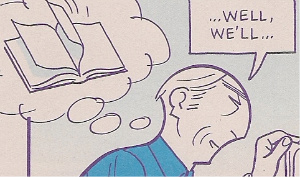 I mean, I presume everyone here and Stephen King realizes that he's not learning 'comics' from this experience so much as Vertigo procedure, which naturally will encompass a lot of elements of comics-at-large, although it's also bound to enforce its own particularities of usage. Hopefully a less acclimated reader doesn't come to believe thought balloons have been "phased out" entirely, because that's not true, not even in front-of-Previews genre comics—I just caught one today flipping through a recent Savage Dragon, and I know a few Marvel series keep 'em visible. Among bookshelves, as high-profile a critical darling as Asterios Polyp made sure to include thought balloons among David Mazzucchelli's encyclopedic formal array, in both the purely iconographic manner seen above and 'with words.' Chris Ware's a user too, and I imagine Archie hasn't kicked the habit. Yes, the use of thought balloons isn't the same as it was in fifty years ago, but it's not like King is laboring under an industry prohibition.
"One of the nice things about the written word as opposed to the spoken word in a movie is that you can go into a character's thoughts." I really shouldn't read too much into King's comment, since quotes can be quite innocently shifted by context, but it seems he's maintaining a separation of function between narrative captions and thought balloons, as if narration and 'thought' are discreet on the comics page. There's historical precedent for that, sure.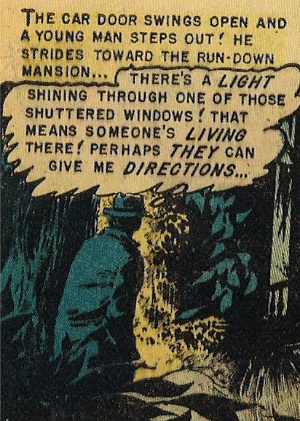 Take this panel from "Ghastly" Graham Ingels and the good people of EC—the caption up top serves as the narrator's voice while the thought balloon leaps into a character's head, nice and clean (and spacious too). Sometimes the story's horror host narrates, or sometimes an unnamed narrator, or possibly Wally Wood. Over half a century later, the same segregation of narration and thought can be observed in one of the biggest selling comics of 2009, The Book of Genesis Illustrated by R. Crumb, which flaunts the ultimate in omniscient narration through as many panel-topping lines as William Gaines could fathom, God mostly in his heading heaven and mortals left to muse and remark when He allows it. Personally, I still imagine it's Woody talking.
Yet some of the old EC stories allowed narration to become thought too: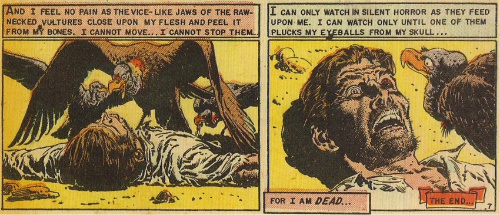 Note the present tense; here you've got the character's immediate impression of his fate. He's thinking as it happens, in much the same manner superhero characters would after thought balloons died down in use. Think Frank Miller's bones-cracking-she's-good-fast-I-fly type of running commentary, and all of its descendants—not an exclusive or historically definitive list, but it's all caption-based narration as a substitute for thought balloons, as in taking their place.
I can only speculate as to why King's editors didn't want him to use the tool; Vertigo doesn't maintain a necessarily uniform line of books (although I can't think of any titles that use thought balloons at the moment), but it does tends to prize a certain stylized maturity of verisimilitude in its various fantasies and horrors. They're cool, and captions can be a likewise cool device, sharp-edged and—this is vital—aloof from the thinking character, hanging away from their head or drifting through entirely unrelated scenes, panels with no characters at all. In contrast, thought balloons have a 'chain' that latches them to the applicable thinker, a forced, perhaps confining intimacy, very revealing in looking so silly like fresh thoughts would seem if seen. Some writers have duly exploited this quality; witness Alan Moore's famous Weeping Gorilla of the admired Wildstorm series Promethea (as seen at the top of this post), a typically dense construct that matches the nakedly emotional aspect of the device with the mega-merchandising mania of Garfield—surely one of the form's most prolific thinkers—as allegorical for the shallow appeal of mass media trends, with equal emphasis on the shallow and the appeal.
Plus, thought balloons simply aren't as versatile: you can't stretch them out over the course of a story, they offer less opportunity for word-image consonance/dissonance—they simply don't seem as 'literary,' in that they don't allegorize a descriptive passage of prose giving way to dialogue, and thereby can be dubbed unsophisticated. I don't agree, and neither does comics-at-large, even a few of the shared-universe superheroes, carrying their extra burden of functioning as a flickering window into some simulacrum of a parallel reality—it may just be a sharp object with which to assert one's comic-bookiness, but Oliver Queen could at any moment encounter a child-murdering villain that needs putting down post-haste, and it's preferable to have every arrow in the quiver.
Looking at the completed, King-scripted segment of American Vampire #1, well—first of all, it's a very EC-styled piece, complete with a narrating host introducing himself to the reader and a twist-style ending, even though it's just part one of a continuing thing. The narrator's also an observing character, and really doesn't do a ton of narrating; most of the captions actually serve to carry dialogue into flashbacks or panels in which speaking characters don't appear, another simple function of their versatility. Still: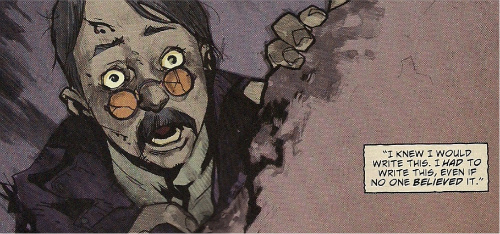 This could have been swapped out with "Wallopin' websnappers, gotta write this down!" or something even more authentic. It's a caption expressing a thought, which, don't get me wrong, is perfectly valid, and written so that it flows well from captions on the prior page, and it might have been written like that from the start and King was referring to something else in this interview—I doubt I'd have missed potential balloon usage if I wasn't looking for it.
The question has been begged, though—why not use a thought balloon? Is it too silly? Is it unsophisticated? Will it mess with the narrative flow? Does one less element mean one less source of potential error along the production line? I can't provide the answers alone, but luckily there's a whole bunch of popular genre comics out there mass produced at a steady, serialized pace to use for direct comparison's sake, without all the habits known to North American comic books.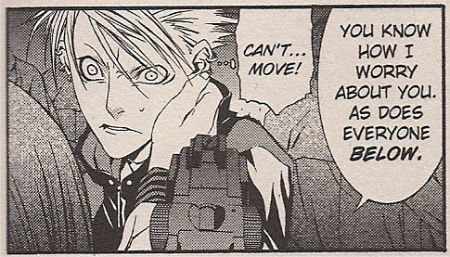 To your right, you can see a 2001 panel from Shirow Miwa's Dogs, a manga about attractive people shooting each other. I didn't have to dig through the bookcase to find it; you can probably track it down at any big box bookseller, since publisher Viz has given it a nice deluxe format push. Note the word balloon. It's not a common sight in manga, not so traditionally mounted, but there it is, chain and all, in a cool and stylish book. It doesn't have to look like a cloud — it's more of a woozy balloon, like atmosphere burning off the character's head, a little pointed to caricature surprise. A bit like how Ghastly draws it in that one EC panel halfway up the page, as a matter of fact.
Moreover, the balloon's text is noticeably different from the dialogue to its right, or Miwa's diverse use of narration — past tense, present tense, in captions, between panels, stamped right by characters' heads, but always written complete. In contrast the thought balloon text is clipped and curt, an unwitting burp of realization. Specialized, but direct, adding color and immediacy to the character's reaction by the special, personal, emotive quality of the device, its very difference from the story's other narrative techniques. You don't have to go brief — offhand, I recall a Grant Morrison story (in 2004's DC Comics Presents Mystery in Space) where he omits all punctuation or capitalization in packed-to-bursting thought balloons, to better convey the unrefined character of immediate wonder — but by maintaining a responsive difference in the way thought balloons are deployed, you can modulate the story's tone.
A more complicated example now, from a more popular comic: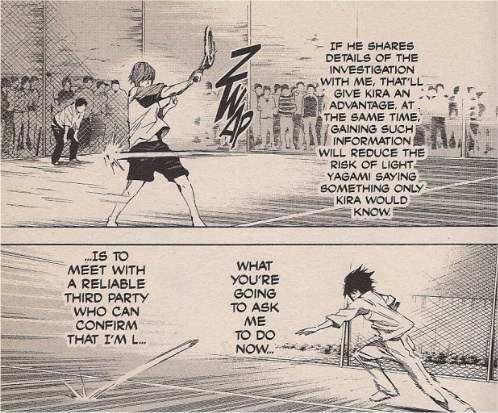 This is from Tsugumi Ohba's & Takeshi Obata's Death Note, a jillion-selling series that's been translated into every tongue from here to Mars and has no doubt set up permanent residency at your local mega chain bookstore, much like the works of one Stephen King. It's a thriller, and here's a famous sequence where two characters try to out-think one another while playing tennis; the rigor of their thinking is matched by the physicality of their game. This is half a page of many. Their thoughts float without borders. Free.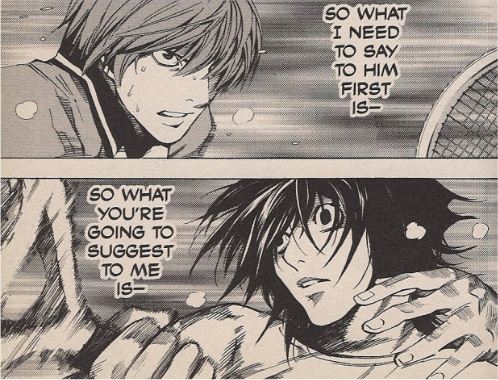 Quickly, our point of view closes in. Speed lines obliterate the background, the crown – anything but them. The dueling narration grows larger, literally bigger on the page. Then!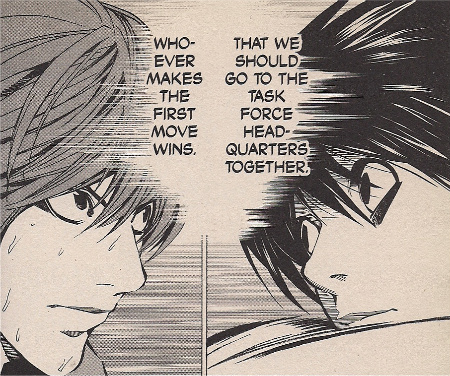 As we grow yet closer, the space between them closes. The panel border between them is devoured as their once-restrained analysis erupts into active thought, into a thought balloon, or rather a manga-style radiating thought area, a variant, commemorating the arrival of passion on the scene. It's punctuation, a completely intuitive means of segueing between subtle attitudes  with, paradoxically, all the unsubtle force the comics form can manage – it's nuance by way of explosion.
This is the sophistication of the thought balloon, not potential, not theory: this is practical. You don't have to lay down a bubbly cloud, you don't have to abide by North American tradition, you just need to seize the force of iconography at the heart of the comics medium and create lovely differentiations between textual vessels. And I admit, it's easier to do for a writer/artist like Miwa, or even an artist like Obata, who at least gets to dictate the shape of the containers. It's comics-as-comics, and doesn't track so well with prose, and maybe if the object is to be literary, or to show a prose writer how the scriptwriting process goes, you'd want to skip it all.
It's not enough for me, though, to hear that's just how it's done, 'cause that's just how you do it. As a duly compensated representative of the thought balloon lobby with an MA in over-reading, I'd like more from my passing quotes, better from my hype.
Labels: EC, Shirow Miwa, Stephen King, Takeshi Obata, thought balloons