Cartoonists That Never Were: G.K. Chesterton
Wednesday, March 2, 2011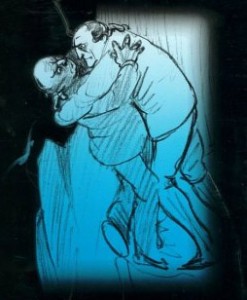 G.K. Chesterton (1874-1936) is a bit of a shadowy figure in contemporary cultural memory. There is, to be a sure, a Chesterton cult which cherishes him as a sage but most people have only a small glimmer of his various achievements as a novelist (The Man Who Was Thursday), detective story writer (creator of the Father Brown stories), intellectual sparring partner of G.B. Shaw and H.G. Wells, religious apologist (The Everlasting Man), and literary critic (The Victorian Age in Literature and other books).  
Chesterton was also a cartoonist, as I was recently reminded while reading an essay by Wilfrid Sheed. Chesterton had studied art as a young man and worked as an illustrator before becoming a full-time writer. His cartoons are a bit hard to come by. I've seen some here and there in The Chesterton Review and a few of the books, but could only find one online. (The image pasted above.)
Sheed, a fine essayist who died recently, was Chesterton's godson (Sheed's parents were publishers who specialized in Catholic books and Chesterton was one of their prize authors.) In an essay in the collection The Morning After, Sheed takes up the nettlesome problem of Chesterton's anti-Semitism, which the critic interestingly relates to Chesteron's background as a cartoonist.
Here's a key paragraph:
Chesterton was a cartoonist both in words and pictures, and race was one of his occasional comic properties. I have seen an unpublished drawing of his that might, in these tenser times, seem to be jeering at the blacks. Cartooning is the most extreme form of cruelty allowed in civilized countries. But his basic gag, as for any cartoonist, was humanity itself; and to look for consistent prejudice in his work is like looking for it in David Levine's.
Obviously Sheed's generalization here is a bit too large to hold water, but it's an interesting thought and not unrelated to recent discussions about race and comics sparked by this Matt Seneca article (see also here and here).
Labels: G.K. Chesterton, Wilfrid Sheed