Friday, October 15, 2010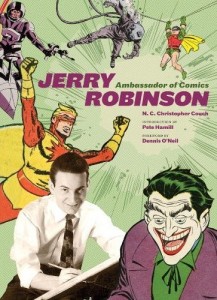 What do you do when you know the subject of your book is both a good man tied to an important event, and a good—but not great—artist? If you're N.C. Christopher Couch, you actually don't know that, and instead prime the pump and inflate, inflate, inflate. Jerry Robinson is responsible for some rare good deeds in comics. Great, even. He helped Siegel and Shuster get (some of) what they deserved. He was a friend and supporter of Mort Meskin. He has worked for international free speech and successfully campaigned to free a jailed cartoonist. He even set up an international political cartoon syndicate. By all accounts, this is a nice man. A thoughtful man. Even a righteous man. And this book, Jerry Robinson: Ambassador of Comics, like a well-meaning award ceremony (come to think of it, kinda like how the comics industry treats most of its grand old men), is a slap in the face disguised as a pat on the back.
Here's the first line of the Couch's preface: "Few American artists can claim to have worked in as many media as Jerry Robinson, and with such success in all of them." Here is a short list of artists (alive, dead, young, etc.) I can think of who have worked in as many or more, with more success: Andy Warhol, Julian Schnabel, David Salle, Dave Eggers, Charles Burns, Stephen King, Gary Panter, Milt Gross, Matt Groening, Jules Feiffer, Robert Crumb… I could do this all day). This sort of jive hyperbole is doing no one any favors. What it does is make you stop and doubt the rest of what follows.