Thursday, February 24, 2011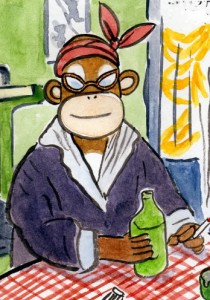 Late last year, I met with Lynda Barry to discuss her new book, Picture This, for The Paris Review. But Barry is an inveterate talker, and in addition to the book itself, we covered bad editors, the glory of Drawn & Quarterly, gaps in comics history, and her giant crush on Charles Burns. That part of the conversation continues here.
* * *
Where did the near-sighted monkey in Picture This come from?
Well, I like to draw monkeys. I had been drawing a lot of the meditating monkey—I talk about it in my book—and then I started drawing that monkey with glasses on it. It's definitely a self-portrait. So I had drawn one and we were broke, so I was trying to figure out stuff to sell on eBay. People will buy monkeys and I like to draw them, so this seems like a natural. I did this little near-sighted monkey and asked my husband if he would do some of the watercoloring. (My husband's a brilliant watercolorist. He's so good. He can draw everything far away. We always say I can draw stuff close up and he can draw stuff far away.) So when I got it back, the stuff he had done in the background was just like, Whaaa! We probably did about twenty of them back and forth, and I'd sell them on eBay. Then I was sending them to Drawn & Quarterly, just because they were funny and cute, and I think it was Peggy who really liked them, so they wanted to do a little book of just those pictures. But I had this whole other idea. So the book kind of expanded out of just the monkey pictures.
(more…)