SPX2010part2
Sunday, September 19, 2010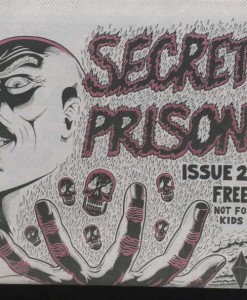 Hey there, True Believers! Welcome to Comics Comics Sunday edition. I need one more week to pull together a coherent continuation of my romance comics posts, so here's some gossip from last week's SPX. Well, not gossip, but some "thoughts" about the show one week later. I was going to skip posting a report cuz Dan's pics and Tom's pics basically tell the story. But I figured traditions exist for reasons, and it's a tradition to do the SPX round-up. So here goes.
Really missed BC – Brian Chippendale – this year. An advance copy of If 'n Oof was waiting for us at the hotel convention. It's completely insane. Eight hundred pages of hammers dropping on my head. Brian just ripped it. Art comics – hardcore art comics – are alive and well. I think BC is gonna stun everyone with this new one. He was supposed to come down for the show but since the main shipment of books is still a couple weeks away it didn't really make much sense to ask BC to come down and show off that one copy. Actually, that would have been fun to watch.
Anyways, for me the only way to talk about his show is my before and after feelings. Heading into the weekend before the show I realized that this is/was PictureBox's sixth SPX in a row. Dan and I have it down to a fire drill. As do most, right? It's a hassle free show for the most part. A bit of a grind with the drive but basically really simple. SPX runs a tight ship.
Driving down to DC I was composing my rant for a panel with Tim. I felt like I wanted to rail against mini-comics and small press cuz I feel like, at this point, I've read every mini-comic. They all start to look alike to me after twenty-some years of collecting. It's like a twenty-year black and white explosion. Lots of great shit, but man, you really gotta sift through the junk pile to find said shit. And I love doing just that, sifting through the bins, tables, whatever and maintaining a collection of great mini-comics. The thing is, that less and less cartoonists are investing in this form and really developing it the way, say, Kevin Huizenga did/does. Kevin perfected the mini-comic and carried that into his "mainstream" work. And it's that level of craft is something I don't see much of and, hey, that's okay but it doesn't make me excited about looking for new stuff – and it makes me wonder about the "concerns" of the small press in this world of web comics.
Being at the show, however, I thought more about the small publishers like AdHouse or Secret Acres. (Missed Sparkplug this year). SPX is the show that's done a lot of Top Shelf, Fantagraphics, D & Q, PictureBox – most of the younger artists on the above publishers' rosters were mini-comics folks who came up out of the last decade of SPX shows – so it's a particular vibe that has as much to do with the publishers' "mood" as much as the solo DIY acts "participation." We all need each other. Many fans become authors and stay fans. Some get "published," some publish themselves. Fandom. Look, there's Gary Groth over there. Ask him what fandom is and if this is like fandom. A bunch of people who like comics at a hotel? Probably fandom.
So, that's what I was thinking about during the day while trying to sell my junk. I'm basically a junk dealer at this point. You like old comics? Well, I got 'em. I thought about selling old mini-comics but that freaks people out. Like last year, I had a Kevin H mini-comic for $20 and somebody bought it. I'll corner the rare mini-comic market with Kevin's help. He said he's got a couple boxes left. Anyways, I remember thinking, is anyone dissecting all these mini-comics like we all seem to be dissecting the recent past in comics? Like are Rob Clough and Shawn Hoke and John Porcellino gonna have to archive this stuff for history? And then I decided I was glad I'm obsessed with black and white explosion comic books from the eighties. They all fit into the same size box.
Right. So, my planned rant was losing focus. Let's see if I can tighten' it up here: I think I just want to see new mini-comics that look like they are continuing the work of the folks that exhibited at this show five, ten years ago and instead I see lots of new folks who seem to have little interest in "playing ball." Meaning comics has just more or less come to them "out of the air" and not through a specific influence or school – which is fine – but then what happens is that the craft is all over the place. To me, the conversation is in the craft. It's like jazz. Call and response. Each new generation builds on the older generation's phrasing styles. But the craft at this year's SPX was all over the place. I'd say the craft is non-existent in the book making by and large. Hardcore art comics may be pricey but usually you get your money's worth in silkscreen cover or something. Saw little of that this year. Saw a lot of plain square bound cheapo books and black and white minis. And hey! that's fine. Just sayin'.
See, for me, I wish I could see some sort of momentum where there are new artists who fuse recent styles together in a fresh way. Gabrielle Bell but drawn sketchbook style like Vanessa Davis? I wish. Instead it feels like everyone is starting at zero. A lot of the minis look the same. Bare minimum effort drawing and presentation. And hey! that's fine. But then I start wondering about this safe little space that we create for mini-comics – how it's divorced from reality. How there is this perception that it's a one, two, three easy lay-up to the hoop of being a professional cartoonist. At least at San Diego Con when you show your portfolio to an art director and he'll tell you to get lost. Here the junkiest junk is protected in this safe little space. And hey! that's okay. Everything's okay.
When I kvetched to Dan about it he shrugged. "Whaddaya want? A different show? I dunno what you're asking for…" I didn't either. Still don't a week later. I know it doesn't sound like it but I had a great show. Probably the most fun I've had at SPX. They keep getting better. But where is the new Kevin H? I know, I know, tall order. How bout a Kevin H copycat? I'd take that at this point. I just don't see the tree of influence in effect. I see a lot of basic cartooning. And hey! That's great. But you'd think with comics being so popular these days there would be more diverse stuff. Just sayin'.
Please don't kill me in the comments. I'm venting a little. I think I just realize that what excites me about comics is not necessarily what the younger generation of fans and creators are excited about. Dan said something at the end of the weekend about how this might be the last generation that is comics fandom. Comics are so mainstreamed now that the way new readers enter comics isn't so difficult. And hey! that's fine. But what binds us together changes. So, to me, shows like SPX become less about exposing the public to small press (internet brand new when SPX started) and more about providing a showcase for small publishers who weathered the storm. It's still about mini-comics but not so much. You really gotta show me something at this point.
Labels: SPX