Youth
Friday, July 23, 2010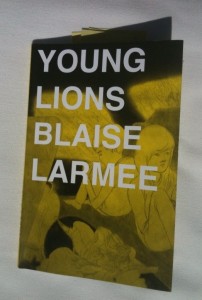 Young Lions, by Blaise Larmee, is the story of a three-artist performance group comprised of Alice, a wealthy snob, Wilson, a didactic leader, and Cody, who is dreamy and less ambitious. The book opens with Cody saying, "Our conceptual art group is not going as planned." Later, there's a party. Cody and Alice go to "The New Museum" and enjoy it. At a performance the trio meets Holly, who is presumably a non-institutional being who nearly becomes a fourth member, but serves to illuminate to character and audience the inner lives of the three primary members. She is an ethereal muse. The crew travels to Florida; they fail at a quasi-Spiritual act; on a walk, Alice remarks how much better her experience would be if it were in a museum; Holly is left behind; they return to normal life. The book is well paced and nicely drawn in pencil, smudges and detritus left in, rendered somewhere between CF and Jockum Nordstrom (the topic of another debate: right down to the lettering style, it's a lot of CF, but who cares? Influence is inevitable. Four years ago it was Brinkman. There will be others.); it is frequently beautiful, especially when Larmee allows himself to render a detail: a lamp on page 25, or Cody and Alice languid and relaxed on page 51.
It is also, most obviously, the work of a young man (born in 1985) trying to understand the mythologies he's constructed for himself. That is the second, and for me, most intriguing narrative here, and one inseparable from Larmee's writing on art and comics. The art collective is obviously based on some amalgamation of an imagined Paper Rad and Forcefield. Providence and Western Mass loom large for Larmee and his peers. The road trips, the personalities, the remarks on museums and strategies — it's all casually presumed and I assume it's meant to be transparent. All the more so because the artists' conflicts feel posited, not experienced. A memoir would inflict detail and a piece of reportage would be far more boring. Nope, Young Lions is a book-length attempt to do what Larmee does in prose at Comets Comets: Try out theories of what it is to make art. That's very different, of course, from making art, and assumes a level of self-consciousness on the part of other artists (or publishers or whomever) that more often than not simply doesn't exist. Side note: Back in 2005 (I think), after we'd started working together again, I asked Ben Jones what it was like to observe the Forcefield dudes interacting "behind the scenes." He was incredulous and said something like, "You just saw it; it's the same shit as this exchange. It's boring. Who cares?" He was right and wrong, but it's a good point. In other words, it's one thing to analyze and search for meaning, it's another thing to project intentions and methodologies. Sometime Larmee does too much of the latter and not enough of the former.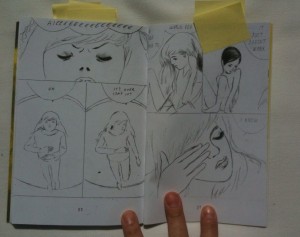 Anyhow, Young Lions represents the first expository attempt by a younger generation to come to terms with its primary influence, and it's backed up, as I've noted, by Larmee's writing. That's partly why it feels important to me to discuss it. After all, I have a lot wrapped up in all this stuff, which is why I don't begrudge Larmee his myths. I once had some too. I probably still do. And I appreciate his nearly rapturous embrace of the search, even if I often disagree with his ideas. That why I wrote that I didn't recognize the artists Larmee was writing about a couple months back when he was lamenting the end of another company. It's because I know these artists — Ben, Christopher, Brian, and the rest — as my friends and colleagues. As humans. The myths around them have long since dissipated, and, if anything, feel like traps.
In the past, the artists that embrace those myths must either do it shrewdly and make that part of the work (like Matthew Barney)  or ignore them and make work that stands on its own (like Mike Kelley, let's say). Of course there plenty of middle passages, too. I think Blaise knows all of this somewhere, and in his somewhat clumsy, though affecting, ending, he gets at that; when Cody resumes "real life" it is as a person in the world, not as a myth maker. That's kind of the only way forward. Forever wondering about the meaning of what you're about to do, or mythologizing people just ten years older than you is a trap. It leads to nothing but fake nostalgia, followed by disappointment and then cynicism.
Towards the end of the book Wilson says, "Art becomes magic when it has nothing left to hide." That's meaningless, of course. The only "magic" is perceptual. You make your own problems and screens. Art is art. It's part of life, and as you live it, you accept and enjoy the directness of experience, and cast aside the myths. You can be cynical and toss around Warhol and cults of personality and all the rest, but if you're in it and you brush off the chip, you know that while art may not be what you want it to be, it's not as bad as you imagine it to be. And in the end, it's the art that stands.
So I look forward to Larmee's innocence giving way to experience, and his articulate, thoughtful sensibility searching for ever more clarity.
Labels: Blaise Larmee