Thursday, October 14, 2010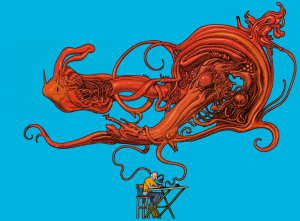 Moebius has opened a career retrospective exhibition at Fondation Cartier and besides a catalog (which thus far I've not been able to import) there are some features on the dedicated exhibition web site that are so amazing that I needed to take an entire post to point them out.
1) Unpublished Drawings: Lots of them. Note: These are recent sketchbook drawings that possess the same unmistakable combination of rigor and flow that distinguishes his best work.
2) A frighteningly good video screen capture of Moebius drawing and coloring (wait for it to load, then select the video as it plays). What's fascinating here is how at ease he appears moving between line and color.
That should be enough. I hope some sympathetic reader in Paris will send some photos of this show. If the web site is any indication, it must be amazing.
Meanwhile, actually coincidentally, the PictureBox store just got in three of his recent books. Check 'em out here.