Friday, February 18, 2011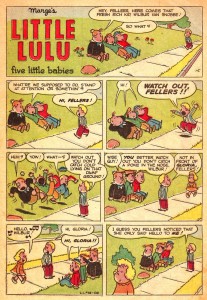 Gary Groth twitted: "The greatest artists who worked n commercial comics? My vote (in order); Carl Barks, Jack Kirby & Harvey Kurtzman (tie), John Stanley." The list seems on target but the ranking can be argued with. These are all superb cartoonists and as such, their writing/art needs to be seen as an integrated whole. Still, some of them are stronger on the writing front, others as visual artists. And of course Stanley, Kirby and Kurtzman all did a lot of collaborative work, including some of their best work.
So if I were ranking them as visual artists I'd say Kirby, Kurtzman, Barks, Stanley. If I were ranking them as writers I'd say Stanley, Kurtzman, Barks, Kirby. But what if writing and art can't be separated? What if I had to rank them simply as cartoonists? A really tough choice. Purely a personal matters but I'd say Stanley, Kirby, Kurtzman, Barks. But that's a ranking that could easily change at the drop of a hat. Fun factoid: three of these cartoonists (Stanley, Barks, Kurtzman) were doing their best work at the exact same time, circa 1950-1955. That was the real Golden Age of commercial comics.