Thursday, December 2, 2010
"The overwhelming part about tragedy is the element of hopelessness, of inevitability."
—J.A. Cuddon, The Penguin Dictionary of Literary Terms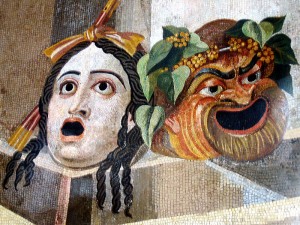 In his 1987 essay "What's so Funny about the Comics?" (reprinted in Comics as Culture), the scholar M. Thomas Inge defends the validity of the term "comics," despite the fact that so many of the art form's admirers express resentment for the pejorative connotations of that name, by basically claiming that the term is literally true, and implies very strongly that all comics are comedies.
He accomplishes this primarily by appealing to a fairly broad definition of comedy:
Not all things "comic" are necessarily funny or laughable. Comedy implies an attitude towards life, an attitude that trusts in man's potential for redemption and salvation, as in Dante's Divine Comedy or Shakespeare's Hamlet. Since comic strips always conclude with resolutions in favor of morality and a trust in the larger scheme of truth and justice, they too affirm a comic view of the social and universal order. While Krazy Kat and Smokey Stover may appear absurd, they do not reflect on the world around them as being irrational or devoid of meaning, as in the drama of the absurd. Comic art is supportive, affirmative, and rejects notions of situational ethics or existential despair.