Thursday, August 19, 2010
First off, if you're in Montreal, don't forget your plans for tonight.
Second, intervening events have prevented me from being able to write the review of Alan Moore's The Courtyard I promised would start up the CCCBC today. But I will get it up soon!
In the meantime, let me resurrect a post I almost wrote last February. (You have been spared about a dozen almost-posts this year alone.) I don't remember what I had originally planned to say exactly (my surviving notes are sketchy), but mostly I just wanted to link to this really amazing, lengthy interview with screenwriter Lem Dobbs, which offers a stiff dose of Auteur-Theory polemics. (I'm not actually that big of a fan of Dobbs's actual films—at least those that I have seen—but this is great stuff.) Eventually this will all work around to a discussion of comics, I swear.
Here's a sample: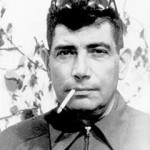 The Auteur Theory is clearly the most practical and, as you say, self-evident way of looking at or "reading" movies, and it's mind-boggling after all these years to still have to listen to screenwriters rail against it without the least notion of what they're talking about. It's so funny/sad their undying belief that only an Ingmar Bergman can possibly be an auteur because he "writes and directs his own scripts." "No one ever made a good movie from a bad script" is their other favorite cliché — now and forever blind to the power and the glory of Sam Fuller, Edgar Ulmer, Douglas Sirk, and countless sows' ears made into silk purses by distinctive, individualistic directors, including many movies that have no script at all except — in Writers Guild parlance — "as represented on the screen." (more…)