Saturday, March 6, 2010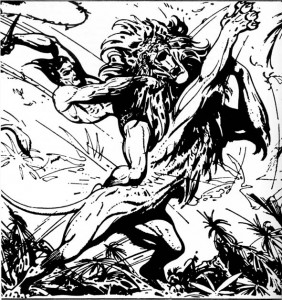 Burne Hogarth interview with Gary Groth, The Comics Journal #166, 1994:
"[Hal Foster] is one of the great geniuses of the comic strip… one of the great things he did was to bring the human figure from the great achievements and virtues of Renaissance art, the whole of the empirical figure, down into that small space of a panel, and he made it live; there are damn few people who could ever do that. … I began to realize that what I was doing, what [Alex] Raymond was doing; we were developing a whole new syntax of the figure. By that I mean taxonomy–the organization of all actions. No one had ever done it human history, no one! Not even Winsor McCay, because he always had that gravitational feel of the perspective of the great city forms, and the little figures that he did were rooted, again, down onto the bottom line of the panel; they were walking and standing on firm ground, he seldom lifted them up and let them soar, even though he had the chance in Slumberland to do that."
This seems like as good a description of the virtues of Foster as any, whatever hyperbole might be in play. Foster leads directly into Kirby in the sense of dream-like figures in play, in motion — these moments of sublime force on a page.