Comedy Minus Time
Thursday, December 2, 2010
"The overwhelming part about tragedy is the element of hopelessness, of inevitability."
—J.A. Cuddon, The Penguin Dictionary of Literary Terms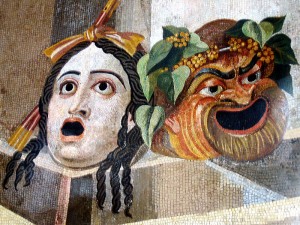 In his 1987 essay "What's so Funny about the Comics?" (reprinted in Comics as Culture), the scholar M. Thomas Inge defends the validity of the term "comics," despite the fact that so many of the art form's admirers express resentment for the pejorative connotations of that name, by basically claiming that the term is literally true, and implies very strongly that all comics are comedies.
He accomplishes this primarily by appealing to a fairly broad definition of comedy:
Not all things "comic" are necessarily funny or laughable. Comedy implies an attitude towards life, an attitude that trusts in man's potential for redemption and salvation, as in Dante's Divine Comedy or Shakespeare's Hamlet. Since comic strips always conclude with resolutions in favor of morality and a trust in the larger scheme of truth and justice, they too affirm a comic view of the social and universal order. While Krazy Kat and Smokey Stover may appear absurd, they do not reflect on the world around them as being irrational or devoid of meaning, as in the drama of the absurd. Comic art is supportive, affirmative, and rejects notions of situational ethics or existential despair.

Inge's definition is obviously a bit idiosyncratic—not least in that Hamlet is generally considered a tragedy—but his larger point is an intriguing one. The essay was written some twenty years ago, before many of the comics that might be said to disprove his argument were made, but even now I find myself struggling to come up with examples of comic strips or stories that express a truly tragic, as opposed to comic, view of life.
This all leads me to wonder three things, two of which I will share with you now:
1. Was Inge right? Was it true even at the time of his writing that there were no tragedies in comic form? Inge himself brings up the most famous possible counter-example, Maus, but seems to reject it as tragedy on the grounds that Spiegelman uses "the satiric tradition of animal fable and the imagery of funny animal comic books and animated cartoons." In my mind, a more pointed reason not to define the book as tragedy can be found in its subtitle, "A Survivor's Tale".
But satire is certainly different than tragedy. As Inge puts it, "To satirize life and institutions is to believe in a better mode of conduct which people fail to live up to, and humor may serve as a gentle but sometimes bitter or angry corrective." Until recently perhaps, satire and black humor have been (along with absurdism) the premier genres of "serious" cartoonists. Clowes, Crumb, Doucet, Brunetti, et cetera: No matter how dark their subject matter and tone of their stories might sometimes be, they aren't tragedians.
I have a few comics in mind that might legitimately be considered tragic, but will save them for another post. Nominations are welcome, though. Perhaps things are different in Europe?
2. To the extent that Inge is right (if he is), just why would that be so? Is there something inherent to the art form that makes it so? (I personally doubt it, though Inge claims that "all comic art draws upon and clearly belongs to the tradition of caricature and comic exaggeration. There is no such thing as realism to be found in the comics, either in the photographic sense or the sentimental sense of a Norman Rockwell." Inge includes Hal Foster and Noel Sickles in that assessment, by the way.)
I think it more likely comes down to historical and commercial reasons, but it does make you wonder. It's not as if the twentieth century wasn't represented by a boom in tragedy in other arts.
Labels: Art Spiegelman, comics vs. literature, M. Thomas Inge, Not Necessarily Deep Thoughts