Friday, June 4, 2010
If you head down to the comic shop this week, make sure you pick up a copy of the free Jonah Hex comic. Why? So you can see for your very eyes how photo-referencing has taken all the fun, gesture and action out of comics.
Exhibit A: Here's a panel where a kid is getting smacked in the face. Look at that movement! Isn't incredible how it really feels like the action is occurring? So realistic!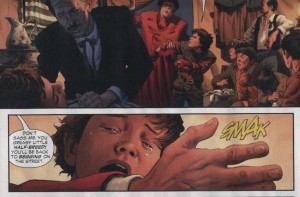 Exhibit B: Just look at the FORCE at which the hand with the gun swoops through the second panel and clocks the guy's head! Wow!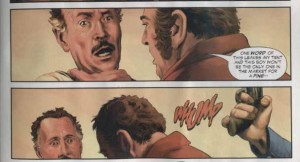 Exhibit C: Another amazing action sequence! See the knee to the face and the recoil of the victim! The feeling of motion just sweeps me off the page.

Anyone who's read this blog long enough knows how I feel about heavy duty photo-referencing. Is it legal that so many mainstream comic books have shed cartooning in favor of such stiff stage acting? I know, I know, it's a movie tie-in and they want it to look "real", but man, this stiffness is so pervasive these days that it makes me just go… limp.