Tuesday, January 4, 2011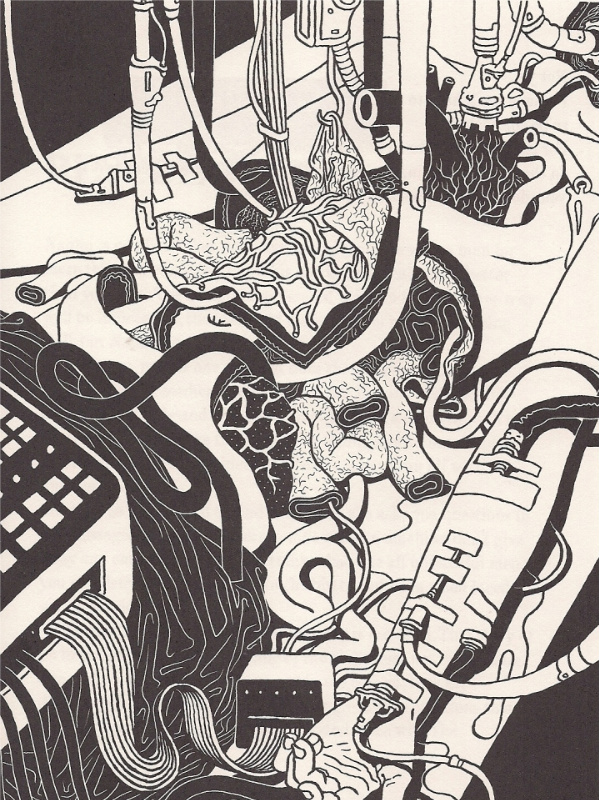 As mentioned a few days ago, redoubtable L'Association co-founder Patrice Killoffer has recently enjoyed a second North American release for Q4 2010, following NBM's publication of vol. 3 of Dungeon: Monstres, which collected his 2004 contribution to the sprawling franchise created by Joann Sfar and fellow L'Association progenitor Lewis Trondheim. This one's a newer work, and not a comics job – it's one of a series of illustrations created for The Man Who Refused to Die, a novella by Belgian writer Nicolas Ancion, published near-simultaneously in French and English (translated by Paul Buck & Catherine Petit) as part of publisher Dis Voir's line of Illustrated Fairy Tales for Adults. It's the second entry in the series, after The Adventures of Percival from artist Nicolas de Crécy and writer Pierre Senges (whose work Killoffer has also illustrated, in the 2004 Verticales release Géométrie de la poussière).
I can't say it's a very good book — feel free to skip this paragraph if you don't want the mystery ruined — although Killoffer's work is often quite nice. The plot concerns your typical doomed noir-ish private detective, investigating the possible sexual abuse of his great-grandmother at her nursing home, only to stumble into a terrible plot to surgically prolong the lifespan of extremely rich men, apparently based upon actual research by one François Taddei, who is credited accordingly. Everyone winds up either dead or immobile, with their minds digitized and left to collect dust with the rest of the world's prolific and ignored digital detritus, still the closest possible thing to eternal life.
It'd have made a decent enough late-period short serial in Eerie, and maybe a fine Killoffer comic, but mostly we're left with the artist's lovely full and double-page spreads of gurgling entrails and swirling amoebae and dense metal piping – lavish spaghetti & meatball renderings of How Things Work, stripping away the skin of a few more straightforward illustrations of people gesturing in rooms. Oddly, it reminded me of another transformation from last week, one less depictive than housed in the comics form, and tangentially concerning another rebellious group of seven comics artists who came to define the 1990s, and comics of the future as well.