THIS WEEK IN COMICS! (1/5/11 – Behold the Body Comics)
Tuesday, January 4, 2011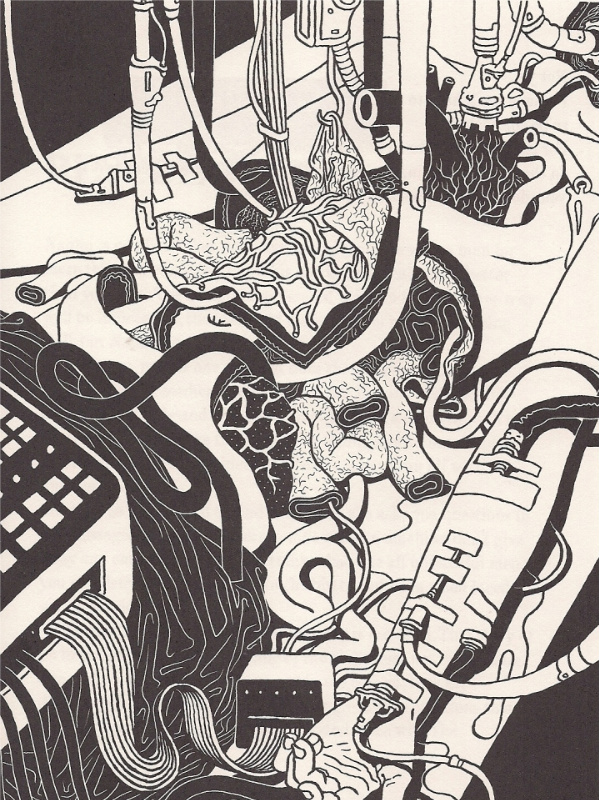 As mentioned a few days ago, redoubtable L'Association co-founder Patrice Killoffer has recently enjoyed a second North American release for Q4 2010, following NBM's publication of vol. 3 of Dungeon: Monstres, which collected his 2004 contribution to the sprawling franchise created by Joann Sfar and fellow L'Association progenitor Lewis Trondheim. This one's a newer work, and not a comics job – it's one of a series of illustrations created for The Man Who Refused to Die, a novella by Belgian writer Nicolas Ancion, published near-simultaneously in French and English (translated by Paul Buck & Catherine Petit) as part of publisher Dis Voir's line of Illustrated Fairy Tales for Adults. It's the second entry in the series, after The Adventures of Percival from artist Nicolas de Crécy and writer Pierre Senges (whose work Killoffer has also illustrated, in the 2004 Verticales release Géométrie de la poussière).
I can't say it's a very good book — feel free to skip this paragraph if you don't want the mystery ruined — although Killoffer's work is often quite nice. The plot concerns your typical doomed noir-ish private detective, investigating the possible sexual abuse of his great-grandmother at her nursing home, only to stumble into a terrible plot to surgically prolong the lifespan of extremely rich men, apparently based upon actual research by one François Taddei, who is credited accordingly. Everyone winds up either dead or immobile, with their minds digitized and left to collect dust with the rest of the world's prolific and ignored digital detritus, still the closest possible thing to eternal life.
It'd have made a decent enough late-period short serial in Eerie, and maybe a fine Killoffer comic, but mostly we're left with the artist's lovely full and double-page spreads of gurgling entrails and swirling amoebae and dense metal piping – lavish spaghetti & meatball renderings of How Things Work, stripping away the skin of a few more straightforward illustrations of people gesturing in rooms. Oddly, it reminded me of another transformation from last week, one less depictive than housed in the comics form, and tangentially concerning another rebellious group of seven comics artists who came to define the 1990s, and comics of the future as well.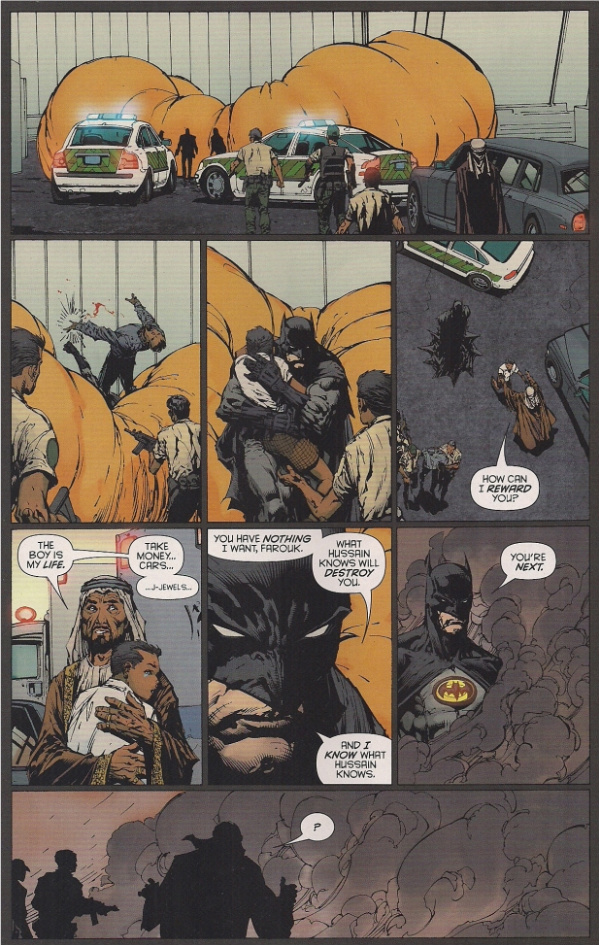 Yes, as with every edition of this column, I'm alluding to Batman. The above image is from the November one-off Batman: The Return, pencilled by David Finch, a popular current superhero artist who cut his teeth at Image co-founder Marc Silvestri's Top Cow Productions; he works in a muscled, gnarled style not unlike a lot of superhero artists drawing from early '90s superhero origins or influence; it's still a particularly popular look at DC, where Jim Lee — whose own Image-spawned studio, WildStorm, just recently closed up as part the DC's corpus — remains one of the most reliably popular talents around.
You can be forgiven for setting Finch aside while reading the comic, though; in keeping with genre stratagems, Batman: The Return was positioned as a sort of state-of-Batman address, announcing the primary continuity focus of the Batman line for the immediate future via writer Grant Morrison's notion of the World's Greatest Detective franchising superhero operations across the globe. Amusingly, the comic neglects to mention which series will specifically be continuing the main action of the plot, but it's not a big deal or anything – DC is well aware that anybody inside a comic book store reading a superhero comic of this type knows damn well what to do, which is to follow the writer onto his next project of the line (Batman, Inc.), since this type of line-guided plotting is effectively a writer's and editor's game, and the disposition of today's superhero comics is to frequently assure the reader of the import of any given action on the shared universe in which the superheroes reside, and which superhero comics provide momentary windows onto. The effect is rarely perfect, but it's the most reliable means of assuring the financial support of readers, and arguably the most unique characteristic of the corporate-owned superhero genre, with protagonists' histories stretching back deep into the 20th century.
This doesn't provide for a lot of focus on artists, you'll notice. Finch did not join Morrison on his new series. Instead: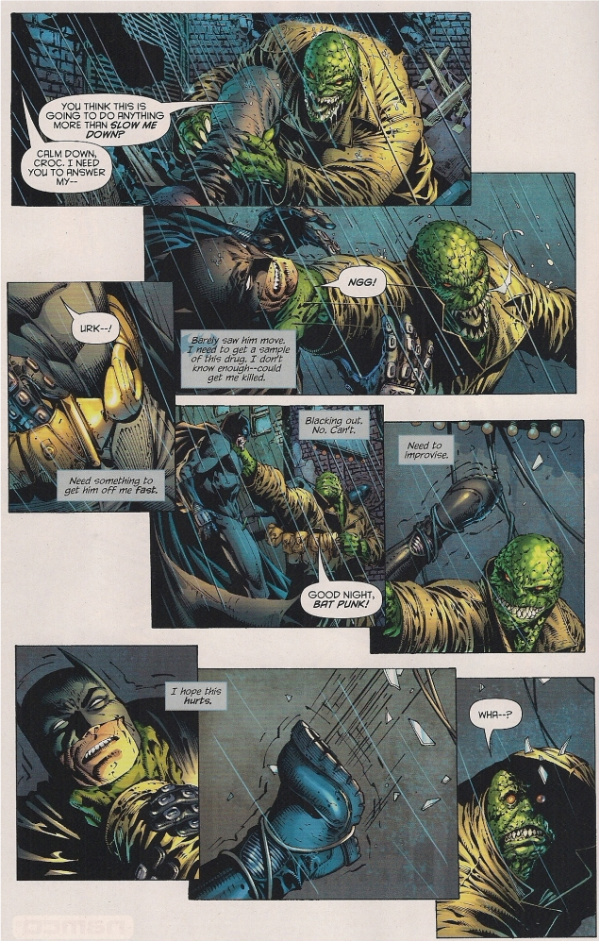 Batman: The Dark Knight #1 arrived last week, pencilled and also written by Finch. It's unique among DC superhero books in that it's a high-profile launch of an in-continuity ongoing series starring a major property that's leaning primarily on the art for its immediate sales appeal – while it 'happens' at the same time as Morrison's series, for now it seems primarily self-contained, seeing Bruce Wayne as Batman cracking cases and skulls in Gotham City. Fascinatingly, it looks a bit different from the art in the Morrison (writer-)driven Batman: The Return. Most obviously, there's a different colorist: Alex Sinclair as opposed to Peter Steigerwald, who generally favored dark blacks contrasted with brighter reds and oranges, or whites. Sinclair has a number of approaches he's used — his digital fuzz background work with Frank Quitely was a point of some contention among readers in early issues of Batman & Robin — but here his night colors have a lot of blue, with shiny, radiant elements scattered throughout.
Crucially, it's basically the same approach he's used with Jim Lee on his own hugely successful Batman projects, such as the Jeph Loeb-written Hush storyline or Frank Miller's notorious All Star Batman and Robin, the Boy Wonder. Moreover, Finch is being inked on Batman: The Dark Knight by Scott Williams, Lee's frequent collaborator. Looking at the first image, inked by Matt "Batt" Banning or Ryan Winn, you can see more pronounced black outlines and heavier character blacks. Williams gives a somewhat rounder look to Finch's pencils, which blended with Sinclair's colors makes the whole thing look… not entirely unlike Jim Lee, pretty much.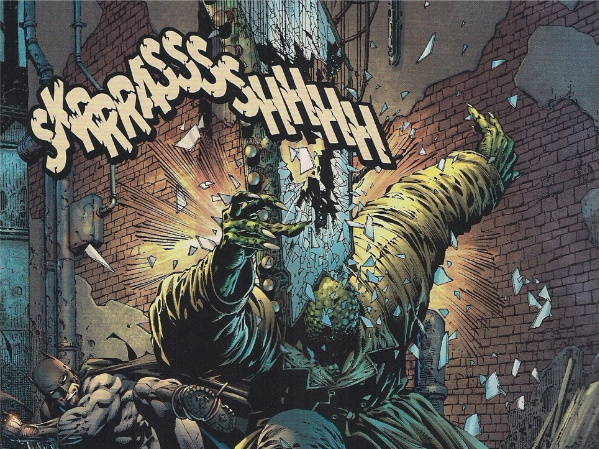 Obviously it's still David Finch, pencilling, sure, but Lee's collaborators draw out more of the Image-honed influence in Finch's style, and while I don't know anything about anyone's intent at DC — once again, Santa failed to stuff my stocking with psychic powers, the fat red fuck — it can't be unbeneficial in today's superhero environment to emphasize Finch's like-minded aesthetic with a popular, influential peer. "Jim Lee" is an artist, yes, but also brand, a look – money-wise, he might be an ideal form of superhero art, certainly something preferable to a lot of DC readers. But he works a lot with Williams in particular, to the point where he doesn't entirely look like 'himself' without the inker present; excuse the drama, but Williams is a bit like an Eve grown from Adam's rib, a contributor to "Jim Lee" who potentially can being a bit of the style to others, directly from the source rather than received influence.
In corporate comics, dependent on the division of labor that emphasizes the roles of "penciller" and "inker" and "colorist," this is an interesting potential, especially when working to sell a comic away from the dominance of a "writer" who manages the line's direction. It's a mechanic of the form as provided by the production particulars of the superhero scene.
As for Finch-the-writer, I was mostly struck by how little in Batman: The Dark Knight is specific to the superhero genre anymore in terms of plot action. Batman is investigating a missing persons case, and it proceeds essentially like a television cop show, with vigorous interrogations occurring in an alley with a crocodile-skinned guy rather than in a dim room, but to much the same effect. Of course, Batman started out as a variant on dark pulp heroes and their own mysteries, and what we see now is maybe the legacy of writers like Ed Brubaker and Brian Michael Bendis mixing police procedural elements into the brew – but while earlier works might have followed Gotham police on duty, here it's mixed right into Batman for a mainstream-minded product proceeding as expected from popular sources, but with superhero characters that'll assure superhero fandom attention.
It makes you a bit more appreciative of Morrison, who at the very least tries to spin metaphor from the genre-specific material he's confronted with, like long character histories and mad spin-off franchising. Finch, meanwhile, apparently intends to push his series in more of a supernatural direction soon, which is another long-running Bat-trope. They're all kind of long-running now.
More imminently:
Harold Gray's Little Orphan Annie Vol. 6: Punjab the Wizard: Grab those bootstraps, it's time for yet more frolicsome calamity from the funnies of yore. This one covers most of 1935-36, including the famed Eli Eon storyline in which various societal, political and media forces sabotage a miracle formula's potential to benefit humankind. From IDW, with contributions by Jeet Heer, also of this website; $49.99.
Gantz Vol. 15: Continuing the series even English publisher Dark Horse has taken to calling "a guilty pleasure for many readers" in its solicitation materials, although I see it as more of a throwback to an earlier point in manga (and Dark Horse) history where bloody, visually dense manga were promoted for their similarities to North American comics, if a bit less restrained in terms of content. Speaking of restraint, the first of two Gantz feature films is opening in the U.S. on January 20th as a one-night special in a couple hundred theaters; I imagine concessions to the immediacy of live action will be made. Preview; $12.99.
Twin Spica Vol. 5 (of 16): Don't ask me why this sweet 'n sensitive young-folks-look-to-go-to-outer-space series from Vertical seems to show up at the same time as Gantz. Maybe they're destined to be together; $10.95.
Death Note Black Edition Vol. 1 (of 6): More in line with Gantz is this massively popular 2003-06 series from Tsugumi Ohba & Takeshi Obata (currently of the young manga artists self-reference drama Bakuman), a largely bloodless and gleefully ice-cold exercise in nihilistic suspense thriller plot games. See a young man pick up a supernatural notebook that lets him kill anyone, however he wants, within the helpful confines of certain rules! Gasp at how those rules pit him against one or more eccentric boy detectives! Swoon at the irrelevance of morality and the social contract in favor of futile world-making power games and abstracted intellectual challenges! There is no sympathetic god in the sky! Political progress is illusory! All that can be done to relieve the smothering ennui of contemporary existence is to leer at the spectacle of the powerful and cruel temporarily prodding the mewling human flock toward absolutely no substantive end. Now in a larger, thicker, less expensive form. I said a lot more here; $14.99.
World War III Illustrated #41: On the other hand, you could always cast your New Comics Day lot with this venerable forum for aggressive action, this time focused on human positioning in the Food Chain that sustains us. With Peter Kuper, Seth Tobocman, and many others over 128 pages. Distributed by Top Shelf; $7.00.
Classics Illustrated Vol. 12: The Island of Dr. Moreau: Being the latest in NBM's bookshelf-ready revival of the vintage funnybook compression line (via their Papercutz imprint), worth highlighting for the presence of artist Eric Vincent of Alien Fire. Steven Grant scripts the 56-page package. Preview; $9.99.
House of Mystery #33: One of the odder-structured Vertigo series, in that it leaves room for a guest artist's contribution somewhere inside I think every issue. I haven't kept up with the ongoing story, mind you, but note that the always-interesting David Lloyd is up this time; $2.99.
Sweets #4 (of 5): Finally, in case you were wondering — and gosh, why wouldn't you be? — there are police procedural comics I happen to enjoy reading, such as this Image project from writer/artist Kody Chamberlain, set in an gold-baked New Orleans beset by the elusive murderer's peril that crime comics feed upon. Preview; $2.99.
Labels: Alex Sinclair, David Finch, Grant Morrison, Jim Lee, Patrice Killoffer, Scott Williams, This Week in Comics