Saturday, March 20, 2010
This appraisal of Garage Band by Italian cartoonist Gipi, first appeared in Windy Corner Magazine.  Thanks to Austin for letting me run it here on CC.
————–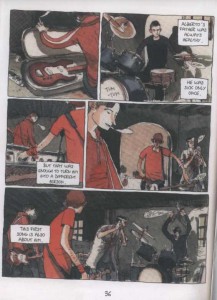 Garage Band  by the Italian cartoonist Gipi is a remarkably deceptive comic. Originally titled Five Songs when it was released in Italy a few years back (2005), it's a breezy read, quite enjoyable – arguably the most beautiful of his available works in English. Soft watercolor tones and thin contour lines that unite with marvelous energy and skill. Gipi has an amazing ability to capture the essence of each scene, to articulate all the important details without overwhelming the reader with such details. Yet, it's a relatively "empty" read if one is looking for a solid story in the traditional sense.  And this is what I mean by it being a deceptive comic.  It's 114 pages of strung together notes, poetic silent passages and bursts of energy. In that sense, it's sort of like watching a great band practicing their songs. We see the stops and starts, the rehearsal of new material and the easy way in which some old songs are played effortlessly.  It's all there, but somehow, I'm left wondering if the real show in front of an audience will be better and I'll get to see, hear these songs played to perfection. And then I wonder if that really matters, and that maybe, seeing the band practice, hearing the demo tape is closer to some sense of perfection.