Random Riff Round-Up
Tuesday, March 9, 2010
Hey everybody. I thought I'd copy Jeet and post some of the things in my notebook that I've been carrying around for the last few weeks. Nothing super substantial but hopefully enough to get some discussion going in the comments.  I just got back to Pittsburgh after a week in NYC working with Dash on his animation project. He and I talked a lot while I was up there and I gotta get this stuff outta my head. Please forgive the randomness of these notes. Maybe someday I'll turn some of these riffs into more well-rounded posts but until then this is it.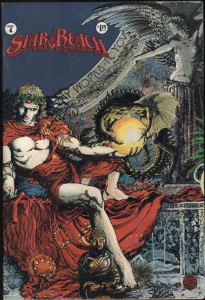 Why don't the old guard guys make graphic novels? As someone who loves tracking down old comics by Howard Chaykin, Walt Simonson, Barry Windsor-Smith, Michael Kaluta, and other guys who made "art" comics back in the day, I often wonder why these guys don't make long form works. Chaykin just did a new Dominic Fortune story but released it as a serialized comic book. His pair of Time2 graphic novels from the late '80s were amazing and it makes me wonder why he doesn't "do a Mazzucchelli" and really show us something. Is it the money? I figure he probably knows he can do it as a serialized comic and get paid. I'm guessing that not many publishers can offer guys like him a hefty advance so he can take time off from the pulps and focus on a long form book. But it's kind of weird, isn't it?  When I dig through my collection I come across comic after comic from the '70s and '80s by guys like Chaykin, Windsor-Smith, Corben, and many others that all held the promise of some future where they could make long form "adult" comics that would appeal to a wide audience. Well, the time is now and it's strange to me to see them still doing serialized comics. Only Mazzuchelli made the jump. Will others follow his lead and do long form works that aren't serialized? Does it matter? No, but it is weird, I think.

It's a crime. It's a crime that First Second Books reformats European sized albums like Christophe Blain's Gus into those atrocious looking manga-sized trade paperbacks. At least NBM's scaled-down versions of Sfar and Trondheim books are readable. If Paul Pope's THB collection from First Second is that same manga size it's going to have to come with a magnifying glass. I heard they are doing an oversize black-and-white collection of that (in addition to the manga-sized color edition) so I guess I shouldn't complain. Still, it's a real crime what they did to Blain's Gus. And to Gipi's Garage Band and all the other translations that I'm forgetting. A crime, I say.
The Elmo Generation. The Elmo Generation is what I've started calling the new crop of art comics kids. I remember when my mom, who works at a children's hospital, explained to me that little kids in the '90s didn't like the old Sesame Street characters. She said they were put off by Cookie Monster and Oscar the Grouch and preferred Elmo because, she said, "he shows that he's scared of things and isn't mean." I get these crazy "art" comics in the mail all the time and it's like they've taken all the bite out of the Fort Thunder style and replaced it with a sort of auto-bio whining and recycled art school theory. One begins to understand the popularity of Ben Marra. Ye Olde Backlash in full effect.
Fusion. I've been thinking a lot about Brandon Graham. He's like a fusion chef or something. I see Vaughn Bode, Moebius, and manga in his work. But I see it combined in a way that feels new and very fresh. Remember that post I did last summer about the "Tree of Influence" and how it's possible to graft new identities upon the tree without being schooled in the singular comics tradition of old? Well, I think Brandon Graham, Brian Lee O'Malley, and Dash Shaw represent a sea change in comics. Their influences are very contemporary and at once unite American, Japanese, and European influences in a way that I feel is very different from the slow evolution of years past. Think about how accessible all of comics history is now in 2010. It's exciting to think about what the next generation will contribute to the "tree." Maybe the tree is over or irrelevant now, I dunno. I spoke to Robin McConnell about all this and he pointed me in the direction of a lot of other artists who he feels are doing similar things. I haven't had the time to do the proper investigating but this "fusion style" is something that constantly pops into my head when I'm looking at new work on the stands. And a lot of times when that happens I think of Paul Pope as the progenitor of this fusion style. And Scott McCloud's Zot. Weird. 
Worst comic shop in America. The worst comic shop in America has to be St. Mark's Comics on St. Mark's Place in the East Village of NYC. But after a few beers at the Holiday Cocktail Lounge I always want to wander in there to sneer at the prick who runs the place and find a comic for the subway ride. As luck would have it they were having a dollar sale and I found some good stuff. I had totally forgotten that Ho Che Anderson had done an Eros comic called I Want To Be Your Dog. It's a total Chaykin Black Kiss riff. Amazing. Haven't read it yet but I was lucky to find the whole run of five issues. Also, while digging through the bins I was struck by how modern the early Optic Nerve issues look. The covers look really good; classic and modern at the same time. And they look totally different from almost every other comic in the bins. Hunh. Also I found an issue with a letter from none other than Tom Kaczynski. I'm including it here for your reading pleasure.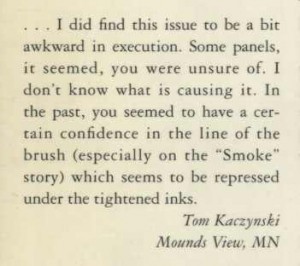 Labels: Adrian Tomine, Barry Windsor-Smith, Brandon Graham, Brian Lee O'Malley, Christophe Blain, David Mazzucchelli, Gipi, Ho Che Anderson, Howard Chaykin, Michael Kaluta, Paul Pope, Richard Corben, Tom Kaczynski, Walt Simonson