Tuesday, September 21, 2010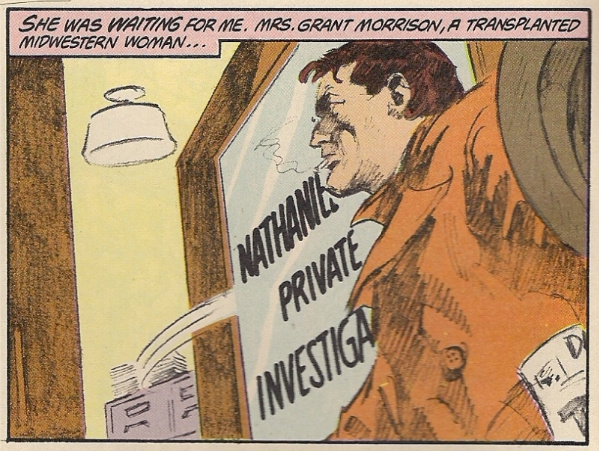 For your pleasure, we now present the off-panel first-appearance-by-implication of beloved DC character Grant Morrison. Created by Don McGregor & Gene Colan in 1984, Morrison is notable for having never directly interfered in the action of his originating series, Nathaniel Dusk: Private Investigator, an out-of-continuity detective series (of added historical interest for being among the first division-of-labor comics series colored directly from an artist's pencils). Morrison's hands-off presence as a comics player was subsequently and radically reversed as chief among many DC character revisions proffered by the 1988 Animal Man series, in which "the Writer" Grant Morrison displays direct and seemingly unlimited control over storyline action, doubtlessly in support of the evolutionary theme present in the series at large, to say nothing of later related comics works.
While ostensibly killed by writer John Ostrander in a subsequent issue of Suicide Squad, Morrison has nonetheless endured as a pliable (if elusively identifiable) presence in DC or DC-owned comics, ranging from Planetary to Seven Soldiers. He shares a name with author and music video personality Grant Morrison, although it is unknown if McGregor and/or Colan were aware of this other Morrison — potentially through contacts established or submission present in the immediate wake of British writer Alan Moore's arrival on the North American comics scene in the early '80s — at the time of his creation.
This has been your Extremely Reliable Comics History for 9/21. Pricing information on upcoming releases follows: