Tuesday, April 27, 2010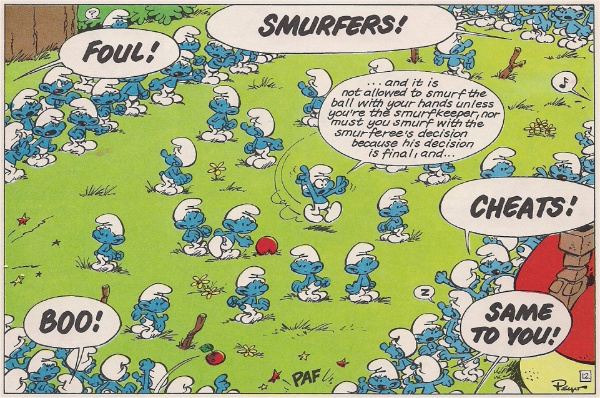 FOOTBALL RIOT AT SMURF VILLAGE – not an uncommon sight, I hasten to add. Those lovable (and almost certainly delicious) blue creatures may be best remembered in the U.S. as a mega-merchandising juggernaut accompanied by a five million-episode television cartoon, but those old '60s/'70s albums by creator Peyo and co-writer Yvan Delporte (editor-in-chief of originating magazine Spirou for some of that period) were lean, tight little comics, marked by a rather jaundiced view of societal stability. The Smurfs are always fighting, be it from Flanders/Wallonia-inspired linguistic differences (Smurf of One and Smurf a Dozen of the Other, seen above), catastrophic and possible inherent flaws of the democratic system (King Smurf) or an old fashioned insect-borne rage contagion (The Black Smurf, or sometimes The Purple Smurf if your region cares to head off a particular allegorical construction); if this is supposed to be some kind of anarcho-socialist utopia, its maintenance costs are transparent indeed!
Don't mind me, I'm just counting the weeks until the (apparently) late August debut of the new English-language North American line from NBM/Papercutz, albeit (apparently) to be published at the same smallish 6.5″ x 9″ dimensions as NBM's Dungeon paperbacks. Still: vintage Franco-Belgian stuff for $5.99 (unless you want the same-sized $10.99 hardbacks) sounds like an okay enough side-effect of the continuing march of movie franchise continuations, here a live-action/CGI whatsit from the director of Beverly Hills Chihuahua and two of the screenwriters of Shrek 2, coming soon, 2011. Starring Neil Patrick Harris as Johan, so you know they're going all way back into the 1950s Belgian kiddie komiks, by which I really mean the 1976 animated movie The Smurfs and the Magic Flute, co-directed by Peyo himself, having worked in animation during WWII with several future principals of the mighty Marcinelle school of Belgian comics art. Teenage Peyo wasn't immediately accepted into Spirou with Franquin and Morris and such, which makes it a little ironic that the Smurfs' international assault left Peyo's clean but rather dispassionate iteration of the period's style its sole lingering image in a lot of places, the U.S. not the least of them.
Comics and movies, folks. What else do we have?