THIS WEEK IN COMICS! (4/28/10 – Mr. Wilson & the Children Who Hate Nazis)
Tuesday, April 27, 2010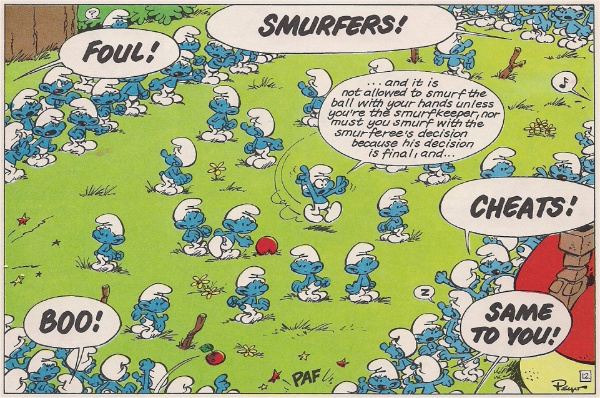 FOOTBALL RIOT AT SMURF VILLAGE – not an uncommon sight, I hasten to add. Those lovable (and almost certainly delicious) blue creatures may be best remembered in the U.S. as a mega-merchandising juggernaut accompanied by a five million-episode television cartoon, but those old '60s/'70s albums by creator Peyo and co-writer Yvan Delporte (editor-in-chief of originating magazine Spirou for some of that period) were lean, tight little comics, marked by a rather jaundiced view of societal stability. The Smurfs are always fighting, be it from Flanders/Wallonia-inspired linguistic differences (Smurf of One and Smurf a Dozen of the Other, seen above), catastrophic and possible inherent flaws of the democratic system (King Smurf) or an old fashioned insect-borne rage contagion (The Black Smurf, or sometimes The Purple Smurf if your region cares to head off a particular allegorical construction); if this is supposed to be some kind of anarcho-socialist utopia, its maintenance costs are transparent indeed!
Don't mind me, I'm just counting the weeks until the (apparently) late August debut of the new English-language North American line from NBM/Papercutz, albeit (apparently) to be published at the same smallish 6.5″ x 9″ dimensions as NBM's Dungeon paperbacks. Still: vintage Franco-Belgian stuff for $5.99 (unless you want the same-sized $10.99 hardbacks) sounds like an okay enough side-effect of the continuing march of movie franchise continuations, here a live-action/CGI whatsit from the director of Beverly Hills Chihuahua and two of the screenwriters of Shrek 2, coming soon, 2011. Starring Neil Patrick Harris as Johan, so you know they're going all way back into the 1950s Belgian kiddie komiks, by which I really mean the 1976 animated movie The Smurfs and the Magic Flute, co-directed by Peyo himself, having worked in animation during WWII with several future principals of the mighty Marcinelle school of Belgian comics art. Teenage Peyo wasn't immediately accepted into Spirou with Franquin and Morris and such, which makes it a little ironic that the Smurfs' international assault left Peyo's clean but rather dispassionate iteration of the period's style its sole lingering image in a lot of places, the U.S. not the least of them.
Comics and movies, folks. What else do we have?
Wilson: Oh, comics and literature. I think the wider critical/(sub-)cultural conversation has packed lit comics stereotypes into a firm enough state by 2010 to wonder freely if Daniel Clowes isn't on some level fucking with us by devoting this, his first-ever original graphic novel, to the seriocomic travails of an anxious schlub shuddering down a life's path mined with those transient epiphanies that tease our appetite for wholeness. Clowes' especial variation is twofold. First, titular Wilson rockets past depression and self-delusion into stretches of bona fide sociopathy, sending boxes full of dog shit to ex-relatives and appearing maybe half-aware at best of how his confrontational rants against absurd modernity and human avarice cause him to register.
Secondly and moreover, Clowes assures that Wilson registers differently to us by way of a much-noted formal technique: every page of story is an essentially self-contained 'scene,' usually drawn and colored in a wildly different style from whatever is around it. Each page has its own title, and typically ends in a little beat, usually comedic or awkward-comedic but sometimes straightforwardly (even indelicately) dramatic. The effect reminded me strongly of the Todd Solondz movie Palindromes, wherein the lead character is played by eight extremely diverse performers so as to project a sense of universality while emphasizing the core, unchanging nature of the character, crucial to the philosophic idea that people are substantively incapable of change.
Likewise, Wilson begins the story by declaring that he loves people and that he's a people person, and then the first punchline is his urging a passerby to shut up. We're stuck with him; he's the focal point of every page, always narcissistic, always struggling, and usually interacting with other people – he just can't stop, he needs their fuel for his righteousness, even as the gaps in time in between pages seem to grow wider and characters recur. "We like our stories to end with a promise of hope – 'happily ever after' and all that," he remarks to yet another hardly-willing audience later on. "Too bad real lives don't have that structure. Or hell, maybe they do. Maybe it's right there in front of us and we can't see it." The page structure, then, the differing art, is the external view on Wilson, how he's glimpsed by passerby or trapped airline seat buddies, inevitably seasoned by a host of intangibles and personal baggage simulated by Clowes' flickering draftsmanship. Yet Wilson is always Wilson, always the same despite the art, which he can't see, living on the page and all.
This is the give and take of Clowes' first-ever graphic novel construct – words as life-as-lived, and pictures as life-as-observed. It's a worthwhile experiment, and sometimes a trying, tedious one, particularly as the comedy — and sure, there's two or three really big laughs — gives way to a wholly expected whiff of fleeting redemption, Our Man shifted closer to Romantic for his teary slow self-destruction, and oh those rhapsodic beats at the ends of pages, it's less outside eyes there than the sure hand of God and Author. Of course, your interpretation may greatly differ; these can be rich pages. There's 80 of 'em, in a deluxe 8 1/4″ x 11 1/2″ Drawn and Quarterly hardcover. Preview; $21.95.
Super Spy: The Lost Dossiers: But enough of these virgin graphic novelists! Matt Kindt is experienced enough that his well-regarded 2007 historical espionage book Super Spy now has its own companion item; think of it as the bonus disc of supplements in the new dvd package you just double-dipped on, hence the outlay of funds. Its 96 pages collect fancy promotional comics (like a shipwreck story you cut up and lay out by following a map), prose pieces, production art, seven pages of annotations, abandoned ideas, extra-extra stuff related to the artist's 2004 book 2 Sisters, an all-assembly-required arts 'n crafts project – not a great place to start, but Kindt and publisher Top Shelf look to have poured in some effort to treat the initiated. Samples; $12.95.
City of Spies: The first of three First Second releases of the week – a 1942-set young people's adventure about kids vs. Nazi spies, composed in apparent homage to classic Franco-Belgian youth comics of the mid-century. Written by Susan Kim (primarily a writer for television) & Laurence Klavan (a novelist and playwright), with art by Pascal Dizin (apparently delivering his first longform comics work). Preview; $16.99.
Resistance Vol. 1 (of 3): First Second number two – another kids in WWII story, this one looking a bit heavier as a brother and sister attempt to assist the French Resistance as their home life and local environment goes to pieces. Written by YA prose author Carla Jablonski, with art by Leland Purvis of VÓX, Pubo and the ACT-I-VATE series Vulcan & Vishnu. Preview; $16.99.
Foiled: First Second number three – this time it's a contemporary fantasy from writer Jane Yolen, about a girl whose fencing equipment restores the color to her sight and opens up a magical dimension. Art by Mike Cavallaro, also of assorted ACT-I-VATE projects. Preview; $15.99.
The Tale of One Bad Rat: A new Dark Horse hardcover collection of Bryan Talbot's 1994-95 drama melding the works of Beatrix Potter with a teenage girl's flight from sexual abuse in her home. In addition to a new introduction by Neil Gaiman and updated supplementary materials, this edition features totally redone color separations; my first impression is that everything is much brighter. Have a look; $19.99.
Walt Kelly's Our Gang Vol. 4: 1946-1947: Fantagraphics has a bunch of new softcover editions of older releases out this week — the 2009 Warren war comics compilation Blazing Combat and Tim Lane's fascinating 2008 story study of the great American mythological drama, Abandoned Cars —  but here's a softcover original reprint, scooping up another 112 color pages of Kelly's franchise work. Samples; $14.99.
Star Comics: All-Star Collection Vol. 3: Ah, but the Golden Age of Reprints isn't just a back-of-Previews thing – witness this third softcover compilation of mid-'80s Marvel comics built to fill the magnificent power vacuum left by the absence of Harvey Comics. Collecting Planet Terry #5-6, Royal Roy #5-6 and Top Dog #7-9, all of them by Harvey vets Lennie Herman & Warren Kremer, along with Wally the Wizard #5-6, which by that time had seen the departure of creator Bob Bolling (of Little Archie) for one Ben Brown. Is that the pre-Code horror guy that drew The Purple Claw? Anyway; $19.99.
Giant Size Little Lulu Vol. 1: But some reprint series are so far along they get their own reprints; hence, in true manga repackaging style, Dark Horse presents vols. 1-3 of its John Stanley/Irving Tripp collections in a single 664-page b&w horse choker of all ages fun. Preview; $24.99.
B.P.R.D. Vol. 12: War on Frogs: They sure don't look like they're up to vol. 12 when they're comic books laying around. Anyway, this was a series of action-focused one-offs and a MySpace serial John Arcudi wrote without series godhead Mike Mignola (whom I believe shows up for some of the added material), worth your attention for the participation of guest artists John Severin and Herb Trimpe, along with Peter Snejbjerg, Karl Moline and primary series artist Guy Davis; $17.99.
JLA: Deluxe Edition Vol. 3: Being the latest in DC's fat hardcover collections of writer Grant Morrison's big booming megahit superhero spectacle from the bad ol' years of the mid-to-late-'90s, an influential approach (at least tonally, it seems to me) on later defining genre projects like The Authority. That said, I can barely even remember what happens in these late period scattered storylines, issues #22-26 and #28-31 (omitting a Mark Millar-written guest issue). The JSA shows up for Crisis Times Five, I know that. Also included is the Event crossover tie-in JLA #1,000,000, an odd choice in that it served as a de facto extra issue of the core DC 1,000,000 series Morrison was writing at the time, much in the way his Final Crisis: Superman Beyond 3D tie-ins became mandatory reading for the Final Crisis series as a whole; $29.99.
Iron Man 2: Public Identity #1 (of 3): Apparently not a movie adaptation, but a short series set in the world of the movie, noteworthy for a nice team of performers that can have fun with a project like this: writer Joe Casey and artist Barry Kitson. Preview; $3.99.
The Romita Legacy: Your book-about-comics for the week – a 200-page enormous interview tome (from Dynamite Entertainment) in which Johns Sr. & Jr. chat with Tom Spurgeon, who also provides an overview essay. Many images are promised, along with an introduction by Alex Ross. Jazzy John is an eyewitness to most of the development of the comic book form, JRJR is possibly my favorite superhero artist working today, and I can't think of many people more adept at longform comics interviews than the Comics Reporter himself, so I'm looking forward to this. Preview; $29.99.
Instructions: Finally, your not-really-a-comic for the week – a new HarperCollins illustrated storybook by Neil Gaiman & Charles Vess, its 40 pages promoting trust in Dreams, Your Heart and Your Story, which is a bit like the Smurfs, now that I stop and consider it, so I'm definitely holding out hope for a football riot. Preview; $14.99.
Labels: Daniel Clowes, Peyo, This Week in Comics, Yvan Delporte