A Larger Vision: Steve Brower on Mort Meskin
Friday, October 8, 2010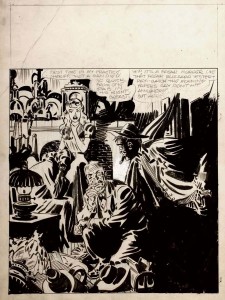 A decade ago I worked in the same office as Steve Brower when he was the art director of Print, and got to know him a bit then. At the time Steve was deep into Jack Kirby, and I think we occasionally rapped about that. But since then, Steve has produced excellent books showcasing hitherto little known aspects of the work of first Woody Guthrie, and then Louis Armstrong. Now he's published From Shadows to Light: The Life and Art of Mort Meskin, for reasons I'll let him explain. As a Meskin admirer (I put a Golden Lad story in Art in Time) I am thrilled to have a beautifully made book that showcases his thoughtful, vividly executed and highly influential work. Steve takes a back seat to the images, which are often printed as original art, and elucidates a great deal about just what made Meskin tick. We had a brief but fun email exchange, which follows below.
Do you see a through line between the three artists you've published books about — Louis Armstrong, Woody Guthrie and now Mort Meskin? It's a great American array you've got there.
The three of them have more in common than one might imagine. All were compulsive creators who led their fields into new paths. Yet somehow that didn't seem enough. Armstrong created 500 plus collages while touring 300 dates a year. Guthrie wrote over 1000 songs and created drawings, painting, journals, plays, poems by the score. Meskin would take a break from drawing comics or advertising art to draw, paint, collage, teach art. Plus there's the cross discipline music/art connection. That doesn't immediately come to mind with Mort, but he not only loved to sing but would sing into a reel-to-reel he purchased, along with Jerry Robinson, and experiment with sound. He also was a ballroom dancer. Lastly, all three overcame great personal obstacles and persevered: Armstrong poverty, Guthrie tragedy and illness and Meskin emotional instability.
What drew you to Meskin, of all artists? Has this been a long process? And what was your goal with this book? What besides, awareness/appreciation of the work would you hope would result from it?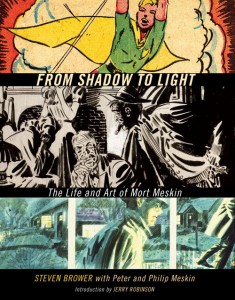 There were two things that drew me to his story. The first was the mystery of why someone who began so strong, influencing his peers, faded so quickly from view. The second attraction: his personal story. Mort was someone who suffered greatly at times emotionally and overcame his struggles. I felt there was a larger story to tell than just someone who was a very good artist. I should mention it was Jerry Robinson who really turned me on to Mort, and his more private side. All in all it took three years from the time I contacted Peter Meskin till the book was finished. My goal was to hopefully tell an inspirational story, the art speaks for itself. And while most agree about the high watermark of his 40s work I hoped to show that Meskin maintained a high degree of storytelling and design throughout his comics career.
You allude a couple times to Meskin having had a nervous breakdown. But what, exactly, happened there? Was he diagnosed with anything? Medicated? It seems like an important part of the puzzle and I wonder how much it affected his later work.
Yes, he did have nervous breakdowns. He had a terrible stutter, which worsened under stress. As for a diagnosis, I wasn't privy to any medical records. But nervous breakdown is a catch all phrase. I don't want to paint Mort as a victim, but working in comics for a page rate, long hours and demanding and unappreciative editors while trying to raise a family I'm sure was extremely stressful and by all counts Mort was a very sensitive person. At certain points he simply wasn't able to function. Medication and therapy did help. As for affecting the work, the 50s crime and horror work in particular is quite claustrophobic compared to his 40s art. And then as things improved in his life his art simplified once again.
Meskin at least suggested stories for The Strange World of Your Dreams and of course was given editorial credit. Will we see some of those in print soon? And just how involved was he? Do we know if he ever looked back at those comics. To me, they are among the most abjectly personal he ever made.
I agree, but I don't recall any issues in Peter Meskin's archive, and Mort did keep a great deal of his work. However, most of the comics were ones he brought home for his kids and he might not have thought Dreams appropriate. Joe Simon and the Kirby estate hold the copyrights on those, so hopefully we'll see some of those stories reprinted in their S&K studio books from Titan. But yes, the book was his idea according to Kirby and Peter Meskin as well, based on his therapy and dreams. By all accounts Meskin read a great deal of psychology, philosophy and science.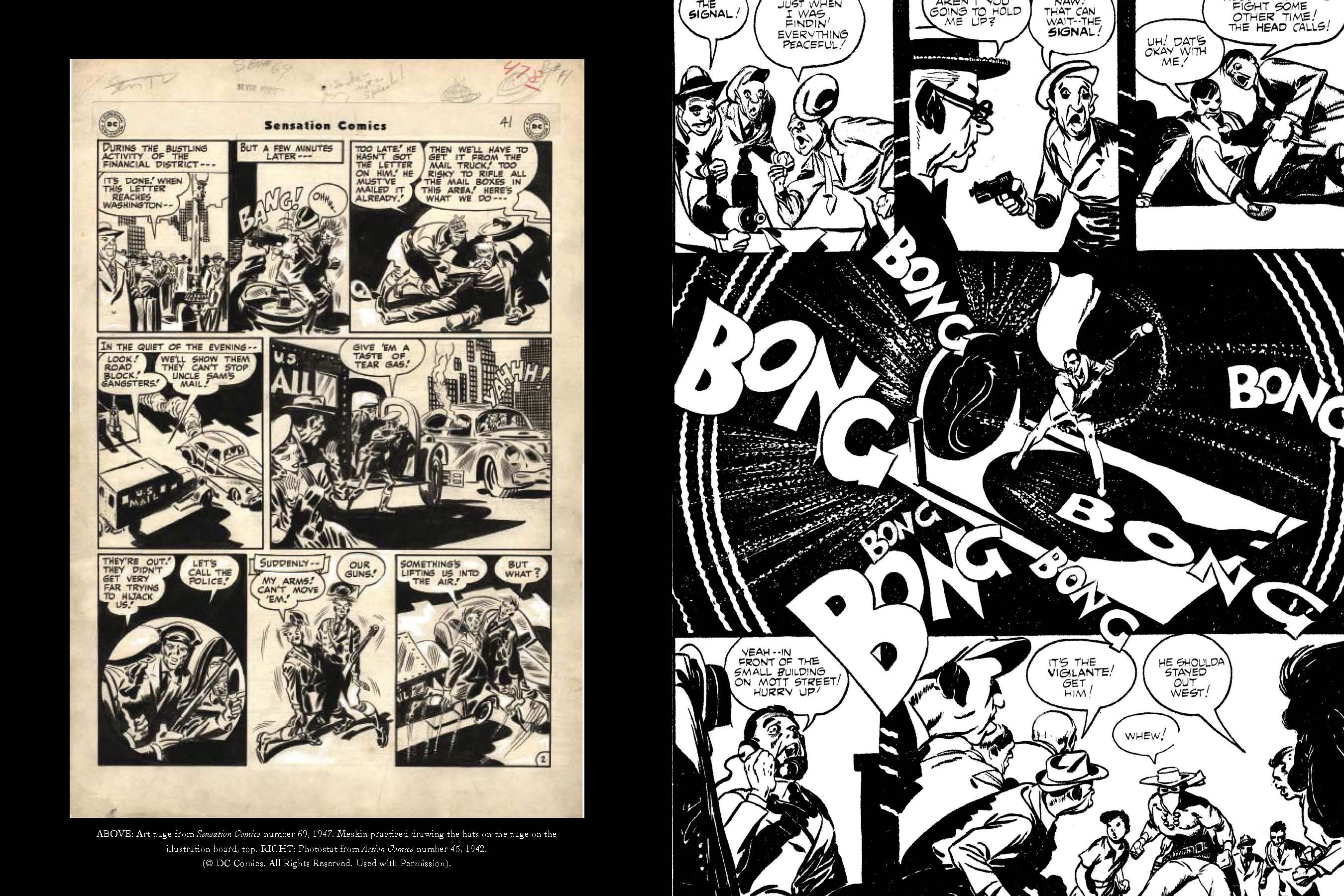 Do you think Meskin had a larger vision for his comics beyond the page count? Would you call him aesthetically ambitious, in the sense that he wanted to push the medium?
Absolutely. One thing Jerry and George Roussos said about Mort is that he was very confident in his artistic abilities. I think Meskin along with Kirby really began to explore the concept of not only page design but spreads and how the pages flowed from one to the other, something comic strip artists didn't have to be concerned with. And I think his art training showed. He made great use of negative space and POVs early on, and, using another music analogy, his figures' movements during acting and fights were balletic.
To that point, Kirby: There's a wonderful dialogue between him and Meskin in which Meskin claims to be the better artist but wonders why Kirby sold better. Where did that come from? And while I know about the debate over influence with the two, what's your personal opinion of their artistic relationship?
That quote comes from comic historian Greg Theakston, who interviewed both Kirby and Meskin. As far as I can glean they admired each other greatly. They worked together for at least 7 years at S&K. As for who influenced who, according to Robinson, both were well formed by the time they starting working. They shared some influences such as Caniff, Raymond, Foster, although Meskin had different ones as well, Cartier, Stoops, Briggs, Sickles. Both worked for Eisner. And in all likelihood both were influenced by colleague Lou Fine, a few years older than each of them.
What is that you think made Jerry Robinson and Meskin such a great team? Their work together has an extraordinary liveliness. What was the chemistry, do you think?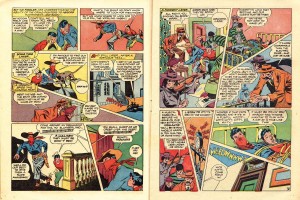 Without question, their friendship, which began when Jerry was still a teen and Mort was six years older. They were very close, despite the age difference, I think they trusted each other implicitly. I don't think there was any sense of competition between them, only encouragement.
Finally, what's next for you and Meskin? Are you down for a while and onto something else? Or is there more Meskin to come?
Fortunately more Meskin, I am working on a book of reprints with Fantagraphics. And back into jazz, I am collaborating with Mercedes Ellington, Duke's granddaughter on a book about him. Incidentally Duke Ellington started out as a sign painter and studied art at Parsons. No break for me, I guess I have my own compulsions. And of course there's the great American novel.
Labels: Art in Time, Mort Meskin