Thursday, August 12, 2010
A series of announcements.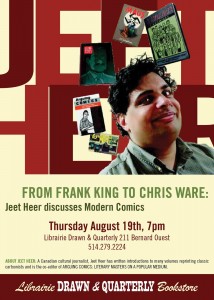 First, if you're going to be in the Montreal area next week, our very own Jeet Heer will be dispensing wisdom during a can't miss evening at the Librairie Drawn & Quarterly on August 19.
Second, in the under-appreciated cartoonists department (nineties-wave division): Since April (how did I miss this?), the great Jon Lewis has been posting regular new pages of his classic True Swamp series. The first installment can be found here. This is welcome news.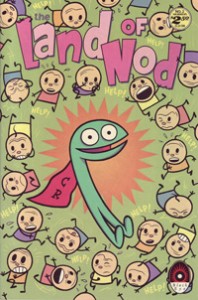 Another alumnus of that same era of comics, Jay Stephens, has begun collaborating with Bob "Slylock Fox" Weber Jr. on a strip for King Features, Oh Brother! According to the publicity e-mail I received, this is the "first webcomic" built and launched by a newspaper syndicate. I am not qualified to judge the veracity of that statement. In any case, Stephens was one of a whole slew of interesting cartoonists published by the late, lamented Black Eye, a company whose output seems to have somewhat slipped from collective memory lately, but deserves more critical attention.
Oh, and finally, in regard to the CC Comic-Book Club discussed last week: thank you all for your suggestions. For various reasons, I don't think that most of them will work for this particular purpose, BUT I still plan to review some of them as individual issues in the near future, particularly Smoke Signal and Glamourpuss. The Neal Adams Batman book is just too long—I can't imagine writing twelve full posts about it. Maybe I'll just do one of those issues too, but we'll see how things go. In the end, it seems like the Alan Moore series will work best. Regardless of the book's quality, which I don't want to pre-judge, there are a lot of interesting angles to tackle—adaptation, prose vs. comics, sequels, Lovecraftian fiction, comics scripting vs comics art, how it fits into Moore's larger body of work, etc.—that should lead to solid post and comment fodder.
In any case, next Thursday, I'll put up the first post. If it goes well, we can follow Neonomicon up with something else, and if a new obvious series hasn't shown up on stands by then (please feel free to keep suggesting nominees), maybe we can pick an already completed series or run from the past. Until then, next Thursday, I'll write about The Courtyard, a rather lackluster comic book not written by Alan Moore, but adapted by Antony Johnston from one of Moore's throwaway prose stories. The book is relevant mostly because Neonomicon is a direct sequel to it. The Thursday after that, I will cover Neonomicon issue 1, and so on.
Okay, now go look at that Jim Rugg cartoon again and forget all about this.