Tuesday, July 20, 2010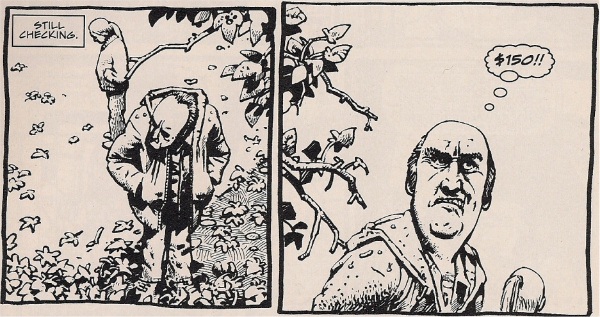 Following up on last week, above we see artist Richard Corben working from a story by the late Harvey Pekar, as presented in 2006's issue #2 of the first Vertigo iteration of American Splendor; a second series followed in 2008. Collectively, those eight issues were the last of Pekar's work to see print in the comic book format — although they followed a prominent bookshelf-ready Vertigo release in 2005's The Quitter, drawn by Dean Haspiel — and often had the feel of a valedictory effort, with a occasional propensity for teaming Pekar with hopefully simpatico 'name' artists, like Gilbert Hernandez or Darwyn Cooke.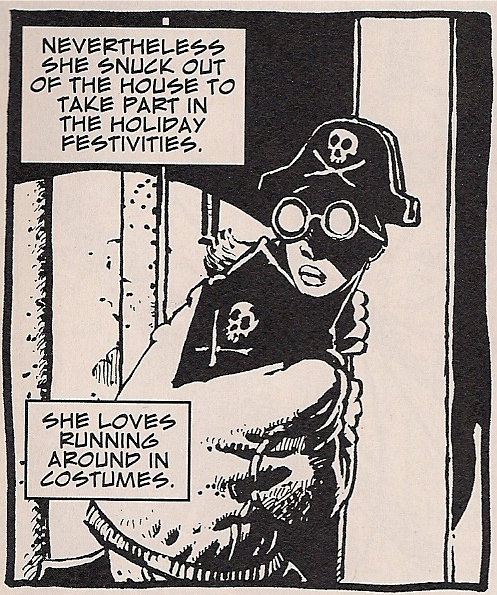 Corben illustrates a five-page Halloween story which, in true Pekar fashion, ambles into a small domestic drama about searching for a lost pair of glasses the day after a party. The effect of this subject matter on the art is interesting; stripped of any overt supernatural or fantastical image potential, extra attention is drawn to how Corben's stylized figures hang weightily in space, initially standing in claustrophobic rooms draped with midnight holiday shadows (see left), but then moving outdoors with Pekar's narrative into white-heavy space, cold and aloof (perfect for hiding misplaced items) and quietly threatening, like sharp leaves and twigs surrounding grumpy vulture Harvey above, externalizing his eternal anxiety ($150!!) as nature itself threatening him with yet another poke. That's just how Harvey's world could seem in these comics, mundane to some but likewise potentially transformative for collaborators, in that we might suddenly see nothing but ably wrinkled humans scanning their model-like world, a vulture by a tree, wondering what to do, or maybe pondering which created which, man or world? Writer or artist?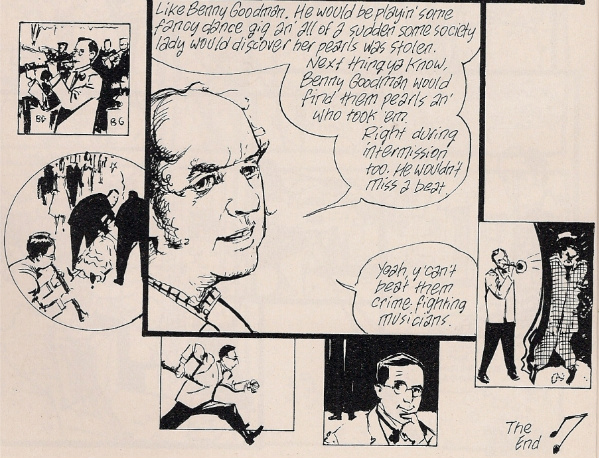 Other artists, and worlds, of course, might resist. Witness Eddie Campbell, as crucial a practitioner of autobiographical comics as Pekar, but full of fancy and romance and fiction, sharply apart from the self-consciously unadorned vignettes and monologues and encounters of the comic book American Splendor. Above you'll see the bottom half of the second and final page of a Pekar/Campbell collaboration, from the same issue as the Corben story. Harvey has bought some pierogies at the store, and become engaged in a chat with a bagger on trombonist Jiggs Whigham, whose father was a policeman. Our Man reminisces about the old Famous Funnies series Juke Box Comics, in which real popular musicians would get into adventures. Suddenly, the final 'panel' is protruding downward from the talking heads above, and Benny Goodman is racing around Pekar's narrative in a wordless escapade, anticipating the (literally) extra-narrative, occasionally extra-mortal antics of Campbell's 2008 The Amazing Remarkable Monsieur Leotard with Dan Best.
But make no mistake – this might look like crime fighting, but it's as much a jailbreak. From Harvey Pekar.
Additional splendor of every construction and connotation follows:
(more…)