Monday, August 9, 2010
Judging from Frank's most recent posts, he's spending this month swimming and drinking, which is the way to play it in August. Sadly, I have no pool and I get drunk really easily, so I went to art galleries instead. Lucky for me, though, I discovered a small show of lithographs, woodcuts, and linocuts by the great and massively influential H.C. Westermann at George Adams Gallery. In addition to a few superb color works, such as Red Deathship, from 1967 . . .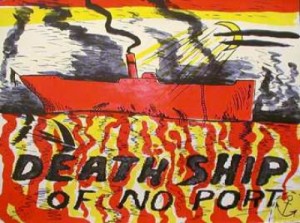 . . . the show includes his "Disasters in the Sky" series, small black-and-white linocuts that depict futuristic cities and horrific plane crashes.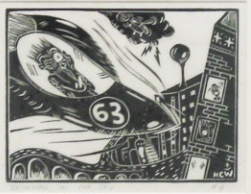 The mask-like faces, like the one above, resemble Basil Wolverton's grim, rubbery caricatures. Some from this series seem to suggest a narrative, and I thought of wordless novels, like Laurence Hyde's Southern Cross and any one of Lynd Ward's books. Westermann, Hyde, and Ward all wrote/drew tales with a political, antimilitary stance. The city's undulating architecture and elevated, snaking roadways made me think of Jimbo's La Bufadora, which would be a great place to spend the summer—poolside clambakes, robot fights, special group rates. (more…)