Sunday, March 21, 2010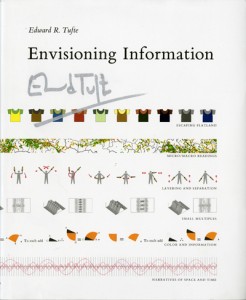 I went to the March 18 Edward Tufte seminar on "Presenting Data and Information" in New York. He tours around doing these one-day courses occasionally.  This latest tour continues into Pittsburgh (April 9) and Arlington, VA (April 12,13, and 14.)
Edward Tufte wrote and self-published four ridiculously beautiful books on information design: The Visual Display of Quantitative Information (the first and probably most famous one), Visual Explanations, Envisioning Information, and Beautiful Evidence. He's also a sculptor and does a million other things. He was recently appointed by Obama to the American Recovery and Reinvestment Act's Recovery Independent Advisory Panel and he spoke at the seminar about working on the design for the forthcoming website where you can see how the Recovery Act is using its funds.
What does this have to do with cartooning? Well, his books are primarily about presenting visual evidence as truthfully and clearly as possible. He told me that his two latest books, Envisioning Information and Beautiful Evidence, are the most relevant to cartoonists. Besides that, if you're just into incredible books or self-publishing they're definitely worth looking into.  He writes in the introduction to Beautiful Evidence:
My books are self-exemplifying: the objects themselves embody the ideas written about. This has come about, in part, because my work is blessedly free of clients, patronage, or employers.
At the seminar they give you a box with all four of his books and a pamphlet about his sculpture works. I don't know who the majority of the people there were, but I suspect they were mostly business people who have to give a lot of presentations. There was a lot of talk (and jokes) about PowerPoint, which Tufte hates and said should be used only as a projector. But I got a lot out of it.
Here were some of the repeating themes: