Friday, November 26, 2010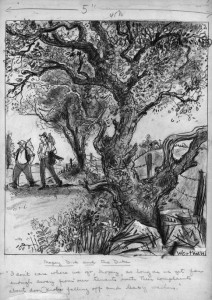 Happy Turkey time. Here are some hobo drawings, just to keep it real! Just kidding. Well, not sort of. Anyhow! I have already professed my love for James Sturm and Brandon Elston's new book, Denys Wortman's New York. It's maybe my favorite book of the season. So I asked James if he'd be willing to share some drawings that didn't make it in the book and he sent these 10 killers along with this missive:
"I love these hobo drawings. Wortman has an obvious affection for them. It's easy to imagine Wortman, like most cartoonists, as a homebody, and to tramp around vicariously through his characters must have felt liberating. Mopey Dick and the Duke were at the height of their popularity, not surprisingly, during the great depression. The hobos were based on Wortman himself (the Duke) and an old sea captain, William Morris Barnes (Mopey). Hilda Wortman met Barnes in NYC in the mid-twenties and was fascinated by the old captain's stories—so much so that she recorded his history that was published in 1929, "When Ships Were Ships and Not Tin Pots."
Barnes was also a painter, creating canvasses of ships at sea which he would sell to the Wortmans. According to Wortman VIII, after a sale Barnes would disappear for weeks on end and go on a bender. When he ran dray he made and sold another painting. Wortman VIII still has a few hanging in his home. Below is a drawing of Barnes by Milt Gross himself.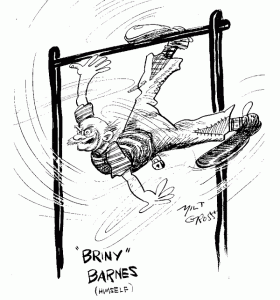 Some of these drawings show off Wortman's great feel for organic forms. He did rural as well as he did urban. In addition to the NYC work, He also did a lot drawings of New England, the country side, and documented trips to Europe and Central America. Most of these have yet to be scanned."
So, dig in and enjoy on this lazy Friday. Then click over to the NY Times to read more about Wortman or just dive into the official site. My thanks to James for sending these along.