Tuesday, June 29, 2010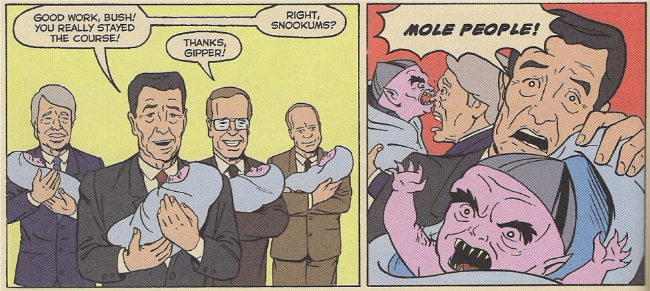 So the other day I heard that Adam McKay — Upright Citizens Brigade co-founder, former Saturday Night Live head writer and director of various Will Ferrell theatrical vehicles such as Anchorman: The Legend of Ron Burgundy, Step Brothers and the imminent The Other Guys — was apparently close to signing on as director for a movie version of the Garth Ennis/Darick Robertson-created superhero beatdown comic The Boys, so naturally I thought: didn't this guy write a comic himself somewhere? Way back in the mists of time, when we all were so young and prone to arguing whether it was the 21st century yet?
Absolutely: years before McKay had directed a feature film, he and SNL/Conan O'Brien veteran & TV Funhouse creator Robert Smigel scripted X-Presidents, a 2000 Villard Books expansion on one of the old SNL cartoon shorts, where Ford, Carter, Reagan & Bush get superpowers during a celebrity golf tournament and do battle with America's enemies, like Manuel Noriega, or Reptilio. It's a pretty funny book, formatted like a trade paperback collection of comic book issues, and dotted with as many artists (three pencillers, an inker and his studio and a letterer/colorist working from the original animation designs) as a typical superhero run of the day. Lots of fake ads, of the vintage sort you'd see in Acme Novelty Library, but this came out before the Jimmy Corrigan collection, or Clowes' David Boring, so it seems to have missed out on the visibility granted soon after to bookshelf-format comics.
It mostly seems to be forgotten, which is too bad; there's some decent (if occasionally obvious ha ha old comics) laughs, sometimes approaching a Michael Kupperman-type surrealism of decontextualized shared culture. It lacks Kupperman's elegance with the form, though – Smigel readily admits it was basically a means of realizing an X-Presidents movie script without having the money for a feature film, which kind of shows, and maybe that's another reason why it hasn't quite stuck in the minds of comics devotees.
But all of us will be forgotten one day, as will the following list of purchasable funnies:
(more…)