THIS WEEK IN COMICS! (6/30/10 – Cats, Kats, Bats & Wolves)
Tuesday, June 29, 2010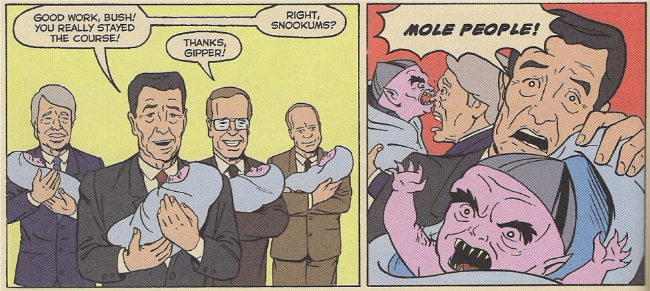 So the other day I heard that Adam McKay — Upright Citizens Brigade co-founder, former Saturday Night Live head writer and director of various Will Ferrell theatrical vehicles such as Anchorman: The Legend of Ron Burgundy, Step Brothers and the imminent The Other Guys — was apparently close to signing on as director for a movie version of the Garth Ennis/Darick Robertson-created superhero beatdown comic The Boys, so naturally I thought: didn't this guy write a comic himself somewhere? Way back in the mists of time, when we all were so young and prone to arguing whether it was the 21st century yet?
Absolutely: years before McKay had directed a feature film, he and SNL/Conan O'Brien veteran & TV Funhouse creator Robert Smigel scripted X-Presidents, a 2000 Villard Books expansion on one of the old SNL cartoon shorts, where Ford, Carter, Reagan & Bush get superpowers during a celebrity golf tournament and do battle with America's enemies, like Manuel Noriega, or Reptilio. It's a pretty funny book, formatted like a trade paperback collection of comic book issues, and dotted with as many artists (three pencillers, an inker and his studio and a letterer/colorist working from the original animation designs) as a typical superhero run of the day. Lots of fake ads, of the vintage sort you'd see in Acme Novelty Library, but this came out before the Jimmy Corrigan collection, or Clowes' David Boring, so it seems to have missed out on the visibility granted soon after to bookshelf-format comics.
It mostly seems to be forgotten, which is too bad; there's some decent (if occasionally obvious ha ha old comics) laughs, sometimes approaching a Michael Kupperman-type surrealism of decontextualized shared culture. It lacks Kupperman's elegance with the form, though – Smigel readily admits it was basically a means of realizing an X-Presidents movie script without having the money for a feature film, which kind of shows, and maybe that's another reason why it hasn't quite stuck in the minds of comics devotees.
But all of us will be forgotten one day, as will the following list of purchasable funnies:

Werewolves of Montpelier: New Jason – top o' the list. The popular harassment this time around involves romantic werewolves (or at least a romantically-addled fake werewolf and the authentic lycanthropes he's irritated) — sure to score big with the Twilight die-hard inside your head — although reassurance is never likely with this artist at the helm. A 48-page color Fantagraphics production, naturally. Preview; $12.99.
Batwoman: Elegy: Being a deluxe hardcover collection of surely the most striking superhero production of last year, writer Greg Rucka's & artist J.H. Williams III's seven-part extended (re-)introduction of the newest Bat-protagonist, which will now have to serve as their collaborative legacy since Rucka has left the project prior to the completion of five additionally planned chapters; Williams will now serve as artist and writer for a continuation sometime in the future. I've written a bunch on Williams' visuals, which charge individual aspects of the comics form with specific symbolic values in a manner not unlike David Mazzucchelli's Asterios Polyp — and there's also an extended Batman: Year One riff that forms the tragic center of Batwoman's childhood story — but composed with an eye toward the 'realist' expectations of contemporary superhero comics.
Rucka's plotting, in contrast, is very grounded, very straightforward superhero introduction/origin material — at times even a teensy bit reliant on the character's prior Rucka-written appearances in the weekly series 52, though I don't think distractingly so — which I maintain has a ways of preventing the work's visual conceits (which, to be fair, Rucka also apparently had a hand in discussing) from proceeding much further than dichotomizing hero & villain or providing subtle emotional coloration for the things that power Batwoman as Batwoman, or allowing creative citation of superhero landmarks past, though there's still some nice scripting (I really liked the bits at West Point, for instance) and I'm told it all works better read in one uninterrupted gulp. Still, I don't want to undersell the genuine accomplishment here – conveying the visceral, multifaceted thrill of superheroism through almost purely visual yet distinctly cerebral means. As a portrait of elaborated superhero psychology, it's practically a new subgenre unto itself; $24.99.
Krazy Kat: A Celebration of Sundays: Hmm, is the 'gigantic best-of Sunday page' collection a Golden Age of Reprints subset? Certainly this one takes on a kind of supplemental (alternative?) air, given Fantagraphics' ongoing effort to restore the complete Krazy Kat Sundays to print – it's a 160-page, 14″ x 17″ Sunday Press Books sampler of pages from every phase of George Herriman's creation, including a bonus selection of earlier features. I would expect the production on this to be excellent. Samples & notes here; $100.00.
Prince Valiant Vol. 2: 1939-1940: Meanwhile, Fantagraphics itself continues this 10.25″ x 14″ hardcover presentation of Hal Foster's adventure classic, more nuanced and detailed than ever before. Foreword by current Prince Valiant writer Mark Schultz. Preview here, restoration notes here; $29.99.
Shade the Changing Man Vol. 3: Scream Time: Writer Peter Milligan is currently showcasing the character as part of his Hellblazer run, so it makes sense for Vertigo to sneak out another reprint installment of his most admired '90s longform series effort. Collects issues #14-19, with Bryan Talbot momentarily supplementing regular penciller Chris Bachalo; $19.99.
Chi's Sweet Home Vol. 1: CAT MANGA. Vertical Books presents this cute comic about a lost kitty and its new home, an ongoing series by Konami Kanata (which has already spawned 104 three-minute mini-episodes of anime), currently up to vol. 7 in Japan; $13.95.
APPLE Vol. 4: That's A Place for People who Love Entertainment, provided said entertainment comes in the form of 256 pages of  lavish color comics and illustrations from Korean manhwa artists and visual designers for gaming. From UDON Entertainment; $34.95.
Suppli Vol. 4 (of 6): I haven't actually read any of this Mari Okazaki josei manga (aimed at teenage-and-older women), concerning a twentysomething office worker and several romantic interests, but it comes very highly recommended by a whole lot of online manga proponents. It's also been on English translation hiatus for a while, so I ought to make note of this new TokyoPop volume, now expanded to 384 pages so as to presumably get the ten-volume series out in a shorter time frame; $19.99.
Abe Sapien: Abyssal Plain #1 (of 2): A new short series from the B.P.R.D. writing team of Mike Mignola & John Arcudi, now joined by artist Peter Snejbjerg for a dangerous trek into Soviet secrets beneath the sea. Preview; $3.50.
Sky Doll: Space Ship #2 (of 2): Finishing off this anthology of short stories based on the Alessandro Barbucci/Barbara Canepa creation, here featuring art by Riff Reb's & Flight contributor Bengal. Note that the second Sky Doll story collection, Lacrima Christi, is due for translation next month, so it's really more of a four-issue miniseries with different titles; $5.99.
The Muppet Show Comic Book #7: Still written by Roger Langridge, drawn by Amy Mebberson for now. Preview; $2.99.
Elephantmen #26: Still written by Richard Starkings, drawn by Andre Szymanowycz for now. Preview; $3.50.
The Ultimates: Ultimate Collection Vol. 1 (of 2): And finally, one of the big totems of contemporary superhero style, the application of lessons learned from The Authority (and I guess Grant Morrison-era JLA) to big-ticket old-stock superhero characters, re-imagined as supercool players in a widescreen action movie for the page. Mark Millar, Bryan Hitch – the complete 13-issue first volume is here. Of its era, absolutely; but make no mistake, this thing was superheroes in the early '00s; $34.99.
Labels: Adam McKay, comics vs. movies, Robert Smigel, This Week in Comics