Tuesday, May 25, 2010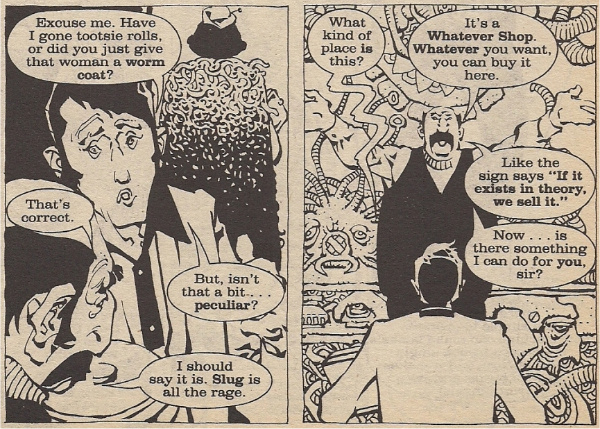 That's right, what can we do for you? So many wonders are available right now for just a few thin dollars, although I am legally obligated to mention that they do not involve a worm coat, unless Johnny Ryan elects to involve one in your personalized erotic violation; $100.
Speaking of which, the above image hails from issue #10 (Dec. 1979) of Warren Publishing's notorious 1984 (later 1994), an "illustrated adult fantasy" magazine released in the wake of Heavy Metal and succinctly characterized by contributing writer/occasional artist/eventual momentary editor Jim Stenstrum as "a beaver-fest" in TwoMorrows Publishing's The Warren Companion. Stenstrum wrote this piece, The Whatever Shop!, a sarcastically patriotic American-consumer-vs.-dangerous-foreigners 12-pager that also pokes some fun at unattainable beauty standards as promoted by society at large (and, as it goes, the rest of the magazine). Hammered critique was typical of his work, best remembered in harsher form via the Neal Adams collaboration Thrillkill (from Creepy #75, Nov. 1975), but exemplified in 1984 by Rex Havoc and the Asskickers of the Fantastic, a short-lived Abel Laxamana-illustrated recurring feature in which a crew of consummate action professionals confront strange, typically parodic beings and kill them. In these segments, the magazine becomes less the Swank of late '70s newsstand comics than a Mad-informed American cousin of 2000 AD. But future developments were not forthcoming – when Stenstrum left Warren in 1981, he left comics entirely.
The art seen above, of course, represents another stream: it's the great Alex Niño, who eventually became the standout regular of 1984, crafting increasingly elaborate spreads as swirling cartoon puzzles, stretching outward toward Warren's bankruptcy in 1983. Such visual expansion is also a pertinent theme for this week's highest-profile deluxe item: