THIS WEEK IN COMICS! (5/26/10 – So Many Collections)
Tuesday, May 25, 2010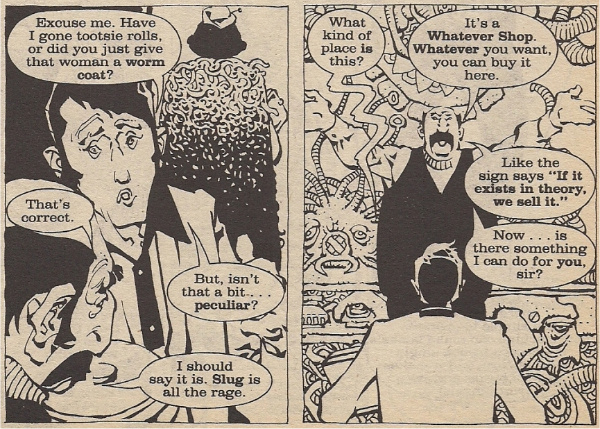 That's right, what can we do for you? So many wonders are available right now for just a few thin dollars, although I am legally obligated to mention that they do not involve a worm coat, unless Johnny Ryan elects to involve one in your personalized erotic violation; $100.
Speaking of which, the above image hails from issue #10 (Dec. 1979) of Warren Publishing's notorious 1984 (later 1994), an "illustrated adult fantasy" magazine released in the wake of Heavy Metal and succinctly characterized by contributing writer/occasional artist/eventual momentary editor Jim Stenstrum as "a beaver-fest" in TwoMorrows Publishing's The Warren Companion. Stenstrum wrote this piece, The Whatever Shop!, a sarcastically patriotic American-consumer-vs.-dangerous-foreigners 12-pager that also pokes some fun at unattainable beauty standards as promoted by society at large (and, as it goes, the rest of the magazine). Hammered critique was typical of his work, best remembered in harsher form via the Neal Adams collaboration Thrillkill (from Creepy #75, Nov. 1975), but exemplified in 1984 by Rex Havoc and the Asskickers of the Fantastic, a short-lived Abel Laxamana-illustrated recurring feature in which a crew of consummate action professionals confront strange, typically parodic beings and kill them. In these segments, the magazine becomes less the Swank of late '70s newsstand comics than a Mad-informed American cousin of 2000 AD. But future developments were not forthcoming – when Stenstrum left Warren in 1981, he left comics entirely.
The art seen above, of course, represents another stream: it's the great Alex Niño, who eventually became the standout regular of 1984, crafting increasingly elaborate spreads as swirling cartoon puzzles, stretching outward toward Warren's bankruptcy in 1983. Such visual expansion is also a pertinent theme for this week's highest-profile deluxe item:
Wednesday Comics: The brainchild of art-oriented DC editor (and originating Hellboy colorist) Mark Chiarello, this weekly newsprint series from the summer of 2009 was hard not to like; folding out to broadsheet format, fourteen superhero serials were presented one page at a time with handsome visual presentations given top priority, a heartening development in an area of comics typically so given over to shared-universe plotting considerations that art feels like an afterthought. However, Wednesday Comics proved likewise difficult to love, as the majority of its serials added up to little more than especially polished straightforward genre programming. While still fun to collect, that makes it a bit of a tricky prospect in this newly lavish, glossy, 200-page hardcover edition, where I'm betting the emptiness of a lot of the work will become pronounced from accumulation.
Still, Karl Kerschl (writing with Brenden Fletcher) has some satisfyingly hyperactive, Ice Haven-like style-shifting fun with the Flash, Ben Caldwell works his ass off to explode Wonder Woman across cascading tiny panels, and I'm not gonna get too agitated over big showcases for Joe Kubert (Sgt. Rock) and Paul Pope (Adam Strange), or Ryan Sook evoking a forgotten Kamandi Sunday adventure strip, even if Dave Gibbons' story grows as tedious read all at once as some genuine examples of the type. With bonus unseen file pages from Evan Dorkin & Stephen DeStefano (Plastic Man) and Keith Giffen & Eric Canete (The Creeper). Main lineup; $49.99.
The Search for Smilin' Ed!: Nice – a spankin' new Fantagraphics collection of one of the major 'stray' Kim Deitch works, a 1997-98 serial from the pages of the publisher's old funnybook anthology series Zero Zero. Join your humble artist/narrator and Waldo the cat as they explore the demon-visited world of children's programming, with an all-new 15-page segment catching up with Waldo today, and a huge foldout guide to the World of Deitch. Introduction by Bill Kartalopoulos here, preview here; $16.99.
Dungeon Quest Book 1: Also from Fantagraphics comes the 136-page latest from the always-fun Joe Daly (Scrublands, The Red Monkey Double Happiness Book), a hugely vulgar quest adventure imposing video game RPG tropes on the aggressive banality of suburban navigation, at least for now – vol. 2 (of an intended 4 or more) is out in France, and apparently moves into a more direct engagement with gaming devices. Preview; $12.99.
Big Questions #14 (of 15): Title and Deed: Just throwing the parenthetical in there to emphasize that Anders Nilsen's 12-year old comic book fable of animals and humans is finally drawing to a close, having provided an expansive forum for the artist's development and subsequently some of his strongest representative visuals and most straight-on suspense plotting, which may prompt some interesting comparisons with after-initiated works (i.e. everything) once the collected edition is out. Preview; $7.95.
Harold Gray's Little Orphan Annie Vol. 5: The One-Way Road to Justice: Compiling dailies and Sundays from July 10, 1933 to February 10, 1935, including a year-long megastory in which Annie's alleged parents return and Daddy Warbucks winds up in jail and shit goes down for many consecutive financial quarters. An IDW production; $49.99.
The Complete Torpedo Vol. 2: Slightly less sunny adventures on the whole — all right, 160 pages of brutally cynical Depression Era NYC hitman comics — from writer Enrique Sánchez Abulí and artist Jordi Bernet. Another IDW production; $24.99.
Postcard From Brussels: Being fourth in a series of small hardcover art books by Dave McKean, capturing b&w impressions of various European locales (Barcelona! Paris! Vienna!). From Allen Spiegel Fine Arts and Hourglass, 6″ x 6″ and 54 pages; $18.00.
20th Century Boys Vol. 8 (of 24): Manga, Urasawa. Still my favorite of his works, although I appreciate how the untranslated chapters of Billy Bat I've encountered seem to come from completely different comics. That happened three times; $12.99.
Black Jack Vol. 11 (of 17): Given the recent (if long-simmering) upheaval on the manga scene, I think we can all stand to give a little bit of thanks that this motherfucker is still rolling. Another 312 pages of miracle fantasy medicine & morality, but with a little something extra – 1978's The SL Called Life, the final installment of the series' weekly run (irregular episodes would continue to appear until 1983) and the closest Tezuka got to providing an 'ending' for Black Jack. Fascinatingly, its train-as-metaphor-for-life setup came the year after Leiji Matsumoto began his Galaxy Express 999, although Tezuka makes sure to populate his common carrier with favorite characters from the series' run, and even a little sidekick-related emotional payoff, just when you thought you'd recovered from Lost. Worth checking out, even if you've skipped a few. From Vertical; $16.95.
7 Psychopaths #1 (of 3): Hey, Eurocomics. Specifically, this is a Boom! Studios comic book miniseries version of an isolated 2007 album from a series of seven, overseen by writer David Chauvel for Delcourt – it was seven books set in seven time periods concerning teams of seven setting out on dangerous missions. Sept psychopathes, written by Fabien Vehlmann, is set in WWII around a mission to assassinate Hitler, and I suspect it's the Inglourious Basterds connection (not unremarked upon in Boom!'s solicitation) and the presence of artist Sean Phillips (Criminal, Incognito, a new The Dark Tower comic last week) that secured an English-language release. Preview; $3.99.
The Secret History #9: Also French, from Archaia Studios, postwar 1919 with writer Jean-Pierre Pécau and artist Igor Kordey; $5.95.
G.I. Joe: Hearts & Minds #1 (of 5): The latest among IDW's various franchise-related series, this one notable as a 'gritty' ten-character anthology series with art duties split between Howard Chaykin and Antonio Fuso, one story each per issue, if I've got it right. Written by Max Brooks of World War Z. Chaykin preview, Fuso preview; $3.99.
The Guild #3 (of 3): Wrapping up this webseries-based Dark Horse project from artist Jim Rugg and creator/writer Felicia Day. Preview; $3.50.
Batman: The Return of Bruce Wayne #2 (of 6): Bruce journeys into a puritan environment and Frazer Irving assumes the art duties, probably evoking a bit of Klarion the Witch Boy along the way; $3.99.
Drawing France: French Comics and the Republic: Your book-about-comics of the week #1 – a 304-page hardcover study by Joel E. Vessels, concerning "the trek of BD from its being considered a fomenter of rebellion, to a medium suitable only for semi-literates, to an impediment to education, and most recently to an art capable of addressing social concerns in mainstream culture." From the University Press of Mississippi; $50.00.
Watchmen as Literature: A Critical Study of the Graphic Novel: Your book-about-comics of the week #2 – a 219-page softcover study by Sara J. Van Ness, regarding "the graphic novel's reception in both popular and scholarly arenas and how the conceptual relationship between images and words affects the reading experience." From McFarland; $35.00.
The Best American Comics Criticism: Third time's the charm? Definitive title notwithstanding, this 360-page Ben Schwartz-edited volume actually concerns itself with writing pertinent to (though not exclusively concerned with) the maturation and rise in public consciousness of North American 'literary' comics from September 12, 2000 (the release date of Chris Ware's Jimmy Corrigan: The Smartest Kid on Earth and Dan Clowes' David Boring) through 2008, manifested as individual sections on Context, History, Appraisals, Reviews and Interviews, culled from essays, interviews, a panel discussion, a television documentary transcription and various Amazon.com user reviews regarding Joe Matt.
Publisher Fantagraphics implies some narrative in "a riveting and comprehensive look at a medium finally come into its own," and indeed the focus veers from the thoughts of comics practitioners to works by established, non-specialist writers to various familiar writers-on-comics (disclosure: Dan & Jeet have pieces included, some items are reprinted from the paper version of Comics Comics, and this site and my home site are referenced in the introduction), in a manner I suspect will register best with curious book browsers open to reinforcement (or even convincing) of the notion of comics-as-literature, although that could be just a function of the book's evolutionary focus as well. Probably a few bits in here you've missed, though. Full table of contents and introduction here; $19.99.
Labels: Abel Laxamana, Alex Niño, Jim Stenstrum, Neal Adams, This Week in Comics