CCCBC: Neonomicon #3
Friday, January 28, 2011
previous entries
so as to get up to speed, and then leap right in to a SPOILER-filled synopsis: We begin with a rather jokey FBI interrogation of Mary Ann Stubbs, the woman who attacked Agents Brears way back in issue one. She delivers her statement in writing, and in the gibberish-like "aklo" language, natch, which leads to the aforementioned fourth-wall-busting grin. Then, and for the rest of the comic, we're back to Brears, still trapped in the basement orgone-chamber/rape-and-orgy room with a gigantic fish-like sex-crazed monster. Apparently, Brears has been enduring days of near-constant sexual assault from the creature, to the point where she's begun to hallucinate. In the vision or dream we can observe, Brears finds herself, naked and alone, in the sunken city of
R'lyeh
, the infamous resting place of great Cthulhu itself. Johnny Carcosa appears, and lisps a series of clues.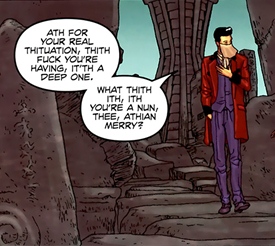 (The online consensus seems to agree that the magic word Brears can't quite understand is "
annunciation
."
What this is, is your annunciation, Mary.
) She awakens, and the monster (apparently a "
Deep One
") rapes her. Later, at lunch, she somewhat inexplicably offers him some bread. Instead of accepting the food, he attempts to rape her again, before she distracts him with a handie. Afterward, she urinates by the pool. Brears muses out loud that entering the water might be considered an invitation, but this narrative contrivance also allows the Deep One to taste her piss. (Readers so far speculate he does this to see if she's pregnant.) A now excited Deep One starts babbling in Aklo about R'lyeh, Cthulhu, and
maybe
"Dho-hna" ("the force which defines, that lends significance to its receptacle as with the hand in the glove, the wind in mill-vanes, or the guest or trespasser crossing a threshold and giving it meaning"). As the issue ends, he takes her hand, leads her underwater, and breaks the gate that confined them.
So here's some brief thoughts, as we wait for the final issue. Please add or argue with them in the comments, if you like.
1. The events and setting are just as horrific here as last issue, but the tone could not be much more different. To steal a phrase or two from every comics blogger's best buddy, Joe McC: "It's as if [Alan] Moore sat back and thought 'now what's the most horrible thing I can possibly do at this juncture in the story?' The answer, of course, was 'big dollops of broad, deliberate comedy,' moreso than anything in the prior issue, so loud that at one point an entire splash page is reserved primarily for a character mugging toward the 'camera' after a particularly rank Lovecraft-themed verbal gag. This series is the damndest thing." Even in the comparatively harrowing issue two, rape and murder seemed to be treated somewhat lightly; this time, Moore and Burrows dwell over the crime at length. Even readers not offended last time around might find this too cavalier.
2. The previous Moore story this most reminds me of so far is his The Killing Joke, another story that involved clever juxtapositions, abrupt shifts in tone, arguably exploitative violence, and an originating impulse grounded in one of Moore's "bad moods."
3. A common theory online suggests that Brear may be pregnant with Cthulhu himself. This has been supported by a quote from a pre-publication interview with Moore:
By the end of the series it actually answers the question that always bugged me about the Cthulhu mythos. I mean, I know that the first God Lovecraft created in the mythos was Cthulhu itself, in 1926, in "The Call of Cthulhu." Then Cthulhu became such a popular figure that he then came up with all the other Gods: Yog-Sottoth and all the rest of them, who are supposed to be inferior to Cthulhu. I mean, it's the Cthulhu Mythos. His name is on the mythos! He's pretty much the boss monster. And yet, he's humanoid. He's got tentacles for a face, admittedly – but he has got arms and legs. A head, a torso. Whereas Azathoth is a kind of eternal nuclear explosion or something, just a seething nuclear chaos. Yog-Sottoth is the cooling chaos. The thing that you glimpse at the centre of the dark. These are not human figures at all. So why is Cthulhu – if he is the boss monster – why is he humanoid? This is one of the questions we answer in the course of Neonomicon.
That Brears is pregnant with something seems very plausible, and I am embarrassed to admit that I didn't pick up on the idea until I came across it online. But I'm not sure this mother-of-Cthulhu idea makes sense, at least if we take this quote at face value. Mostly because the Deep One here is pretty humanoid already…
4. Johnny Carcosa is more interesting and less predictable in Neonomicon than he seemed in The Courtyard.
5. Allegorical readings are always dangerous, usually superfluous, and wrong to boot, but if we extend the one I bruited as a possibility last meeting, then Brears/Alan Moore has been locked in a room with the Deep One/Watchmen, and been forced to have sex with it repeatedly. At the same time, DO/W seems to have more sympathy for B/AM than for the murderous cultists/DC, and their potential offspring seems to offer hope of freedom or other rewards for all but DC.
6. Despite somewhat mixed feelings for this series, I can't wait for issue four. It is hard to believe that there is only one issue left in this series; I expect a lot to happen in it.
Labels: Alan Moore, CCCBC, H.P. Lovecraft, Jacen Burrows
Let's start this meeting of the CCCBC by pointing newcomers to