CCCBC: Neonomicon Nos. 1 & 2
Monday, October 18, 2010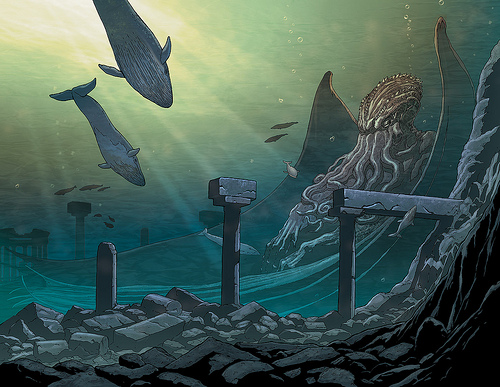 Welcome to the first official meeting of the Comics Comics Comic-Book Club. Our topic is Alan Moore and Jacen Burrows's Neonomicon. Originally the idea was to discuss each issue as it was released, but we've got some catching up to do, so this time we'll tackle the first two issues together.
Have you finished the assigned reading?
First, of course, you need to read the comics themselves.
Neonomicon is the sequel to Alan Moore's The Courtyard, which I covered previously here and here. (Writer Antony Johnston wrote in with an interesting comment regarding some of the fundamental language & layout choices.)
Jog has already written an excellent post about issue 2…
…in which he linked to a flawed but fascinating two-part video on issue 1.
And I didn't mention it, but the re-reading I am assigning for myself before we get to issue 3 is H.P. Lovecraft's "The Shadow Over Innsmouth", which seems to be the main inspiration for Neonomicon so far, just as "The Horror of Red Hook" served for "The Courtyard".
Okay, so let's see if this works at all or if the whole idea is a misfire. Here we go: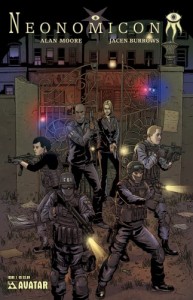 Alan Moore's own words. In a recent interview, Moore described the ideas that generated this project. Number one:
I wanted to do a story that modernised Lovecraft – that didn't rely upon that 1930s atmosphere – and that modernised him successfully, at least in my opinion. I suppose I was also thinking that it would be nice if you could bring some of the naturalism of shows like HBO's The Wire to the impossible. Because that show has got such believability and naturalism, that it struck me that would be a very good way of approaching something so inherently fantastic and unbelievable as H.P. Lovecraft. That was one of the initial ideas.
Interestingly enough, modernization aside, this idea of adding a level of police-procedural like naturalism is something Lovecraft was already very adept at doing himself. In many of his major stories, including some referenced here, such as "The Call of Cthulhu" and "Innsmouth", Lovecraft used a variety of documentary-like excerpts from reports, journals, newspaper articles to add an illusory level of objectivity to their otherwise unbelievable proceedings. Moore also seems to be talking about little things like character interactions and relationships, something Lovecraft tended to avoid altogether!
Idea number two:
Another one was to actually put back some of the objectionable elements that Lovecraft himself censored, or that people since Lovecraft, who have been writing pastiches, have decided to leave out. Like the racism, the anti-Semitism, the sexism, the sexual phobias which are kind of apparent in all of Lovecraft's slimy phallic or vaginal monsters. This is a horror of the physical with Lovecraft – so I wanted to put that stuff back in. And also, Lovecraft was sexually squeamish; would only talk of 'certain nameless rituals.' Or he'd use some euphemism: 'blasphemous rites.' It was pretty obvious, given that a lot of his stories detailed the inhuman offspring of these 'blasphemous rituals' that sex was probably involved somewhere along the line. But that never used to feature in Lovecraft's stories, except as a kind of suggested undercurrent. So I thought, let's put all of the unpleasant racial stuff back in, let's put sex back in. Let's come up with some genuinely 'nameless rituals'- let's give them a name.
It is unclear from the interview whether Moore is talking only about Neonomicon, or also about its predecessor, but it seems to me that he has so far been much more successful integrating the racism of Lovecraft's fiction into the story as a whole in this sequel than he was in his original prose story.
In a comment to an earlier post, the Mindless One Bobsy suggested that Moore may be "indicating R'lyeh can be found nowhere other than between Lovecraft's own temples" — that Cthulhu & racism are somehow inextricably linked, and that therefore, "Cthulhu can only get in to places that are bad already." It remains to be seen if Bobsy is right; so far, Cthulhu's disciples in Neonomicon display varying levels of personal offensiveness, and while Mr. Beeks makes a few racially charged remarks (such as "Show us some of that black power, huh?" to Agent Lamper), the creeps are at least advanced enough in their thinking not to mind including an African American man and a Vietnamese couple in their sexual games (if that's the right way to put it!), a prospect that the protagonists of Lovecraft's old stories would have found nearly as repulsive as the literally demonic coupling that occurs later on. That doesn't take us or the issue very far, though, and the idea bears watching.
Also, while it may be that Cthuhlu is only able to recruit racists as his disciples, what happens to Brears and Lamper shows that non-racists still have plenty to fear from his team.
The ick factor. Moore again:
So those were the precepts that it started out from, and I decided to follow wherever the story lead. It is one of the most unpleasant stories I have ever written. It certainly wasn't intended as my farewell to comics, but that is perhaps how it has ended up. It is one of the blackest, most misanthropic pieces that I've ever done. I was in a very, very bad mood.
And again:
I was filled with a black rage, and I think it has leaked over into the story. It gets very ugly. I wanted to be unflinching. I thought, if I'm writing a horror story, let's make it horrible. Let's make it the kind of stuff that you don't see in horror stories. Because William Christiansen [of Avatar] had, perhaps unwisely, said: 'Look, you know you can go as far as you want.' I just got him to repeat that, and said: 'So… what, I can show erections? Penetration?' He said: 'Sure!' I don't know if he thought I was going to do it or not but… yeah, I did. It's a way that I haven't written about sex before. It's very ugly. Jacen Burrows is doing an incredible job on the artwork… it's dark as hell. But it's kind of compelling. I went back and read through the scripts, and I thought, 'Have I gone too far?' Looking back, yes, maybe I have gone too far – but it's still a good story.
The climactic section of issue 2 is indeed dark and extremely rough. In fact, it has driven at least one popular comics blogger to publicly give up on Moore's comics. For that matter, Moore himself seems a little uneasy about the story. (Jog dug up a few similar quotes from him here.) Rape and sexual exploitation has been a recurring theme throughout Moore's work, from Watchmen and From Hell to LOEG, Lost Girls, and even Top 10. This may be the furthest he's ever gone, though.
Because of his past public concerns over the issues involved, I assume he's leading somewhere, but it is interesting in this regard to note how insistently Moore reminds us of Agent Brears's sexual addiction and history of promiscuity. (And also for the apparently gratuitous multi-page undressing scene in which Brears and Lamper show a surprising level of comfort in her nudity in front of a colleague.) This is all a lot closer to the reactionary punish-the-sexually-active woman found in typical slasher films than one would expect. What exactly is going on here?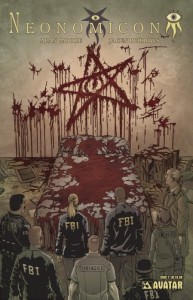 Vertical vs. horizontal paneling. As discussed in my previous entries on The Courtyard, and in the aforementioned video crit from AllyourbasicGerard, the panel layouts in both books are laid out in extremely rigid grids. Every page of the first book was divided into two vertical panels, and most pages of the sequel are divided into four horizontal units. In my opinion, the second is far more effective, and the restrictive nature works here in a way it didn't in the earlier book. Am I imaging things? Interesting how it follows the recent trend in widescreen paneling, too.
Clever, subtle storytelling. Moore is always good with this, whether obliquely revealing that FBI honcho Perlman must have lost a hand to a maniacal Sax, or coming up with a nearly seamless, believable reason for Agent Brears to be forced to remove her contact lenses and find herself near-blinded in issue two's climax. From that moment on, Moore and Burrows successfully conjure a genuine sense of dread and horror that is relatively rare in comics, whatever the genre. The blurred panels representing Brears's distorted vision are the kind of casually tossed off innovation that Moore offers even in minor books, such as the truly original and startling use of 3D in The Black Dossier.
The Lovecraft punning curse. As in The Courtyard, Lovecraft territory continues to inspire awful elbow-poking in-joke humor, such as the band's lyrics: "I want my thing on your doorstep/ my haunter in your dark."
Metafictional ambitions? Speaking of which, near the end of issue 1, it seems as if Brears is finally beginning to catch on to the fact that they're living in a run-of-the-mill Lovecraft pastiche: "Gordon, there's something weird about this. it's … see, it's almost like some big literary in-joke…" By issue 2, she's figured things out, and Moore uses the opportunity to basically explain Lovecraft fandom and the literary Cthulhu mythos. Taking these literary games a step further than the typical heh-heh-i-said-yuggoth jokes of The Courtyard gives Neonomicon an air of originality that the original lacked.
"Cthulhu fhtagn R'lyeh." It killed me when Agent Brears conned her way into the cult meeting by spouting this classic phrase, apparently with perfect enunciation. How did she learn how to pronounce it?
There's a lot more to say, and more potential topics for discussion, but maybe it's better to leave things there for now. What did you all think?
Labels: Alan Moore, CCCBC, H.P. Lovecraft, Jacen Burrows