THIS WEEK IN COMICS! (12/22/10 – War On Christmas Cash Reserves)
Tuesday, December 21, 2010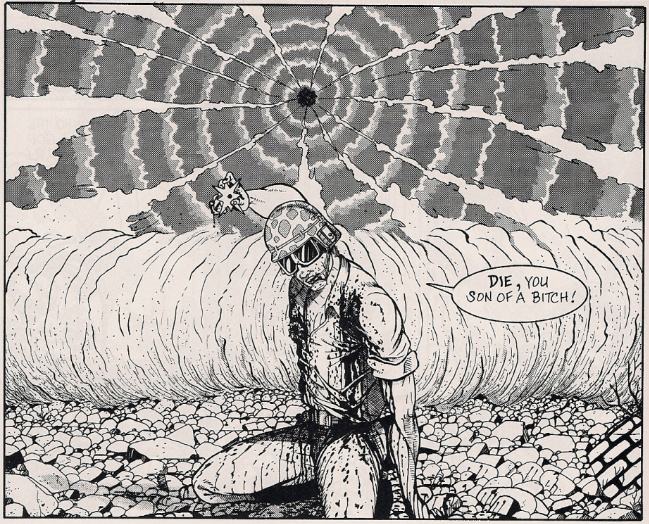 Hard as it is to believe, the above image is not intended to depict my mental state in attempting to finish another post on comics I found at the recent Brooklyn Comics and Graphics Festival. However, there is some connection: the horror and action comic evocations visible at the show — your Closed Caption Comics #9 and The Incredible Fantastic Adventures of Maureen Dowd — put me in mind to revisit independent one-person genre comic efforts of years ago.
Immediately, signs presented themselves. No more than one day later did I come across Chaingang #2, a Northstar-published Rex Miller adaptation pencilled by brothers Joe & Tim Vigil. Then I found out on good internet authority that the latter Vigil planned to revive his notorious signature series Faust with writer David Quinn in 2011 for a pair of last-ever issues. Yet I found my thoughts returning to Joe Vigil, who'd been active with his younger sibling since at least their early xerox efforts in 1983. I thought and thought, and then I thought of Dog.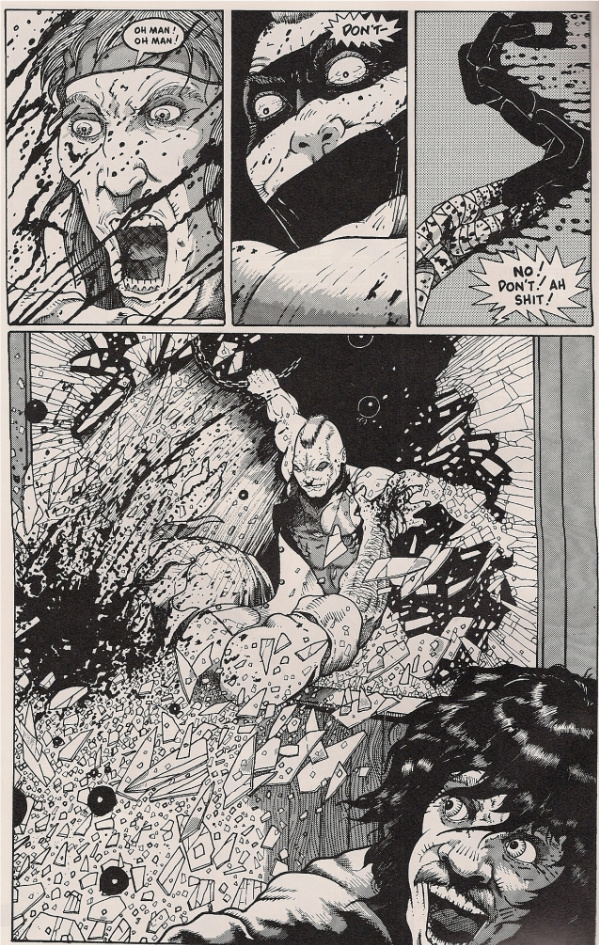 Released in 1991 and 1992 by Rebel Studios, then the home of Faust and aesthetically sympathetic comics, the three extant issues of Dog represent an interestingly straightforward and modular attempt at pure action comics, with an emphasis on the comics – each issue is self contained, moving backward in the mohawked man-of-action title character's personal history so that each issue occupies a discreet period of his life, and therefore becomes a different kind of action story. An opening and closing text segment remains constant, apparently set a ways in the future, after Dog has found some measure of peace; this serves to both color the tone of the comics portions, as well as helpfully recap the post-cataclysm premise for anyone that might be starting out on issue #2 or #3.
Issue #1, though, is maybe the most interesting on its own. It's a full-on western-as-sci-fi lone man saga about a dude rolling into a lawless town and taking care of some motherfuckers, but very specific: he's after some wannabe bikers who've been abusing local gay punks. Six pages are spent with a dying youth bleeding and discussing his relationship with his father; the hero buries him in a dumpster and then the purplish pulp dialogue and it's murder murder crashing glass chainwhip hand grenade murder, with tall panels reserved for explosions and crowded layouts used for tight room fighting.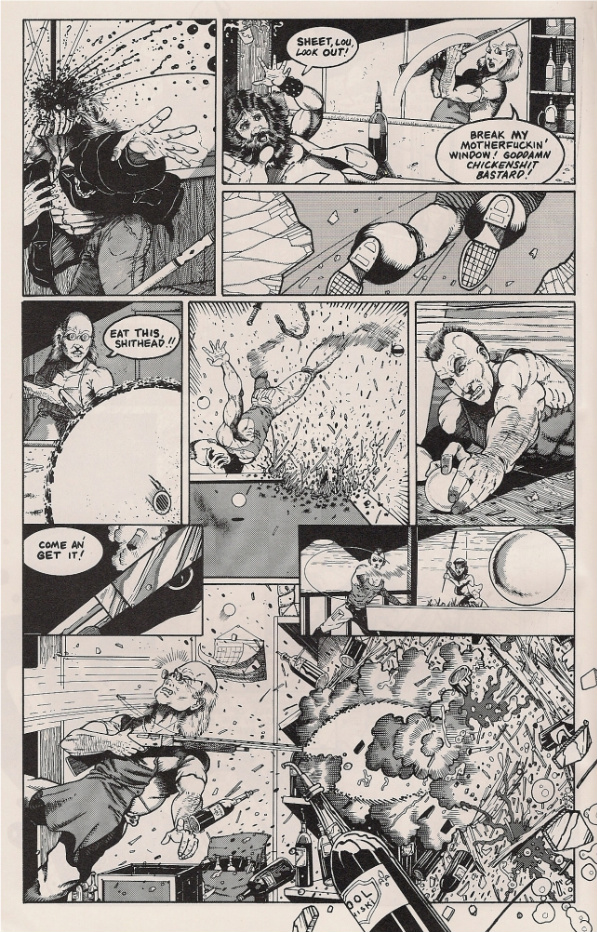 Globules of blood and flakes of debris frequently fly out of panels and toward the reader in an almost 3-D effect. It's a noisy comic, "thrash metal" in Vigil's own estimation, though I'd liken it to the good apocalyptic manga tradition of Violence Jack and Fist of the North Star, which reserved long stretches of their generous serialization to brawny combat. Dog doesn't have that tradition to work in, so instead it works quickly, racing through every issue's action with a maximum of aplomb.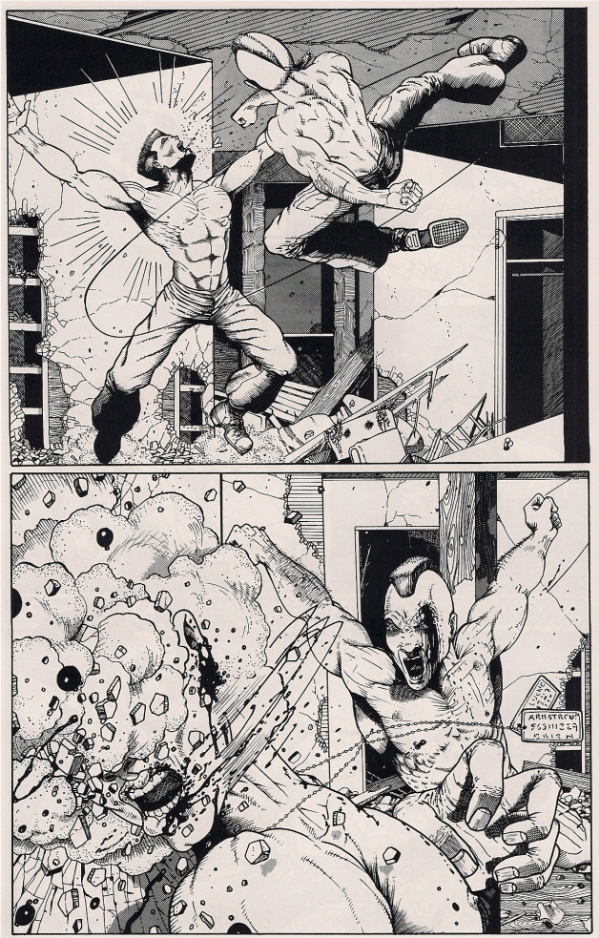 Issue #2 sees Dog facing his former military comrades, particularly the cruel Captain that murdered a slew of children in front of him back in the shit. Shirtless hand-to-hand combat ensues, including some very Tetsuo Hara-like flesh pokes leading to gushes of blood. Also, an inter-dimensional portal opens and a giant spider monster pops out – these phenomena led to the end of civilization, softened up by mosquito-borne disease, economic collapse and non-stop war.
They are never explained; they just happened, as a free-floating symbol of ugly providence, albeit a kind that inspires the young killing-addicted Dog of issue #3, romping through a war zone dotted with homage to Apocalypse Now and Full Metal Jacket, to understand the psychological freedom inherent to knowing that you exist at the capricious whim of a higher power. An issue #4 was planned, but never published, so the series ends with Dog coming across a hanging woman and carrying her by a lake of garbage, bookending the dumpster burial of the punk at the top of issue #1, and Dog knows serenity and wishes God to grant her peace. Amen!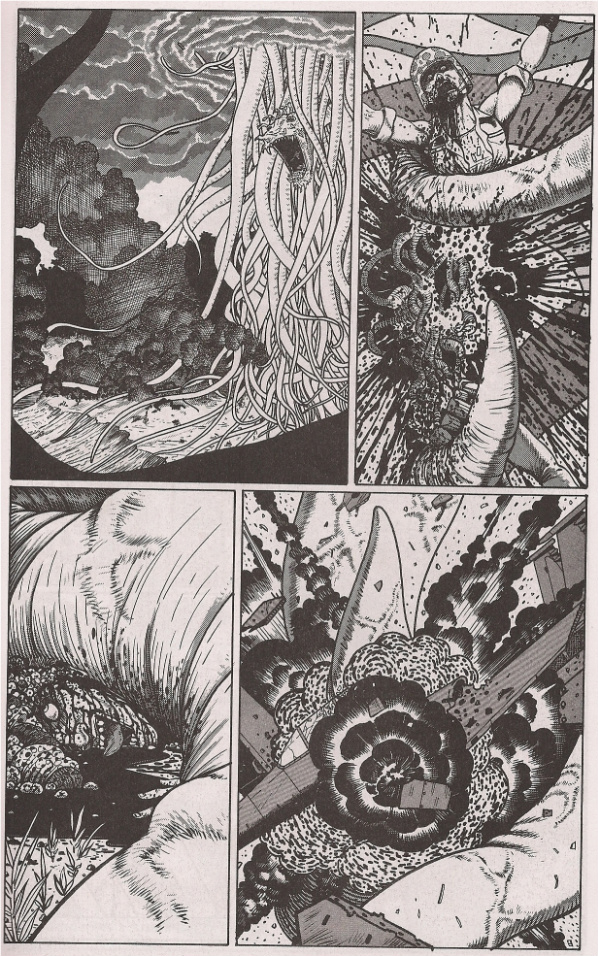 It's very nearly the perfect short bloody action series to randomly stumble upon in the bins, unpolished and totally emphatic at all times, blunt and devout in its mission. And it was a mission: Rebel Studios house anthology Raw Media Mags spoke of the Dyna-Pop Revolution emphasizing the Dynamic and Popular aspects of comics. Again, this was 1991, and the polemical content of these books was charged with a real fear that 'comics' as a self-sufficient experience were on the brink of extinction from the threat of absorbing speculation-collector's impulses, rendering pop comics irrelevant as viable expression in the face of market and secondary market demands.
And if that expression was mixed from action movie feints, like Dog was, eccentric as it gently was, the virtue was borne in trusting that comics could do anything. Today it's format that's the concern; it'll be fun if Faust wraps up just in time for the twilight of folded, staples-in-the-middle small press comic books.
For now, how about some big tent funnybook selections?
The Incal: Classic Collection: It's official – December of 2010 has brought more printed Moebius pages to North America than every month of the preceding half-decade combined. Which, er, might have been true last week too. Regardless, what we've got now is a deluxe, 13.1″ x 9.7″ slipcased hardcover, limited to 750 pieces, collecting the 308-page entirety of Gir's original 1980-88 voyage with writer Alejandro Jodorowsky through tarot archetypes, stacked sci-fi crises and miscellaneous ideas disinterred from a planned movie adaptation of Dune. In other words, it's the same stuff as the three Epic albums from back in the day, sporting some digitally restored iteration of the original colors by Yves Chaland and others (as opposed to the unfortunate modern color makeover of the two-volume DC/Humanoids paperback edition of 2005). Paul Gravett identifies this material as Moebius' "biggest success to date," which is understandable; while Jodorowsky isn't exactly a three-act kind of writer (I expound here), he nonetheless remains more traditionally inclined toward genre thrills, leaving his artist's work at its most obviously akin to that of action-minded relations like Geof Darrow. From Humanoids, which released a dimensionally identical French-language edition this past September. Preview; $99.95.
Neonomicon #3 (of 4): Ho ho ho, looks like Alan Moore is just in time to deliver a holiday gift for us all! Stuff your sturdily-constituted loved ones' stockings with the very latest in confinement panic as doomed, damned avatars of law and order wriggle in a model meta-city under the sway of invincible exterior forces that always have their way. Quintessentially Moore, and — in spite of reactions suggesting a Magus' own The Baby of Mâcon — not so tonally divorced from the "bad mood" that powered his most enduring superhero favorites, if now ironically aimed toward snorting a disgust for comic books on the dank level of base potential. Jacen Burrows illustrates this surefire Christmas miracle; $3.99.
Reid Fleming: World's Toughest Milkman Vol. 1: It may surprise and will definitely delight you to learn that the Golden Age of Reprints pauses to observe holidays and special occasions. Hence, IDW's spanking new 30th Anniversary hardcover compilation of historic outings for the David Boswell mighty creation, collecting the original 1980 debut comic book, the five-part Rogue to Riches storyline and the 1984 special Heart Break Comics. I think another volume, maybe with new material(?), is to follow; $29.99.
A Single Match: Huge week in potentially interesting manga releases, headed by this new 240-page English-language hardcover edition of a 1985 collection of short stories by Garo veteran Oji Suzuki, whom publisher Drawn and Quarterly describes as exploring "memory, relationships and loss with a loose narrative style, filling each tale with a sense of unfulfilled longing… plumb[ing] the dissolute depths of human psychology, literally bathing his characters in expansive shadows that paradoxically reveal as much as they obscure." Formerly titled Red Kimono, so don't be confused. Samples; $24.95.
I'll Give It My All… Tomorrow Vol. 2: One of the odder series coming out of Viz's SigIKKI line of alternative-styled manga — culled from Big Three publisher Shogakukan's anthology magazine IKKI, as opposed to Kodansha's similarly conceived Morning 2 (seen last week) — posted for free online prior to print publication. It's a curious mix of awkward comedy, social grit and pointed sentimentality — now up to vol. 4 in Japan — centered around a middle-aged salaryman who throws it all away to break into the exciting world of Japanese comics, a field that does not reward his tendencies toward uncertainty and ennui, although he does stumble into some heart-tugging scenarios, like convincing the daughter he barely knows to quit her side job as a sex worker. I'm interested to see where creator Shunju Aono takes it. Online here; $12.99.
Peepo Choo Vol. 3 (of 3): On the other side of the coin, Vertical sees the conclusion of a loud, brash, sometimes very funny Morning 2 series obsessed with the cultural misunderstandings rampant in US/Japanese consumption of Japanese/US popular culture and received popular wisdom. Can friendship somehow prevail?! A stylized outsider's perspective from genuine industry outsider Felipe Smith, culminating in sweet violence among international men; $12.95.
House of Five Leaves Vol. 2 (of 8): Natsume Ono from Viz #1 – swordsmen! Intrigue! Online here; $12.99.
Gente Vol. 2 (of 3): Natsume Ono from Viz #2 – handsome older men! Intriguing! Online nowhere (legally); $12.99.
?oku: The Inner Chambers Vol. 5: Contrary to popular myth as reported in major news outlets across the globe, Moebius is not the only respected comics artist to enjoy two works released to English in as many weeks, as Fumi Yoshinagi (of the 12/15 Yen Press release Not Love But Delicious Foods Make Me So Happy!) witnesses the latest Viz drop in her feudal-Japan-as-run-by-women-with-harems-of-guys drama. Getting close to the Japanese vol. 6, which is as far as it's at right now; $12.99.
Children of the Sea Vol. 4: Meanwhile, Viz seems to have reached the limit on Daisuke Igarashi's very nicely cartooned adventure among sympathetic sea bound souls. Online here; $14.99.
20th Century Boys Vol. 12 (of 24): But enough of this alt-ish stuff! How about some pure-bread Naoki Urasawa, at the halfway point of his most expansive mature work; $12.99.
Chi's Sweet Home Vol. 4: Or CAT MANGA from Vertical? Up to vol. 7 in Japan; $13.95.
Axe Cop Vol. 1: In which Dark Horse starts up an expedited a series of print editions for the high-profile webcomic, quickly approaching its first anniversary, in which artist Ethan Nicolle brings his kindergarten-aged brother Malachai's fantastical scenarios to life. Samples; $14.99.
Charley's War: The Great Mutiny: Being the seventh in Titan Book's line of reprints for the seminal Pat Mills/Joe Colquhoun WWI saga from Battle Picture Weekly — an acidly critical, never-quite-finished portrait of a young soldier in a living hell — this time presenting strips from 1982-83 concerning (among other things) the fictional protagonist's perspective on an actual historical revolt in the ranks; $19.95.
Vampirella Archives Vol. 1: A new hardcover reprint project from Dynamite, no doubt modeled after Dark Horse's Creepy Archives and Eerie Archives series in reprinting the story contents of vintage Warren magazines in chronological order.
Frankly, it might wind up seeming even more familiar than unacclimated readers expect – discounting one-page pieces, there's likely to be a grand total of two proper Vampirella stories in this five-issue, 232-page batch, and that's because Vampirella, especially early on (it began in '69), was a horror anthology squarely in line with its male siblings. Oh, Trina Robbins and Frank Frazetta — the former famously conveying her design ideas to the latter via telephone from Warren HQ — facilitated some striking cover images, but Vampi the character was strictly a glorified horror host, albeit one slated to star in her own headlining story-per-issue. Indeed, that very 'glorification' provided the central joke for originating writer Forrest J. Ackerman's sparse stories, illustrated in sprightly cartoon style by Tom Sutton; from the opening gag of Our Gal taking a hot shower, the b&w water spray revealed with a cluck of the caption box tongue to be *gasp* *choke* BLOOD, Vampirella is portrayed as a disconcertingly sexy monster, an utterly horrible creature, entirely devoid of morality, that nonetheless just happens to look like something the poor reader might find especially appealing. It's a big fat goof on sex appeal selling terror, underlined by a horror host tryout sequence in issue #2 that boasts among its hopefuls a identical twin of Uncle Creepy with gigantic breasts. That won't work in a commercial sense, but it's more forthright. Admittedly!
And, admittedly, you can't go very far with that kind of concept, so Vampi found herself reworked by Archie Goodwin and Steve Englehart and divers hands — I'm partial to what I've read of the fizzy, nasty 1973-75 run of British writer Mike Butterworth, aka "Flaxman Loew" — but what finally stands out from the character's own adventures is the increasingly realist-aimed artwork of Warren's influx of Spanish artists, especially José González, whose posed delineations of the character bolstered her all-important presence on the magazine's cover, her natural habitat, more than any writerly continuity. Uncannily, it was sizzle condensing into something close enough to steak to fill that side of the plate. Elsewhere, this time, you've got Billy Graham, Reed Crandall, Neal Adams, Mike Royer, Ernie Colon, Jeff Jones and others. Samples; $49.99.
Age of Bronze #31: The latest in Eric Shanower's long-running Image account of the Trojan War, always worth a look. Preview; $3.50.
Usagi Yojimbo #134: Self-contained issue of the long-running Stan Sakai funny animal swordsman series. Preview; $3.50.
Bart Simpson Comics #57: I don't know much about this, but both Sergio Aragonés and Evan Dorkin look to be involved, and that's worth a peek; $2.99.
Jeffrey Jones: A Life in Art: Finally, your book-on-comics for the week – a 256-page IDW compilation of comics, illustrations and more from a man previously mentioned in a Vampirella context. Oh the perspective this seasonal bounty offers; $49.99.
Labels: Joe Vigil, This Week in Comics, Tim Vigil