Toronto Graphic Arts Event
Wednesday, October 27, 2010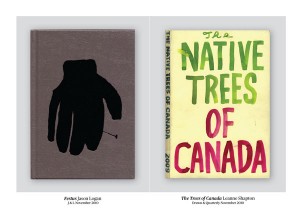 Jason Logan and Leanne Shapton are two of the most interesting visual artists around. They both have new books out and are holding a joint book launch in Toronto on Saturday. I've pasted information about the event below and would encourage anyone in the Toronto area to go to this event:
A government pamphlet re-imagined as a volume of iconic paintings, a book of dusty, smoking frontiersmen — and a secondhand bookshop dedicated to uncommon interests.

DOUBLE BOOK LAUNCH and SIGNING

Leanne Shapton and Jason Logan at the Monkey's Paw October 30, 2010

"It is with optimism, and a pioneering spirit that a man carries a cane and top hat into the wilderness." In Festus (J & L Books), Canadian artist and illustrator Jason Logan depicts the classic figure of the frontiersman in various incarnations. Logan made these works while traveling to the Klondike Institute in the outer reaches of Yukon, by the Alaska border, and they reflect the rugged landscape of the Canadian northwest; traces of Basquiat, too, are visible in the faces, sometimes seemingly rendered in finger paint. Thirty-five variations on the frontiersman — as hustler, magician, and gentleman logger —make up this slender gem.

***

Leanne Shapton, fascinated by the catalog form, saw beauty in its technical details and was inspired to create her own interpretation of The Native Trees of Canada (Drawn & Quarterly). Using lush ink and house paint, Shapton's rendering distills each image into a pure, ghostly form. The result is a series of abstract, yet familiar shapes and colors: the water birch is represented as two pulsating red bulbs contrasted against a gray backdrop; the eastern white pine is represented by a close-up of its cone against a radiant summer sky.

Leanne Shapton is the author of Was She Pretty? and Important Artifacts and Personal Property from the Collection of Lenore Doolan and Harold Morris, Including Books, Street Fashion, and Jewelry.

Jason Logan is the author of If We Ever Break Up, This is My Book, and iGeneration.

The Monkey's Paw is Toronto's most idiosyncratic secondhand bookshop, specializing in uncommon scholarly and out-of-print books; ephemera and images; manual typewriters; biological specimens and other curiosities.
Labels: Jason Logan, Leanne Shapton