THIS WEEK IN COMICS! (10/27/10 – Very Interesting)
Tuesday, October 26, 2010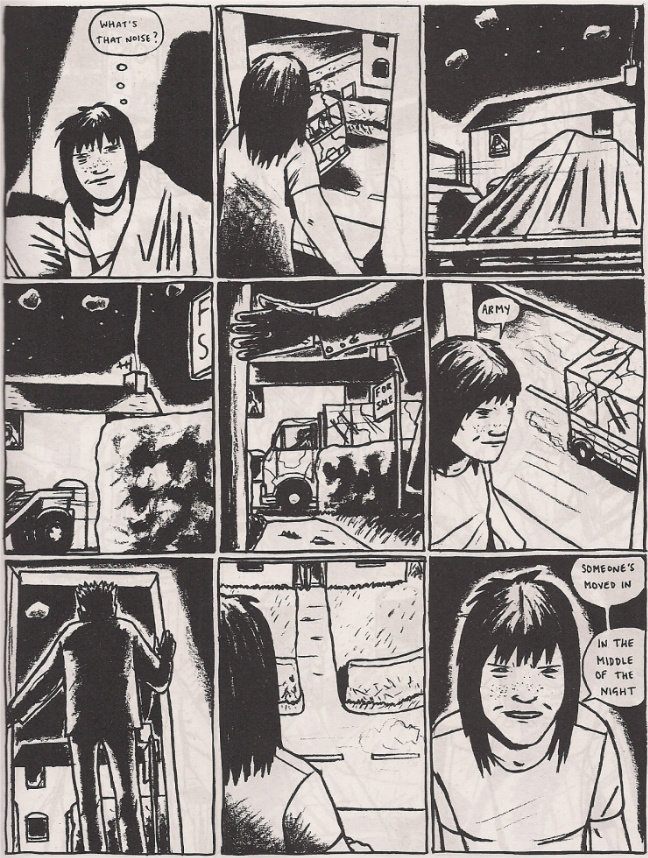 A few more 9-panel grids for you, coming out of Carol Swain's 1996 long-form debut Invasion of the Mind Sappers. Swain tends to work mainly in short stories — many of them collected into last year's fine Dark Horse hardcover Crossing the Empty Quarter and Other Stories — which means she sort of fades in and out of view in English-language comics. Still, assembling her various works, which would also include the 2004 solo book, Foodboy, and her 2009 collaboration with Bruce Paley, Giraffes in My Hair: A Rock 'N' Roll Life (and not her role as colorist on the notorious 1992 Peter Milligan/Brendan McCarthy project Skin), reveals an affinity for this simple, versatile layout.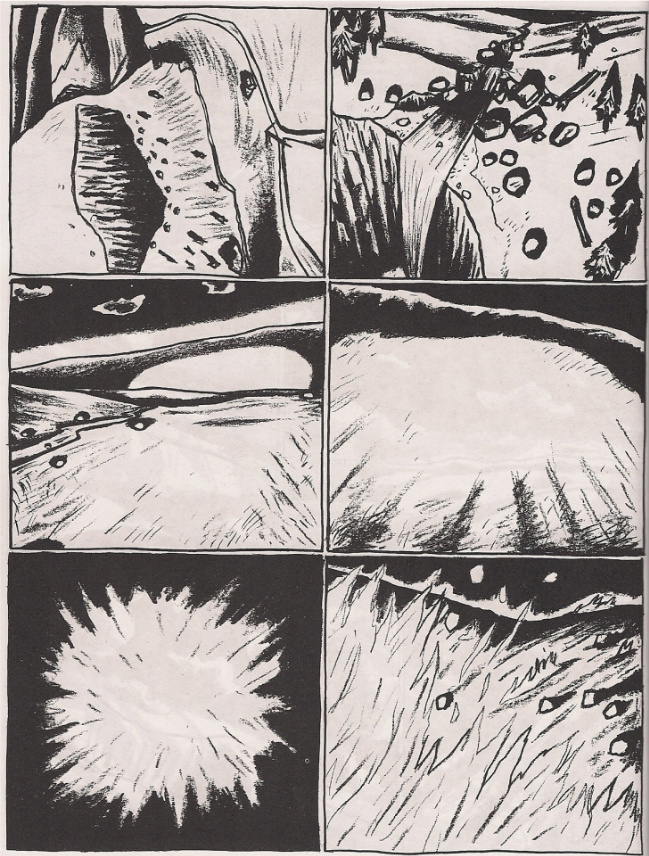 Departures are few, but notable. The above image is from the start of the book, a double-page outer space image onto which the credits and indicia are printed, giving way to a breakneck jumble depicting an object's descent to Earth. I don't believe any two pages of this sequence are alike in terms of layout, but this one is notable in bringing some organization to what's nearly an abstract sequence, taking the opportunity to leap from what's nominally a first-person view of a landscape closing in, to an external perspective — the switchover is in panel five, which is less a first-person sight than the SMACK impression of a landing — gradually drawing away from the site of impact and into the town in which the main characters live, shaken, though as their composure returns the nine-panel grid asserts itself, representing normalcy. Or, at least a neutral state.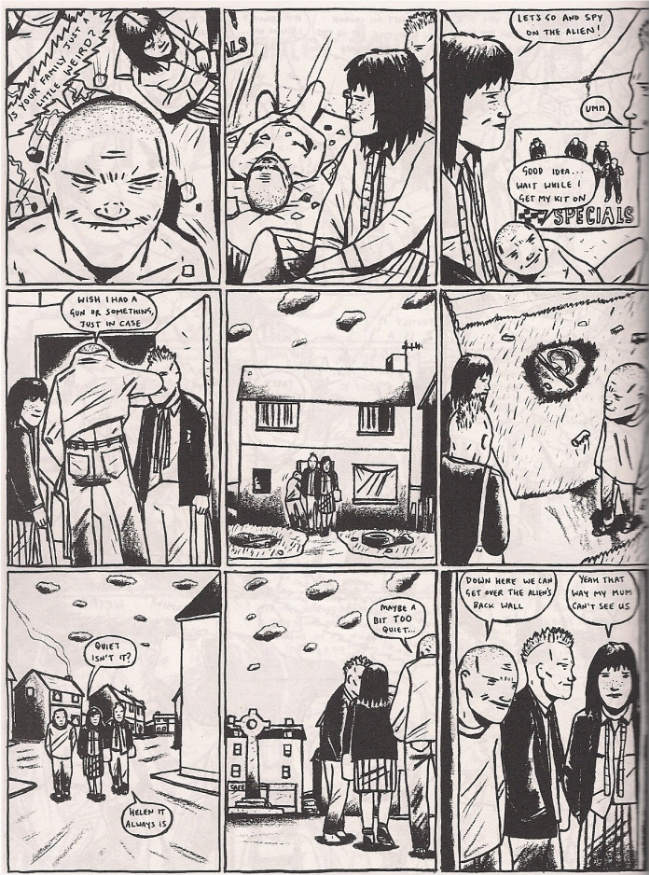 Note the all-important center panel marking the transition from inside the house to outside, as well as the fact that main cast of high schoolers — otherwise engaged in a cuss-laded YA-ready adventure into discovering whether their weird new headmaster is an alien or not — have just finished having sex with one another. It was actually the new Powr Mastrs that reminded me of this book, particularly an especially kinky, fluid-dripping flog-happy 'degrading' sex bit (not that the characters involved necessarily find the activities degrading, but that would be the off-handed connotation of the activities depicted).
There's little question that there's an awful lot of violence/degradation-tinged sex or outright rape in high-profile comics of late — Love and Rockets, Prison Pit, Neonomicon, the Ax collection, that Rafael Grampá story in Strange Tales II — and it'd brought to mind this fairly striking sex scene, doubly so for being both completely unexpected and rather clearly positive, in that everyone sort of just enjoys themselves and then the story continues. Which isn't so different from Powr Mastrs, but Swain's sexual imagery is downplayed so that (as panel one indicates) we mostly hone in on her characters' heads and faces, which is both characteristic of her art as a whole (narratives kept deeply personal, subjective, often to an elliptical point) and intensified from its own departures from the nine-panel system.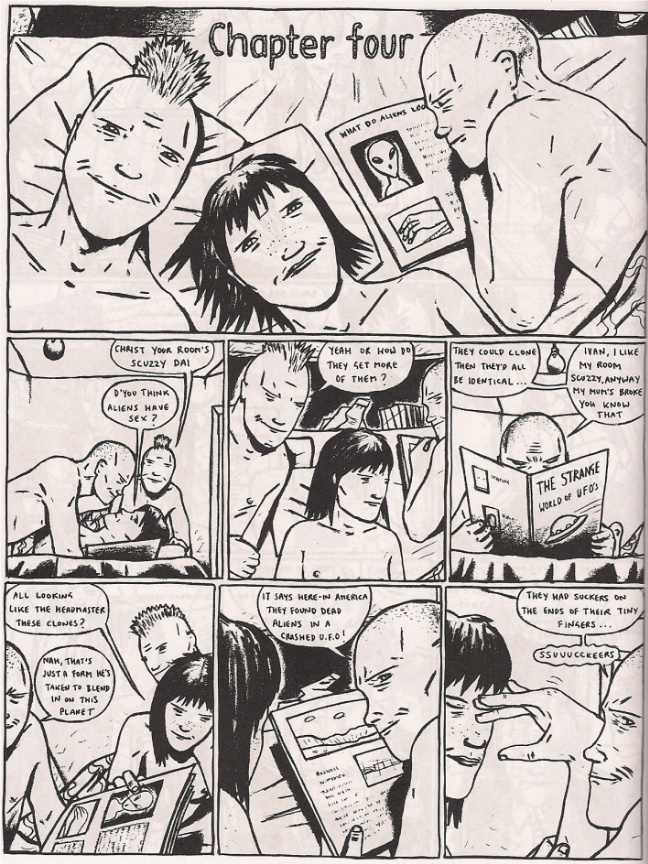 This does inform a different transition later on – when Swain presents a coda depicting two of the characters as adults. It's clean then that one of them has settled down a little bit, found a steady partner, and become slightly more realistic about notions of aliens in human form. Yet it's explicit that the two of them used to share something, and now see some appeal in the person each other has grown up to be. There are two departures from the nine-panel grid in this coda: one marking the initial meeting of the characters, and another introducing a jet-black car the less grounded of them has been working on, indicative of outer space and things they shared when they were young. These personal and emotional connections rightly shake the foundation of Swain's pages, as they are the life of her work.
And there's some lively work coming up, let me tell you:
The Zabime Sisters: In which First Second presents what I believe is the North American publishing debut of the late Firmin Aristophane Boulon ("Aristophane"), with an edition of his 1996 Ego comme X release Les sœurs Zabîme, a 96-page drama among teenage girls set in his birthplace of Guadeloupe. Not a widely known work (or artist, I suspect) in English, although critic Domingos Isabelinho has praised it (with additional comments here) as containing "simply some of the best characterizations in comics," with "subtlety of the situations and the truthfulness of the characters' reactions… on a par with Proust's best pages." Undoubtedly the first book I'd examine on arrival. Preview; $16.99.
The Wrong Place: Also very attractive and new to NA publishing – this Drawn and Quarterly edition of a 2009 book from Belgian artist Brecht Evens, studying the charisma (or lack thereof) in human communications. Evens has been active in comics only since 2005, if I'm not mistaken, and in possession of a striking translucent watercolor approach (among other styles elsewhere). Flanders fanatics will also recall his work from the second volume of the English-language Bries anthology Hic Sunt Leones (2007). Note that Top Shelf is already planning an English-language release of his 2007 comic Night Animals for next year. Preview; $24.95.
H Day: Being the new book by Renée French, a trim (6″ x 7″) 200-page hardcover pitting a head-hurting humanoid form on one side of a given spread against a misty City side of the book, both sides running on their own sequentially while complimenting and reacting to one another. Migraines! Ants! Published by PictureBox, which is to say published by an editor of this site, and it will end poverty and sing to you. Preview; $30.00.
Duncan the Wonder Dog: Show One: I've been pondering this thing, an old fashioned 400-page b&w softcover comics phonebook, the six-year project of artist Adam Hines, since shortly after its debut at SPX; it's a crisply layered, almost animation-like project prone to snaking around white pages or picking up clinging accessory visual elements. "What if animals could talk? Would some of them form a militant group in reaction to how humans treat them? Would humans treat them different?" Recipient of a May 2009 Xeric Grant, but published by AdHouse Books. Yes, another new and intriguing specimen this week. Preview; $24.95.
Lone Pine: I'm less familiar with this second AdHouse release (and a second Xeric recipient at that), but it's the debut book of artist Jed McGowan, puzzling through a relationship via suspense mechanisms, if I'm getting it right. Preview; $15.00.
Henry & Glenn Forever: Note that this is the expanded second edition of the much-covered 'Henry Rollins & Glenn Danzig as close roommates next door to Hall & Oates who worship Satan'  comedy special, bulking up the page count to just about infernal 66. From the Igloo Tornado comics group and Cantankerous Titles; $6.00.
Hägar the Horrible: The Epic Chronicles Vol. 2: Dailies 1974 to 1975: Your newspaper strip collection of the week, whisking us back to its Jazz Age, where a carefree flapper digs for – wait, no, I think that was Calvin and Hobbes? This is the Dik Browne strip about vikings, which I understand was more focused at the time on the culture gap between a hard-working man's man and the less evidently masculine educated milieu in which his children are coming up. From Titan Books, foreword by Sergio Aragonés; $19.95.
Dungeon Monstres Vol. 3: Heartbreaker: Your popular Franco-Belgian album collection of the week, zipping ahead a bit in this series of isolated side-stories for the Joann Sfar/Lewis Trondheim fantasy sprawl to tomes 8 & 9 (both 2004), with the respective participation of guest artists Carlos Nine and Killoffer. Both sections look really good, and I'm never one to turn down additional Killoffer in English. Samples; $12.99.
Beasts of Burden/Hellboy: Ah, bringing back the days where Mike Mignola's two-fisted monster fightin' creation would just up and walk over to Starman or Savage Dragon or something and have a damn team-up, continuity be damned. This one is especially apropos and probably delightful, as Hellboy joins forces with the talking animals/occult investigators of the Evan Dorkin/Jill Thompson series Beasts of Burden. A one-off comic book, written by Mignola & Dorkin, art by Thompson. Preview; $3.50.
Incognito: Bad Influences #1: Beginning the second storyline for this Ed Brubaker/Sean Phillips supervillain series, which by the end of the first book had pretty much become a 'dark superhero' kind of thing anyway. In all candor, I found the prior series to be a bit rote, if intermittently interesting in its evocation of a rather totalitarian superhero environment extrapolated from ultra-in-control pulp magazine avengers; but then, it took the same team's Criminal a little while to warm up too. Preview; $3.50.
The Bulletproof Coffin #5 (of 6): Always looking forward to this; David Allison has a nice essay here on the series thus far. Probably pairs well with Paul Grist's The Weird World of Jack Staff (which sees its fifth issue out this week). Preview; $3.99.
Creepy Comics #4: This is Dark Horse's quarterly (b&w) comic book format revival of the Warren horror anthology property, in case you were wondering; apparently Angelo Torres and Michael Wm. Kaluta are present. Scholars of the Warren diaspora should be aware that IDW has a new issue of the revived Famous Monsters of Filmland (#252) this week too; $4.99.
Madame Xanadu #28: The penultimate issue of this Matt Wagner-written Vertigo series, which of late seems to be focusing on stories of bad magic relating to the senses. This is the Taste chapter, boasting art by Marian Churchland, whose 2009 book Beast picked up some nice attention; $2.99.
Doonesbury and the Art of G.B. Trudeau: Because that $100 Best Of slipcased horse choker from Andrews McMeel last week wasn't nearly enough, here comes Yale University Press with a 272-page Brian Walker-authored art/process showcase; $49.95.
The Rise and Reason of Comics and Graphic Literature: Finally, we have two books-about-comics from McFarland. The first is a Joyce Goggin/Dan Hassler-Forest-edited compendium of (presumably) academic writing on the medium, ranging from construction concerns of serialization and page architecture to focused studies of specific works, such as 300 ("A Case Study in the Politics of Adaptation"), Planetary ("The Archaeology of Superheroes") and From Hell ("A Barthesian Analysis of the Construction of Fact and Fiction in…"). Contents list; $35.00.
Founders of Comic Fandom: Profiles of 90 Publishers, Dealers, Collectors, Writers, Artists and Other Luminaries of the 1950s and 1960s: And then there's this potentially awesome 236-page survey of known figures in mid-century funnybook appreciation, grouped into Indexers, Dealers, Fanzine Publishers, Convention Organizers, Writers, Artists, Active Fans & Collectors and Professionals. From Bill Schelly, recently of 2008's Man of Rock: A Biography of Joe Kubert. List of profiles; $35.00.
Labels: Carol Swain, layouts, This Week in Comics