THIS WEEK IN COMICS! (10/20/10 – Veterans United)
Tuesday, October 19, 2010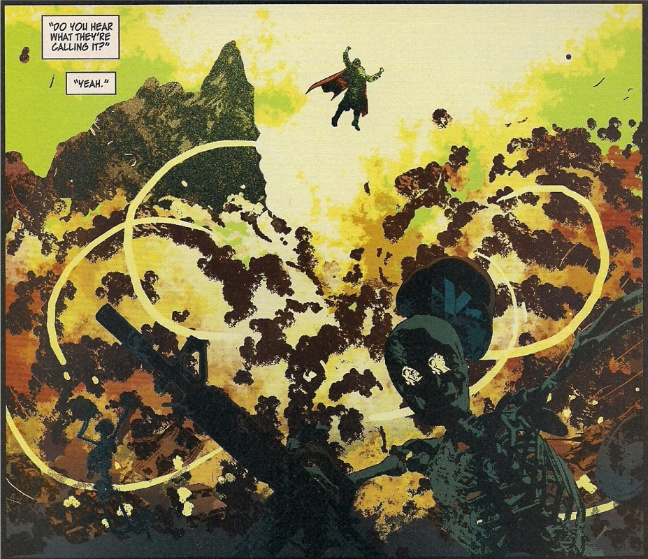 This scene comes courtesy of WildStorm-affiliated colorist Jonny Rench, who died this past weekend at the age of 28. I recalled him easily from the work pictured above, the 2007-08 miniseries The Programme, written by Peter Milligan and drawn by C.P. Smith. I can best describe Smith's art as 'heavy realism' in the shadowed, deliberately posed manner of Jae Lee, whose own work typically divines much impact from its interaction with colors by José Villarrubia or June Chung; Rench colored Smith on the first five of twelve issues. In keeping with the broadly satirical nature of Milligan's drug-kissed scenario — seeing literal Russian superpowers rise up to gift an uncertain terrorism-era America with the certainty of national competition — Rench blasts most all displays of superhuman force with garish, fuzzy, sickly colors. Otherwise, Smith's photo-still figures are bathed in one or more hue.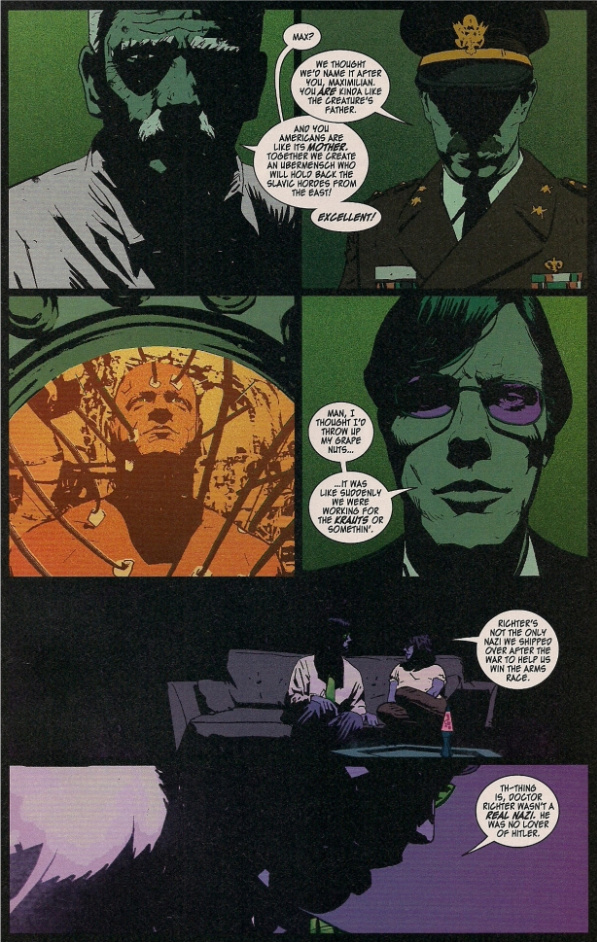 It's one of the more peculiar-looking longform series to see release from DC/Marvel in a while, enough so to wedge the visual team's names in my memory. And it's unfortunate my recall should be sparked again by such sad news, but there you go.
Onto the upcoming works:
X'ed Out Vol. 1 (of 3): In which Charles Burns, having now long ago finished a defining alternative comic book serial, turns his attentions quite specifically to the Franco-Belgian album format, complete with a semi-self-contained structure per volume and the presumed extended waits between volumes. It's an all-color journey into the late '70s, as Hergé graphics and punk culture intermingle into something presumably surreal, centering around a guy looking for a dead cat that's up and walking. Hardcover, 56 pages, from Pantheon; $19.95.
Picture This: Being Lynda Barry's follow-up to her excellent 2008 autobiography/guide-to-autobiography/philosophical tract What It Is — again from publisher Drawn and Quarterly — this time honed in on the act of drawing. Absolutely worth glancing through, at the very least. Preview; $29.95.
Dragon Puncher Vol. 1: New from James Kochalka and Top Shelf (who also have a fourth volume of the Johnny Boo series of kids' books this week), this is a 40-page hardcover comics/photo blend about a kitty that intends to beat the hell out of dangerous things. Preview; $9.95.
40: A Doonesbury Retrospective: In which Andrews McMeel Publishing give the Garry Trudeau strip of the title a deluxe 696-page slipcased special edition, pairing assorted trimmed storylines from across the breadth of the feature's run with close to 20 reflective/explanatory essays by the artist. Perfect for crushing a loved one's stocking to ruined scraps; $100.00.
The Peanuts Collection: Treasures from the World's Most Beloved Comic Strip: On the flip side of the gift book coin, here's a 64-page Little, Brown and Company publication that looks to be set up like those art magazines (Esopus, I'm thinking) where there's all kinds of pull-out things and plastic/paper stocks to simulate handmade materials. Only relating to Peanuts here, with sketches, prints, cels, stickers and whatnot; $35.00.
Blab World Vol. 1: Completely forgot this was coming up – a new iteration of the long-lived Monte Beauchamp anthology, now a 128-page 10″ x 10″ hardcover published by Last Gasp. I think there might be more of a focus on articles in this one, with features on the skull motif in pre-Code comics and mid-20th century books, the cover art of Weirdo, propaganda caricatures of WWII, and more; $24.95.
Dodgem Logic #4 & #5: No, not a double issue, just Diamond and North American distributor Top Shelf catching up on this Alan Moore-fronted culture magazine as its sixth issue prepares to drop in the U.K. I haven't got hold of issue #5 yet, but #4 contains a long essay by Moore on the history of science fiction, its 20th century steeping in American exceptionalism, and the conservatizing effect fan frenzy bulwarks like Star Trek and Star Wars have had on the genre at large, among other related topics; $7.00 (each).
Kick-Ass 2 #1: Meanwhile, from the pages of Mark Millar's own damn magazine, comes the latest from him and John Romita, Jr. & company, now in smaller, thicker comic book form; $2.99.
Cardcaptor Sakura Omnibus Vol. 1 (of 4): Certainly the manga republication event of the week, this is Dark Horse's new 576-page layout for the much-admired 1996-2000 collect 'em all monster hunting magical girl shojo series/merchandising bonanza from comics collective CLAMP, which a decade ago served as one of the critical Tokyopop licenses at the time building up to the bookstore boom. A lot of fond memories surround this one; $19.99.
Chi's Sweet Home Vol. 3: Also cute – CAT MANGA; $13.95.
Vagabond Vol. 33: For those of you not following Takehiko Inoue's swordsman manga in the three-in-one VizBig editions, here's your latest hit, now completely caught up with the Japanese editions in anticipation of the series finale sometime in 2011; $9.95.
20th Century Boys Vol. 11 (of 24): The latest translation of Naoki Urasawa, kind of skimming beneath the surface of online comment right now; $12.99.
Vertigo Resurrected #1: Speaking of thick comics, DC has recently begun putting out these fat DC Comics Presents compilations of assorted materials for under ten bucks, and this looks to be a Suggested for Mature Readers sibling. The centerpiece is Shoot, a heretofore unpublished (if well-traveled online) Warren Ellis/Phil Jimenez/Andy Lanning issue of Hellblazer in which John Constantine rants on the topic of schoolyard violence, pertinently implying that some students would rather die than put up with all the shit. Ironically, this type of subject is back in the media spotlight these days, but not in so sketchy a form as the Columbine shootings which persuaded Vertigo not to publish the material in the first place. Vertigo is rather tight-lipped about the actual remaining contents of this 96-page item, but it appears to be a grab bag of shorts from the imprint's various themed anthology series of the '90s (Flinch, Weird War Tales, etc.), picked for maximum name value. Grant Morrison, Garth Ennis, Jim Lee, Brian Azzarello, Bernie Wrightson and others are promised; $7.99.
Batman and Robin #15: The penultimate issue of writer Grant Morrison's run on the title, soon to transition itself into the new Batman, Inc. after Bruce Wayne finally pops back into the present continuity. The last issue for artist Frazer Irving too, whose composing-in-color digital approach has been really fruitful of late; $2.99.
DMZ #58: While not the penultimate issue or anything, this Brian Wood-scripted urban conflict series from Vertigo is set to wrap in about a year. Note the always-welcome Daniel Zezelj as this issue's guest artist; $2.99.
The Spirit #7: And for ever more veteran guests, be aware that the backup short for this issue of the latest Will Eisner revival attempt re-teams Jan Strnad & Richard Corben after I can't remember how long. It's a Halloween special, you see; $3.99.
The Horror! The Horror! Comic Books the Government Didn't Want You to Read!: Finally, your book-on-comics selection, a 304-page Abrams ComicArts softcover from Jim Trombetta, surveying selected pre-Code comics and images, with a bonus dvd presenting a 1955 episode of the television documentary/interview program Confidential File relating to the ills of comic books. Introduction by YA author and occasional comics writer R.L. Stine; $29.95.
Labels: C.P. Smith, color, Jonny Rench, Peter Milligan, This Week in Comics