Rand Holmes, the Man
Friday, September 24, 2010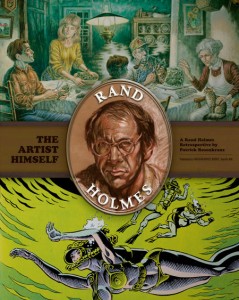 I've been lately stuck on writing briefly about books, which strikes me as a peculiar kind of rut — reviews are ubiquitous online, so why do it here? Well, much of my interest in comics lies in accounting for and understanding the history of comics, and so making sense of the overwhelming diversity of subject matter and approaches in all of these books rolling out month after month. Lately I'm most intrigued by books that either (a) explore a hitherto distant figure like Mort Meskin or (b) present a compellingly fresh (for comics anyway) approach to the history of the medium, which brings me to Holmes (more on Meskin soon).
Patrick Rosenkranz's The Artist Himself: A Rand Holmes Retrospective is a companion of sorts to his previous book on Greg Irons and of course his Rebel Visions: The Underground Comix Revolution 1963-1975. What makes The Artist Himself unique is in the title itself — Rosenkranz has constructed a sprawling portrait of Rand Holmes as a man in conflict with the "the artist himself" — a man trying to carve out a way to live that allowed for art (never an easy feat) and an art that somehow made sense in his life.
Holmes (1942-2002) begins as a somewhat lost teenager from a difficult home finding his way in then-isolated and rugged Edmonton, Alberta. He learns self-sufficiency outdoors, falls into hot rod culture, and finds his voice in cartooning. In telling this story Rosenkranz opens up a world — we hear from Holmes' childhood friends, learn about the ragged car culture of time (and here, again, Rosenkranz excels at describing hot rod life, and how it readily lent itself, to visual art and the nurturing of eccentric talent; see: Robert Williams, et al, for more), and slowly roll into the nascent counter culture, which Holmes finds in the pages of the Vancouver underground paper Georgia Straight. "What happened next", Rosenkranz writes, "was what you might expect from a fish too big for its pond. In 1968 Holmes saw Zap #2 … Holmes summed up his exodus from Edmonton a few years later: 'In 1968 my brother turned me onto pyschedelics. I woke up, left my wife and job and split for the West Coast, grew my hair down to my ass, moved into a communal house and vowed to never again do anything I didn't want to do, especially for money. After I made that simple decision I was suddenly free.'" A "simple decision", maybe, but as Rosenkranz deftly shows over the remaining three hundred pages of the book, a choice with extreme consequences for the artist's life and the family he left behind. The author does not left Holmes off easily — he reckons with Holmes' sometimes self-destructive willfulness, his tendency to wile away an afternoon playing the banjo in the sun, and the problems that come with attempted utopias.
In his work Holmes switched from hot rod cartoons (his funky one-pages for Pete Millar's CarToons are reprinted here) to Wally Wood-inflected stories, finding the most success with his hippy manque Harold Hedd. We next learn a great deal about Georgia Straight and the hippy culture of Vancouver (all news to me, natch), which is all the more striking because Holmes was alone in his comics. I'd always thought of Holmes as a marginal figure in the underground, despite his exquisite draftsmanship, but I had no idea just how marginal. He didn't visit San Francisco until 1972, long after the peak (and at the edge of the nadir) of the underground and he swiftly returned to Canada with a few contacts but little sign of the kind of the kind of camaraderie that otherwise is so much a part of the mainline underground story. Fortunately Holmes seems to have been an avid diarist and pretty consistent correspondent with his publishers and friends. So month-by-month and year-by-year we're privy to his life as he constructs it, which, in published form becomes the most detailed account yet of the mechanics and finances of how a second tier underground artist published and (sort of) survived in a sinking medium. Instead of the usual tale of cartoonist-as-misfit to cartoonist-as-peer to cartoonist-as-success we get a story about one particular cartoonist living a highly individual life on the margins of one culture, but deeply embedded in a life of his own making in places and cultures that, while obviously rich with history and meaning, simply aren't covered very much (or at all) in a comics context.
There is little inside-comics talk here because, frankly, Holmes wasn't really so engaged with the medium beyond his own work. He did his thing, and that seems to have been that. He of course knew his EC and such but he was clearly somewhere else most of the time. The work itself, amply reprinted, is good, sometimes great 1970s and '80s narrative-driven comics in the yarn-spinning Gilbert Shelton tradition. Sometimes it works, sometimes not. I am most fond of his single images, like his gag cartoons for the sex tabloid Vancouver Star, his elegant EC-inflected comic book covers, and his highly detailed tableaux for White Lunch Comix and Tales from the Berkeley-Con.
In 1982 Holmes and his second wife, Martha, moved to remote Lasqueti Island, BC to build his own home and make his own art on his terms. At the time the island economy still worked on a barter system, and Rosenkranz reproduces generous amounts of journal entries, plans, and photographs detailing a rugged, sometimes frightening life in the wilderness. But Lasqueti was where Holmes found a measure of peace — where he stayed and painted and drew some more comics, including the incredibly fun "Hitler's Cocaine" epic and where he eventually passed away in 2002.
Holmes' last two decades are unexpectedly affecting. As the narrative delves into Holmes' homesteading and hunting for food, I began to realize the real meaning of the artist's youthful vow and precariousness of trying to balance a particular kind of life with a particular kind of art. And aside from the obvious benefits of learning about Holmes, I found myself selfishly drawing tremendous inspiration from Rosenkranz as he demonstrated the richness possible in writing the history of comics. He draws the curtain back as if to say, "see, here's someone you hardly think of, who lived an extraordinary life, and it's a life that must be reckoned with in the history." It radically broadens what we think of as a cartoonist's life, and in that Rosenkranz has given us a great gift.
Labels: books about comics, Patrick Rosenkranz, Rand Holmes