THIS WEEK IN COMICS! (9/1/10 – Wild Dreams)
Tuesday, August 31, 2010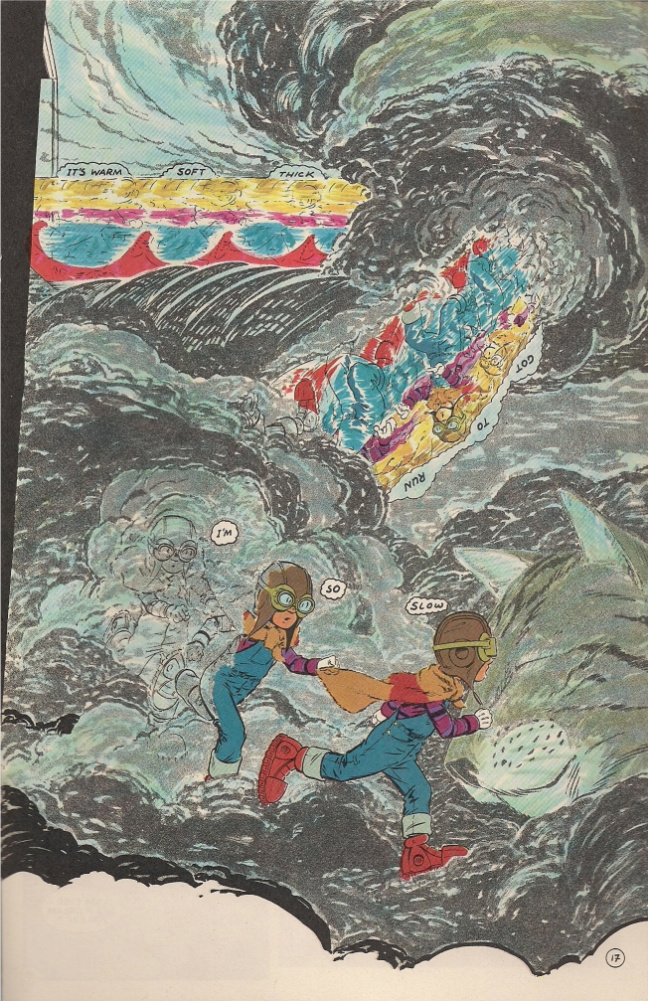 Above we see Marshall Rogers, among the 'star' superhero artists of the late '70s/early '80s, at his most transformed. This is from Cap'n Quick & A Foozle, his one and only longform project as a writer/artist, although Rogers actually took the credit of Director; this was, I suspect, partially in homage to the Warner Brothers cartoons that provided no small inspiration, but it also highlights Rogers' understanding of himself at the head of a band of collaborators, including scenarist/colorist Chris Goldberg, and additional colorists René Reynolds & L.J. Chapin. As you might guess, there's a lot of emphasis on color in this thing, ranging from odd, hazy translucent effects to washed-out blue & green over pencil shading, to – ah, see above. I don't think Eclipse would publish anything quite so anxious and out-there again until Floyd Farland, Citizen of the Future.
Rogers, of course, was from a different time than Chris Ware. He was a popular Batman artist, still perhaps most-remembered as such today, and the genesis of the Foozle character came from frequent writing collaborator Steve Englehart's disputes with DC as the comic book Direct Market matured to accommodate multiple alternative publishers – 'alternative' in the sense of functioning as a fantastical comics writer's alternate option. Englehart took some unused DC scripts and converted them into creator-owned works: a planned Madame Xanadu run with Rogers became the never-finished initial storyline for Scorpio Rose, while a Superman/Creeper story got re-worked into a loose-limbed adventure for a mystic woman and a talking bird-like thing (a Foozle) in the debut issue of Eclipse magazine (1981). Englehart then renounced his co-ownership of the Foozle, which Rogers spun off into his own serial in the comic book-format Eclipse Monthly, with faintly confused kid adventurer Cap'n Quick. The serial ran for the first four issues of the anthology (1983-84), then moved into two issues of its own series, which appeared in '84 & '85.
There was never much of a conclusion to the series – then again, it never seemed prone to concluding. It was as if Rogers had stepped outside of his body, like his & Englehart's Coyote, and realized that this would be his only extended comic series with which to do anything, and then stuffed every possible notion or idea he had into its small confines. There's over a dozen characters, all of them struggling for dialogue-heavy space, with Road Runner visual gags sitting uneasily beside E.C. Segar-inspired ill-tempered questing. There's world politicians presented as rodents — like the signal of political satire isolated from any substantive source — and fast-talking salesmen and early '80s video gaming (several Q*bert references!) and Mel Blanc imagined as a sonic-voiced demigod.
And more than anything else is Rogers' efforts at pushing his 'stylized naturalism' into vivid cartoon mobility; this was a running theme of his Eclipse period, and seemingly a challenge for the observational artist, so that his efforts worked themselves into a type of psychedelia:
This is from Coyote, still the best F-bomb dropping, full frontal nudity superhero comic about the son of a were-beast and a psychic vampire foiling a gas mask & leather-clad interdimensional skeleton's plot to undermine America's morale by poisoning Hollywood stars with radioactive Oscars. The dance between perceptions is a decoration of movement, almost a fetishization, communicating in distinctly controlled circles & tones an ecstasy suddenly allowable away from the demands of corporate franchises.
Its realization is eccentric, and I think limited, but Rogers kept pushing; you can see the Cap'n Quick image as a descendant of Coyote's, I think, with color shooting repeated pencil drawings through the clouds – this collaboration, then, was the artist's most successful flight from tangible reality, which would bear down quickly enough again.
Meanwhile, years later, and also long ago:
The Wild Kingdom: Being a new 6″ x 8″, 108-page Drawn and Quarterly hardcover collection of work by Kevin Huizenga, I think expanded from material seen in issue #4 of his Or Else series, and possibly elsewhere. Preview; $19.95.
A Drunken Dream and Other Stories: Manga's been around in English longer than I have, so it's helpful to realize that this much-anticipated 288-page hardcover Fantagraphics collection of assorted short comics by Japanese girls' comics pioneer Moto Hagio is functionally (if not intentionally) a corrective of sorts. Prior to this, Hagio was presented as a pioneer, yes, but specifically — in terms of comics actually translated, I mean — as a vanguard agent of manga sci-fi via Viz's releases of her popular space cadet danger serial They Were Eleven (now easiest to obtain as a four-issue comic book miniseries, 1995, trust me on this) and an additional bookshelf collection of genre pieces, A, A Prime (1997). Whispering beneath it all was the understanding that the artist was additionally an early practitioner of shonen-ai, the depiction of lovely boys in lovely love, though the works' marketing-friendly (maybe marketing-necessary) genre slant coded these concerns.
This, however, is a new gold-hued Hagio for a Golden Age of Reprints in the mighty manga manner, spearheaded by editor/translator Matt Thorn, who worked on the Viz releases and sought to fill out Hagio's importance in the Comics Journal's 2005 shojo manga issue (#269). The collection's title story, then, both announces the book's curatorial intent and teases the past understanding of Moto Hagio: it's the only sci-fi piece among ten selections (1970-2007), and — amusingly, given the great expansion of the audience for yaoi work — the only story to hint at same-sex attraction. The "Drunken Dream" refers literally to the tragic separation of two lovers across multiple lifetimes, but also describes the state of Hagio's story, a barely-together, abruptly-concluded narrative plainly more interested in evoking sensations of exquisite heartache and romantic frustration than delineating psychological realism or building suspense – this fantasy environment is emotive, faded and crumbling in color.
The other nine stories are b&w, but proceed in much the same way – pioneer Hagio's identity here, now, is that of a super-direct communicator of torment in the absence of love and the thrall of art. She is not a subtle worker — remember, some of this work is squarely aimed at children, rarely suggesting any poetic image or lingering character motivation that won't eventually be spelled out via dialogue or narration — and some stories lapse into a self-pitying rapture, only kept from falling to pieces by artful visual compositions. A near-wordless vision of a ghostly woman watching a boy grow to a man (inevitably capped by a tearful confrontation!) borders on saccharine, while a double-barreled blast of soap opera sees a suicidal girl hauled off death's doorstep by a rough but handsome man who *gasp* turns out to be her new biology professor, resulting in detailed, evolution-themed educational segments (not unlike the learning bits in Golgo 13 or a Kazuo Koike manga) inevitably lashed to Our Heroine's Dark Secret. "I wonder if humans will evolve into angels?" she muses, probably gauging the reader's appetite for comics of this tone.
That said, the best of these works find Hagio catching her her thematic groove early and following it with disarming propulsion. A rough-hewn story of a little girl sitting out in the rain while every grown-up in the vicinity roils with offense over her deviation from societal norms evokes near-Ditkovian levels of self-assurance in the face of assumed (il)logic, while a 50-page saga of an iguana girl — or, a girl pictured as an iguana, in recognition of hers and her mother's neuroses — deftly sketches out a whole biography of low-self esteem with a sly, rather stinging sense of humor absent from the rest of the collection. It's here that Hagio's aching poetics, her drunken dreaming, registers best. Samples; $24.99.
Apollo's Song Vols. 1-2 (of 2): And if that's not enough vintage(-ish) manga for you, here's Vertical's new two-volume edition of Osamu Tezuka's energetic, possibly improvisatory, and deeply, deeply odd 1970 exercise in narrative sex education for boys, following a mean kid who can't love through many alternate lives of ruined romanticism. Featuring man-to-man erection chat in the midst of genocide, a visit to a top-secret sex pasture for animals, and futuristic vistas of a city choked with headstones. Maybe not the place to start with Tezuka, but certainly somewhere to visit. I reviewed it here; $10.95 (each).
The Anthology Project Vol. 1: I only know what I hear on the internet, and I hear this compilation of new shorts "collects the comics of artists unified by their delirious pursuit of compelling narrative and notable artistic work in the medium of sequential art. Its humble intent is only to delight." Worth a look? Contributors, samples; $24.99.
The Amazing Screw-On Head and Other Curious Objects: I'll cop to a sentimental attachment to the 2002 one-off that provides the title for this new hardcover – it was one of the first comics I picked up at random when I started 'following' comics again, because I'd heard of Mike Mignola, though the whole Hellboy thing seemed daunting. I immediately thought all the big-ticket cartoonists took time out to do silly, energetic funny comics of this type every so often. Mignola, at least, didn't do another, although Dark Horse is promising 50 pages of all-new stuff in a similar vein, so maybe it's bookshelves that get the ephemera now. Plus: that one story he did with his daughter, posted here; $17.99.
Hellboy: The Storm #3 (of 3): Ah, it's not Hellboy itself is all-doom, all the time, although this climactic Duncan Fegredo-drawn storyline (split in half, so its last three issues will form a later miniseries still forthcoming) will probably see some hurt. Note that Mignola also co-writes a second issue of Baltimore: The Plague Ships out this week; $2.99 (for Hellboy, Baltimore is $3.50).
King City #11 (of 12): Apparently thought to be out the other week, but Diamond says it's now – the penultimate installment of Brandon Graham's sprawling urban fantasy. Preview; $2.99.
Sky Doll: Lacrima Christi #2 (of 2): In which Marvel's presentation of Alessandro Barbucci's & Barbara Canepa's satirical anime-informed fantasy finishes up, in that I think they're out of periphery material to put into comic books. With short stories by Enrique Fernández, Afif Khaled and Gradimir Smudja; $5.99.
Jerry Robinson: Ambassador of Comics: Finally, your book-on-comics for the week, a 224-page Abrams ComicArts art book/tribute to the veteran artist, with text by one N.C. Christopher Couch. Available in finer bookstores or your local comics consulate; $35.00.
Labels: Eclipse, Marshall Rogers, Moto Hagio, Steve Englehart, This Week in Comics