Russian Comics
Tuesday, July 27, 2010
In 2005, I went to Russia, and my husband and I decided we would look for Russian comics while we were there. I tried asking in bookstores, but the clerks all gave me a funny look and said no. We finally found a few random copies of something called 2002, which looks pretty terrible, but no stores carried anything that approximated what you'd find at bookstores in the US (that said, our chain bookstores—Border's, Barnes & Noble—have shit selection of anything other than Marvel and DC collections). Just lately, I started reading José Alaniz's Komiks, which is the first study of the form in Russia. (It was published by the University of Mississippi Press, which—side note—has a great catalog of comics criticism, including books by Charles Hatfield, Joseph Witek, and CC's own Jeet Heer.) So I started digging around on the interwebs for some translated materials, but again, there's not much. There seems to be plenty of creating going on in Russia (there are now two international festivals: BoomFest in St. Petersburg, and KomMissia in Moscow), but it's hard to tell how much of the work is any good. My guess is that the brilliant-to-crap ratio is probably the same as it is in the West. So here's a slightly random selection of some work in translation and some that's not.
First, a recent classic. Stalin Versus Hitler by Aleksey Lipatov (who, actually, is from Ukraine). Includes a flashback to Stalin's training sessions with Lenin on Dagobah Razliv. Awesome.
Nikolai Maslov's alcohol-drenched autobiography, Siberia, done entirely in pencil, was translated and published a few years ago by Soft Skull. The story is interesting, and he's completely self-taught. Unfortunately, the word balloons/boxes for the translated edition are a travesty, often covering parts of Maslov's drawings.
Oleg Tischenkov, who was included in a special exhibit of Russian comics at Angoulême this year, does a strip called The Cat, about a philosophizing cat, some of which has translated into English and published. You can read some here. The content isn't really my thing, but the white detailing and Cyrillic lettering are really nice.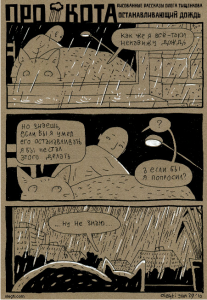 Tischenkov's blog shows some pages from his sketchbooks. The densely detailed plant ones are a little like Ectopiary meets the Unifactor. (Too bad the images aren't bigger.)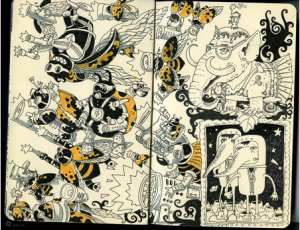 I like these photo-based comics by Lena Potyakina (click the arrows to page through, duh).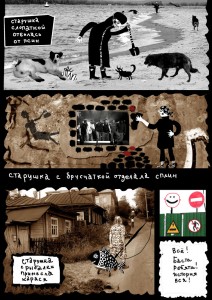 And this one, by Varvara Pomidor, which uses old newspapers as backdrops/elements of the story.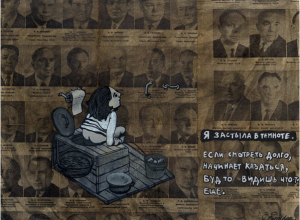 And last, Georgy Litichevsky, who, born in 1956, has exhibited widely as a painter. Alaniz devotes some space to Litichevsky, whom he quotes as saying, "I was making comics before I knew they existed in nature."  So even though his work is on a larger scale, he still treats comics very much as a text-and-narrative–based medium. The first one here is an acrylic-on-canvas comic about Russian Actionism, and the second is an autobiographical comic.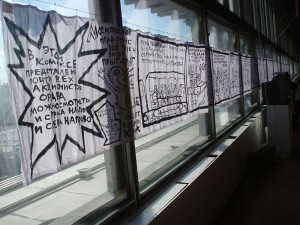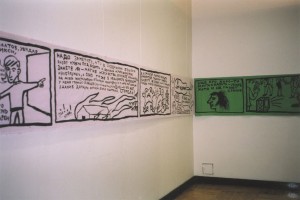 These are some of the most literal examples of the comics impulse in his work. But he's sort of like the Gary Panter of Russia—he's done all kinds of different art, including (as far as I know) something Panter hasn't: cow painting.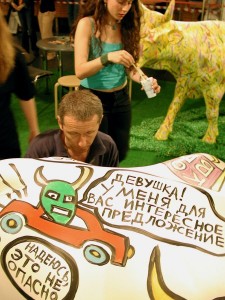 Labels: Aleksey Lipatov, Georgy Litichevsky, Lena Potyakina, Nikolai Maslov, Oleg Tischenkov, Russian comics, Varvara Pomidor