Sunday, May 23, 2010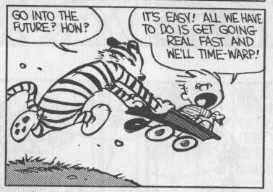 Remember when you'd look forward to the Sunday funnies in the newspaper? The last time I remember being excited to read the comics on Sundays was when Calvin and Hobbes was still running. But that was what? fifteen years ago?
And that got me thinking about the next fifteen years and if Watterson's work will hold up. If we could go into the future will new, better designed collections come out? Probably. And will we all scrutinize it a little closer like we are with just about every other major newspaper strip? I dunno. Will we still like it? Who's to say.
And what's up with the documentary Dear Mr. Watterson or the biography that was written? I think I read that Watterson basically refuses all interviews these days. Although he did do a short interview recently, I guess I'll have to reread my Comics Journal interview with him to relive the good old days.