Monday, March 29, 2010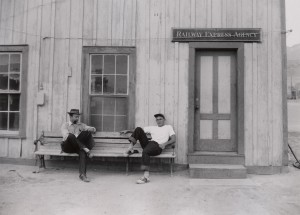 As Art in Time gets closer to the big reveal I thought I'd begin to post some extra images I have by or of the cartoonists included. Here's a rare photo of Jesse Marsh (with pipe) out for a day of sketching with animator Tom Oreb sometime in the late 1940s.
On another note, I stopped by Thirty Days NY, the space/shop that David Kramer and Sammy Harkham are curating in Tribeca (sponsored by Absolut Vodka and TBWA/Chiat/Day) opening April 8. It's going to be a knock out.