Friday, April 23, 2010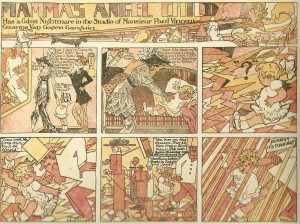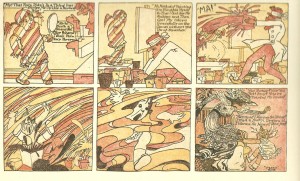 To continue our notes on comics and cubists:
1. Modernism came to America in 1913 via the Armory Show. One early response was this Mamma's Little Angel page by Penny Ross , circa 1913 or 1914, where the lead character has "a cubist nightmare in the studio of Monsieur Paul Vincetn Cezanne Van Gogen Ganguin." (The page can be found in the great Smithsonian book edited by Blackbeard and Williams.) This page is an early example of a common joke, later repeated by Frank King and Cliff Sterrett, where American domesticity and "normality" is turned upside down by modern art.