Tuesday, August 31, 2010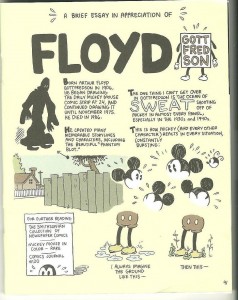 For me, and I admit I have specialized taste, the best news coming out San Diego was the announcement that Fantagraphics is going to reprinting Floyd Gottfredson's Mickey Mouse comic strips, which really was during the 1930s one of the great adventure strips. This will be hard for anyone who hasn't read Gottfredson's work to believe, but his Mickey Mouse was as rousing as Roy Crane's Captain Easy and as rich in invention as Barks' longer Duck stories.
Given the track record of Fanta's excellent design and editorial team, I'm confident that Gottfredson is in good hands. A word of advice: I'd suggest that Fanta recruit Kevin Huizenga to write an intro for one of these books. Huizenga has a keen appreciation for Gottfredson's cartooning, as can be seen in this tribute page from Or Else #3. Huizenga, by the way, is completely right about Gottfredson's profusive use of sweat drops. Gottfredson must have been the sweatiest cartoonist ever (close second: Dan Clowes).