Thursday, August 26, 2010
Welcome to the preseason for 2010's Comics Comics Comic-Book Club, which will feature a discussion of Alan Moore and Jacen Burrows's new series Neonomicon. Before getting to that, though, it probably makes sense to start with Alan Moore's The Courtyard, the 2003 two-issue miniseries to which Neonomicon is a sequel.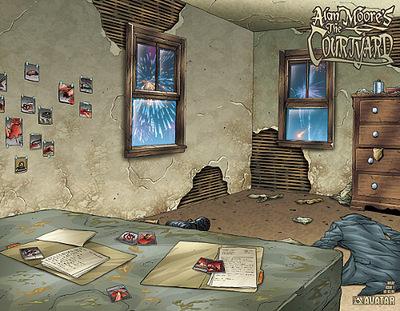 Garth Ennis, of Preacher and Punisher fame, introduces the comic with some effusive praise:
Here he is now with his latest effort, ably assisted by Antony Johnston and drawn by the always excellent Jacen Burrows: Alan Moore's The Courtyard. And yes, it's brilliant, and yes- sob– he's as good as he ever was, but what The Courtyard really does is confirm the effortless quality of the man's talent. A story bursting with ideas and characters and nice lines and spooky twists, enough to keep most writers occupied for a couple of years—but where just about anyone else would stripmine a concept like this to death, what does Alan devote to it? Forty-eight pages, no more.
Actually, Moore actually didn't even devote that many pages to the concept, because Moore is not in fact the author of this comic (more…)