Thursday, November 18, 2010
As I once promised, my plan for today was to review the latest issue of Glamourpuss, but things got away from me, and it looks like I won't be able to get to it until later. But some research I was doing for the post might do as a temporary substitute.
Here are two quotations from popular manuals on cartooning, released a half-century apart. They both give advice on how to draw women for comic books. Which quote is from which book?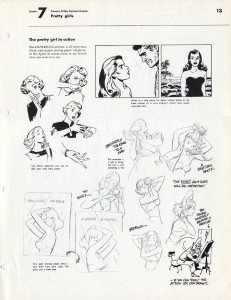 First:
Don't emphasize muscles on a female! Toned and taut, to be sure, but keep the curves and the sensuality—and vive le difference!
Second:
The sexy female figure may be divided into four central parts. First comes the head and hair. A pretty face must be crowned with appropriate hair. … Women readers especially are critical of the way a cartoonist draws the hair on any female characters. Second comes the breasts. It is here that beginners and sometimes even professionals go off the beam by over-exaggeration. The width of a single pen or brush line can make the difference between a pleasing shape and a vulgar or crude lump of fat. Don't lay sex on with a trowel. Be subtle about it. True, the breasts are drawn larger and a little higher than in real life, but how much larger and higher depends upon the over-all style of the individual cartoonist. Third are the hips. Exaggeration is needed here, too, but again one must not overdo it. Fourth and finally come the legs. The sexy gal must have long shapely legs. A short, dumpy figure has not much appeal and should be avoided.
One of the quotations is from the 1956 classic Famous Artists Cartoon Course (see illustration), and the other is from the just released Stan Lee's How to Draw Comics (I wish I had access to a scanner now, because, oh the illustration I could use from that book — check this post again tonight tomorrow for a late visual update.)