Wednesday, May 26, 2010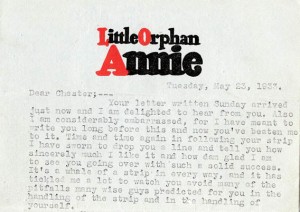 Before you go any further, please take a look at the ongoing auction in support of this blog….
As Jog noted, there is a new Little Orphan Annie volume out this week: the fifth in the "Library of American Comics" series edited by Dean Mullaney. The volume covers the years 1933 to early 1935. As usual, I've foisted one of my longish introductions on the book. In writing my introduction I was immeasurably helped by Jeff Kersten, a scholar who is doing research on Chester Gould. Jeff provided me with a series of letter that Harold Gray wrote to Chester Gould in 1933. In these letters Gray complains at length about the policies of the Tribune-News Syndicate, especially that of publisher Joseph Patterson and Vice-President Arthur Crawford, who Gray thought were "chiselling" their staff cartoonists out of royalties from spin-offs. Gray also gossips a bit about their other cartoonists in the Tribune-News Syndicate such as Sydney Smith.  These letters give us an unprecedented look into the business side of the comic book industry, and both Jeff and I will be mining them for future research.
I strongly encourage anyone interested in the history of comics to pick up the books in the Annie and Dick Tracy series. As an appetizer, I've decided to share an excerpt from the first letter Gray wrote to Gould with some annotations:
Harold Gray to Chester Gould, May 23, 1933:
Dear Chester; —

Your letter written Sunday arrived just now and I am delighted to hear from you. Also I am considerably embarrassed, for I have meant to write you long before this and now you've beaten me to it. Time and time again in following your strip I have sworn to drop you a line to tell you how sincerely much I like it and how dam glad I am to see you going over with such a solid success. It's a whale of a strip in every way, and it has tickled me a lot watch you avoid many of the pitfalls many wise guys predicted for you in the handling of the strip and in the handling of yourself.