Friday, October 1, 2010
Herewith the second part of our excerpt from the Highwater oral history. Bostonians, Go check out the show, opening tonight. We pick up with a discussion of the Highwater look and feel.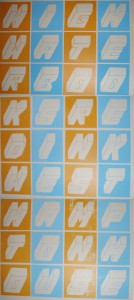 Highwater Style
Kurt Wolfgang: I felt like things were going kind of a different way, and Tom was really doing them right, not as a businessman, but as far as a publisher and as far as his idea of what a publisher's job is, which I agree with about 99.999 percent. He put it in really basic terms to me a few years ago [at the Highwater reunion] in Scituate. And I didn't agree with that statement when he first said it because it seemed too simplistic. He said, "A publisher's job is to discover and expose and nurture talent." To me, looking from a capitalist point of view, well, gee, then no one's going to publish R. Crumb. But he said, "No, someone will always publish those guys. They're not the good publishers." To really find things and nurture things, I think Tom's publishing philosophy probably had less to do with the actual books come out than with making things happen that make those books possible.
I think when a lot of people look at Highwater they think of crazy design and textured paper and rounded corners. That's all they look at. These are people who probably wouldn't like that kind of comics anyway. So when you throw all that stuff on I think that they think you're trying to deceive them. But I think with Tom the beauty of it all has nothing to do with the design of those books, as I said it's part of a whole, as amazing as it is. The things that him and Jordan did and bounced off each other. I think with those two together, I think that you're really talking about Highwater. Jordan, at least from a design perspective, is a really big part of that. Him and Tom were bitchy old ladies and trying to prove each other wrong at all times. And wonderful things come out of that. (more…)