The Mid-Life Crisis of the Great Commercial Cartoonists
Saturday, February 20, 2010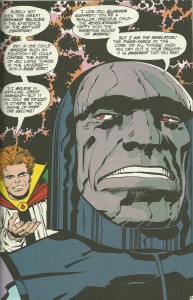 Further to Dan's excellent post on Wally Wood, one way to think about Wood's career is to realize that he followed a pattern common to commercial comic book artists of his era. Think of Kirby, Ditko, Kane, and Eisner (and maybe also John Stanley). All these cartoonists started off as journeymen artists, had a mid-life crisis which made them try do more artistically ambitious work, but ended up being thwarted either by the limits of their talent or the constraints of marketplace.
Jack Kirby had his midlife crisis in the late 1960s. He already had a formidable body of work, arguably the best adventure cartooning ever done in the comic book form, running from the explosive patriotic bombast of the early Captain America to the mind-stretching cosmic adventures of the Fantastic Four and Thor. But by the late 1960s he was tired of playing second fiddle that blowhardy glory-hound Stan Lee. So Kirby made is big break for DC and became the auteur behind the hugely ambitious Fourth World series. I'm very fond of the Fourth World series, and even enjoy the aspect of them that is most often mocked, Kirby's peculiar writing style, which to my ears at least has a kind of vatic poetry. Be that as it may, DC comics wasn't willing to give the series the support they deserved and the books were canceled mid-storyline, leaving us with the fragments of a promising epic. Kirby would go on doing fascinating work, but he never really got over the sting of losing the Fourth World. None of his subsequent work had the same crazy ambition as the Fourth World.

(Posted above is a prized example of Kirby's dialogue, from The Forever People #3 (1971). Talking to the glib evangelist Glorious Godfrey, Darkseid says, "I like you, Glorious Godfrey! You're a shallow, precious child — the Revelationist — happy with the sweeping sound of words! But I am the Revelation! The Tiger-Force at the core of all things! When you cry out in your dreams — it is Darkseid that you see!" Has there ever been better super-villian dialogue? And just as Darkseid was partially inspired by Nixon, I have a hunch Glorious Godfrey owes something to Billy Graham, Nixon's all too servile Christian sidekick).
Ditko had his mid-life crisis a few years before Kirby but over the same issue, the desire to escape the constrictive shadow of Stan Lee. Ditko's solution to his mid-life crisis was to divide his work into two: for the commercial companies he would do solid journeyman work but not pour himself into the art as he had done for Spider-man and Dr. Strange. Instead, Ditko would express himself in his didactic libertarian stories, found in Witzend, various fanzines and small press ventures. Again, the work has value. Critics have barely started to look at the visual inventiveness of middle and late period Ditko. Still, it's fair enough to say that Ditko limited himself by constantly expressing his political ideas through the constraining vehicle of vigilante pulp fiction.
Gil Kane had his mid-life crisis  in 1968. He had spent years mastering his craft and now wanted to do comic books that could be read by adults. The result was a series of books in inventive new formats – His Name is …Savage (1968) and Blackmark (1971). While these book have Kane's trademark vigour, the best that can be said for them is that they are higher-order pulp, readable enough but nowhere near art. Eventually health problems would curtail Kane's ambition, but these health issues were coupled with something else. He had a diffident, self-doubting streak that prevented him from doing comics that displayed the full range of his well-stocked mine.
Will Eisner's mid-life crisis occurred in the mid-1970s. He had been doing educational comics for two decades and was at that point more of a businessman than an artist. But contact with intelligent fans like John Benson as well as underground comics convinced Eisner that he could return to comics and do work that was closer to literature than to the pulp fiction that marked the beginning of his career. The results were mixed. Books like A Contract with God (1978) dealt with big issues like in an earnest manner and eschewed the formal aspects of pulp fiction. But still, Eisner's storytelling remained heavy-handed and maudlin, closer in spirit to soap operas than to James Joyce.
I think the careers of all these men followed a similar trajectory: they all reached for the brass ring, and didn't quite reach it, although I think Kirby came close. That might be a matter of personal opinion. I keep going back to Kirby's comics in a way that I don't with the others. And middle and late period Ditko remains territory to be explore. Still, I think any history of comic books in the 1960s and 1970s needs to focus on the mid-life crisis of the great commercial cartoonists.
As a post-script I'd also add that maybe John Stanley also had mid-life crisis circa 1960, when he was about 45 years old. At that point he gave up Little Lulu, his greatest success, and started doing some very interesting and innovative comics: Thirteen Going on Eighteen, Kookie, Dunc and Loo, Melvin Monster… most of which, alas, didn't do well in the marketplace. Was Stanley perhaps the earliest victim to the  mid-life crisis of commercial comics?
Labels: Gil Kane, Jack Kirby, John Stanley, Steve Ditko, Will Eisner