THIS WEEK IN COMICS! (2/23/11 – Reprints, Mayhem, Bears)
Monday, February 21, 2011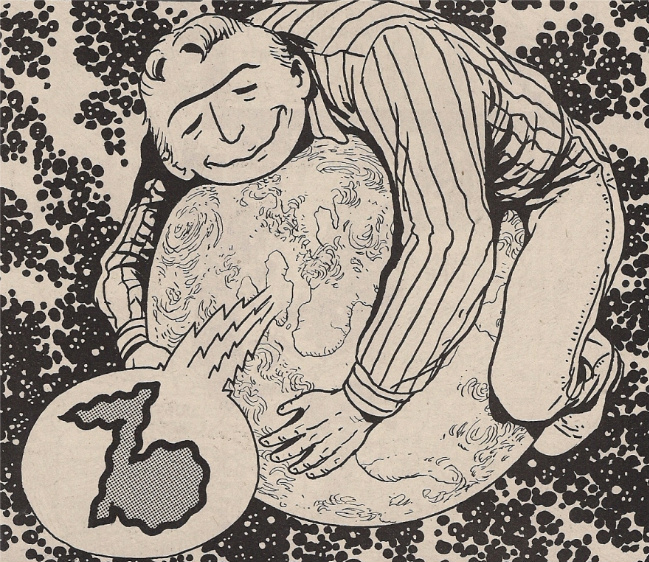 This is the final story art from the final issue of Roarin' Rick's Rare Bit Fiends, #21, a 1996 production of creator Rick Veitch's King Hell Press. It was the first episode of a project called Subtleman, culled from particular dreams of his — as, to some effect, were all issues of the series — "in hopes of creating some sort of definition as to the size, shape and sounds of the fifth dimensional experience." That mission statement came at the top of the letters column, and was quickly followed by a more pragmatic, very post-distribution crash wish: "I also hope RARE BIT FIENDS survives long enough for me to finish it!"
But because it did not, this accidentally concluding image carries a powerful metaphoric charge. Veitch, or at least his dream form, embraces all of humanity, knowing well that because this is a dream he is embracing some product of his mind – "That's me all over." The song issuing from the Earth is a song seen earlier coming from Dream Veitch's chest, "this marvelous feeling" he can only know while asleep, that allows him to fly. In his arms, the world — him — becomes a transmitter, blasting a spiritual ecstasy into a void that can only been understood as part of Veitch as well, a universe inside him, ever-changing.
And in the way the frontiers of the planet could not hold Veitch's being, or his affection, so did the imminent collapse of his comic fail to trap Subtleman, obscure as it became. A second chapter appeared in a 2001 anthology, The Forbidden Book, from a Harrisburg, PA publisher called Renaissance Press. The format, a softcover bookshelf item, was as fitting as that name, Renaissance; historical particulars can vary, but 2001 marked the arrival of Jimmy Corrigan: The Smartest Kid on Earth, and with it, gradually, the promise of the bookstore market as a haven for comics deemed otherwise limited in appeal to comic book readers serviced by Diamond, only Diamond, as Veitch impliedly groused.
One of my three local Borders stores is closing soon, here in 2011. Nobody talks about big box bookstores as a solution to anything in comics, just perhaps another option, and a limited one at that. The newly transformative, cannot-be-ignored venue is digital, with all of the possibilities it promises; fittingly, last year, Veitch posted the entirety of the story, along with some new content. Each 'chapter,' then, straddles a different comics format. But it's all Veitch, still; as his dream is all him, so is his art, and as his embrace above is an 'ending' for alternative, self-published comic books, it also a promise that comics itself will endure so long as the form is navigable.
***
The Hunger of the Seven Squat Bears: A new Yen Press English-language edition of a 2005 fairy story mash-up by Émile Bravo, who is typically worth your attention. I believe he has one more of these projects finished in French. It's 32 pages, 9.5″ x 7″; $14.99.
DC Comics Presents: Batman – Conspiracy: Being a 96-page J.H. Williams III special for this series of inexpensive, comic book-format collections of older, less heralded comic books, no doubt primed to lead into the April launch of Batwoman. Most of it's a 1996 Batman: Legends of the Dark Knight storyline (#86-88) in which Williams' art (inked by then-partner Mick Gray) is just beginning to enter its mature phase, still given to some exaggerated musculature and awkward posing, to say nothing of the riotous cheesecake vamping from a female lead; writer Doug Moench's Masonic/CIA/mob-tied biker/drug/dirty cop Hollywood murder scenario reflects a pretty common 'horror'-oriented usage of Williams' style at that time. Also included is the artist's 2006 one-issue turn on Detective Comics (#821) — solicited to suggest that Williams was going to be the primary artist to accompany new writer Paul Dini, although he didn't subsequently turn up until mid-2007 on a Grant Morrison-written storyline in Batman proper — where the intensive stylization on hand completely overpowers a lukewarm mystery script; $7.99.
Seven Soldiers of Victory Vol. 2 (of 2): Williams also looms over this second and final big fat hardcover collection for the aforementioned Morrison's 2005-06 superhero-evolution-thrives-at-the-margins mega-project, one of the most diversely entertaining treats of mid-'00s genre comics, and I daresay a work that's only grown in appeal from ensuing years' hardening emphasis on big ticket franchise character activities, some of it courtesy of Morrison himself; $39.99.
Eerie Archives Vol. 6: But if it's Moench you're after, this particular stretch of Warren magazines (#28-31) contained what I believe is his debut as a professional comics writer. With appearances by Pat Boyette, Tom Sutton, Billy Graham, Rich Buckler, Dan Adkins, Jerry Grandenetti, future editor Bill DuBay and others. Preview; $49.99.
John Carter of Mars: Warlord of Mars: And on the other end of the Dark Horse reprints scheme comes a comprehensive, 632-page softcover b&w presentation of Marvel's 1977-79 Edgar Rice Burroughs effort, Annuals included, scripted at different points by Marv Wolfman, Chris Claremont, Bill Mantlo and Peter Gillis, with pencils by Gil Kane, Dave Cockrum, Carmine Infantino, Ernie Colon, Mike Vosburg, Sal Buscema, Alan Weiss, Walt Simonson & Ross Andru, Larry Hama and a pre-Daredevil Frank Miller. Preview; $29.99.
Giant Size Little Lulu Vol. 3: Oh, I guess this is the third path – an extra-fat softcover collecting various earlier softcovers, in this case vols. 7-9 of Dark Horse's old b&w Stanley/Tripp compilations. Preview; $24.99.
Vampire Tales Vol. 2: But getting back to b&w horror magazines of the '70s – searching out Warren originals can be fun, but much of what you'll find in the rotten, bloated magazine-sized bins of your finer establishments are from Curtis Magazines, i.e. Marvel's assorted entries in the '70s b&w sweepstakes, which by 1974 seemed like more of a war for rack space creaking under the burden of fresh-launched content. This is issues #4-7 of an all-bloodsucking series, in softcover; I don't believe it's magazine-sized, as are Dark Horse's and Dynamite's Warren reprint projects. With stories from Don McGregor, Steve Gerber, Marv Wolfman, Tony Isabella, Chris Claremont and this week's spotlight talent Doug Moench, and art by Tom Sutton, Esteban Maroto, Billy Graham, Paul Gulacy, Val Mayerik, Alfredo Alcala and Howard Chaykin; $19.99.
20th Century Boys Vol. 13 (of 24): I'm told there's some pretty nice thriller-ish stuff in this particular Naoki Urasawa release, although I'm so far behind right now I probably won't know for myself until Billy Bat in finished in Japan; $12.99.
Thor: Godstorm: Last week was Captain America, so now it looks like this other guy's turn to get a bunch of collections dropped onto the market for movie tie-in money. I suspect the best of the lot will be this hardcover edition of a 2001 battles-with-one-threat-through-multiple-time-periods type miniseries from Kurt Busiek & Steve Rude, bulked up a bit with a pair of 1989 issues from the ongoing series (#408-409) pencilled by Mike Mignola; $19.99.
Crossed: Psychopath #1 (of 6): I can't say I exactly foresaw this zombie-esque rawbone horror franchise becoming Avatar's signature brand, but the open-ended nature of its 'world' did seem to suggest a means of different writers and artists sliding in and out in a way they couldn't in something more specifically attuned to a particular writer's strengths. This is writer David Lapham's second go, now on more of a 'crazy guy ruins people' plot, with art by Raulo Cáceres of Warren Ellis' Crécy. Lapham has also written a 3D issue for some future date, after which an ongoing series is set to launch with originators Garth Ennis & Jacen Burrows, with Jamie Delano set to join at some future point. Also: Lapham is doing a Caligula comic. Not a movie adaptation, but I'm hoping he keeps the decapitation machine anyway. Preview; $3.99.
American Vampire #12: A one-off issue of this Scott Snyder-written Vertigo project — Stephen King departed a while back — notable for art by the always-interesting Danijel Zezelj; $2.99.
Gødland #34: Being your notification of more from Joe Casey & Tom Scioli. Preview; $2.99.
Walt Disney's Comics #716: Finally, to return to the theme of comics flux, if in a different manner, witness this latest in the 70th Anniversary-branded Disney comics from Boom!, a Carl Barks special dominated by another Daan Jippes recreation of one of the Good Duck Artist's latter script-only assignments (1971's A Day in a Duck's Life) 'as if' drawn by Barks himself in his prime style. I thought this dream seemed familiar! Preview; $3.99.
Labels: Rick Veitch, This Week in Comics